I made this coconut champagne bread many years ago and recently updated it for you here on the Champagne Nutrition blog. It's so beautiful with crusty coconut creating a beautifully brown, cracked top. Slightly sweet, it's versatile for breakfast, a snack or even dessert. Plus, best of all, it's very easy to make with on-hands ingredients. My interns and I made it around the holidays but honestly, it would be delicious anytime of year and I could see it being served around Easter as a brunch treat, in the summer as a 'on-the-patio' breakfast or snack or as a back-to-school treat when you get home in the fall.
Coconut Champagne Bread is an example of a quick breads-like a scone or banana bread even. It's easy to find beer bread online and I like the idea of that but what if you're a champagne person? This coconut champagne bread combines some of my favorite ingredients to create a moist crumb with a medley of light flavor notes. Coconut oil is a wonderful baking product that mimics butter in consistency but offers a subtle flavor enhanced by using coconut flakes. Quick breads don't need to rise and do not contain yeast. They are easy to make and perfect for gifts.
Coconut Oil Controversy
The number one question I get about food? Probably the safety of coconut oil. I just bought a new bottle. My old one lasted about 9 months I think. I don't eat it by the spoonful and I don't think it's a miracle-cure but I do think it greases pans really well and is an amazing high-heat oil. I'm not sure where all the coconut oil drama came from but I tell my clients that you don't have to be afraid of it. You can use it but don't use it as your only oil and don't use it in excess. I've got a lot of information on the blog and in recent media interviews so if you're interested, here's some more info about the ins-and-outs of coconut oil:
USA Today – this author reviews guidelines from the American Heart Association about saturated fat in the diet. Always remember, one food won't make or break your health. Balance your saturated fat intake with lots of fiber and a whole-foods-based diet.
Champagne Nutrition – is coconut oil healthy or not? I've got everything you need to know up on the blog about the ins and outs of coconut oil and it's links to our health.
Food&Nutrition Magazine MCT Oil: Miracle Supplement? – what IS MCT oil and how does it connect to coconut oil. I'll give you a hint: you can cook with one but not the other. This article has everything you need to know about using (or not using) MCT.
Vitamin Shoppe Coconut Oil vs MCT  – again, a very important subject is understanding what coconut oil is and how people use its different components. Vitamin Shoppe breaks it down here with my help.
Daily Burn Coconut Vinegar for Probiotics – this piece explores the lesser-known topic of coconut vinegar. Never heard of it? Check this Daily Burn piece out!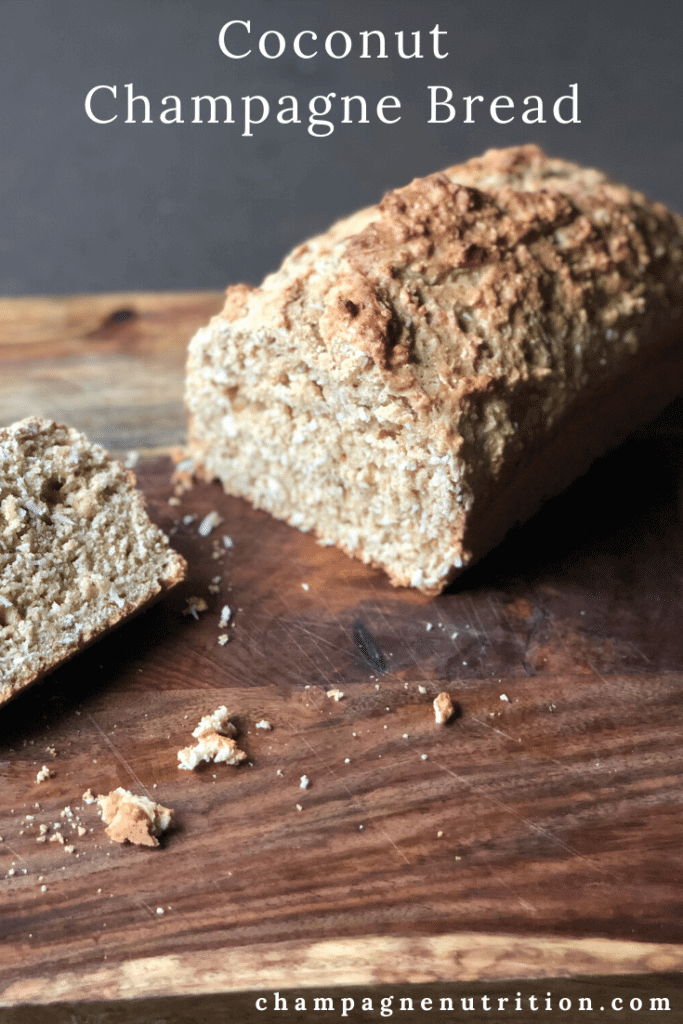 Making Coconut Champagne Bread
Using as little sugar as possible in the form of maple syrup, my baked goods are often not as 'sweet' as you may be used to but by utilizing other flavors like vanilla and coconut, it is still satisfying. Blending whole wheat flour with white flour offers more vitamins, minerals and fiber than using only all-purpose flour and a small amount of cornmeal adds depth to the texture.
To start this recipe, use that coconut oil to grease a loaf pan. I'm telling you; coconut oil is amazing for greasing pans. It's also a vegan alternative to butter but with a similar texture and baking properties so think about it that way.
Combine all the dry ingredients in a large mixing bowl. Then separately, combine the web ingredients. It can be challenging to find coconut flakes unsweetened but it's worth it. Otherwise you'll get a lot of added sugar that really bumps the sweetness in the recipe up. You may find that my recipes are just slightly sweet. I know that we get too much added sugar in the diet as it is – coffee, tea and juice beverages, desserts, pastries, yogurt and beyond – it's everywhere. Your tastebuds actually have to adjust to having a little less 'sweet' but they can adjust over time if you're committed.
Make sure to use a dry champagne rather than a sweet one. Look for "brut" or "extra brut" on the label rather than "dry" or "off dry". Right now, dry champagne is more popular so it should be easy to find. And listen, my friends, you can use a cheaper Prosecco or Cava instead of real champagne because real champagne is for drinking. Since you only use 1/2 cup in the recipe, you could use it for cooking and then also enjoy the rest of the bottle with a friend or two. That part's up to you!
When you blend the wet ingredients into the dry, you'll get a thick batter. Pop it in the baking pan and into the oven and you've got time for other meal prep, cleaning, dancing or whatever else you want do to with your time. My favorite time to prep other foods is when one is cooking in the oven so make sure to use your kitchen time wisely. Have fun!
If you need any more champagne recipes, I've got you covered with my Creme Champagne Cocktail, Gluten-free Champagne Vanilla Cupcakes, and Hazelnut Coffee Champagne Cocktail.
Ingredients
1

cup

whole wheat pastry flour

1

cup

all-purpose flour

¼

cup

cornmeal

2

teaspoons

baking powder

½

cup

shredded coconut flakes

(unsweetened)

1/2

teaspoon

Kosher salt

1/4

cup

coconut oil,

melted

3/4

cup

maple syrup

1/2

cup

champagne or sparkling wine of your choice

2

eggs

1

teaspoon

vanilla extract
Instructions
Preheat oven to 375 degrees. Lightly grease a baking loaf pan with coconut oil, then lightly flour. Combine flours, cornmeal, baking powder, coconut flakes and salt in a large mixing bowl. In a separate medium-sized mixing bowl, whisk melted coconut oil, maple syrup, champagne, eggs, and vanilla. Pour wet ingredients into dry and mix until incorporated. Pour the batter into baking pan and bake 50-55 minutes until springy to the touch and an inserted toothpick comes out clean.
Ginger Hultin,MS, RD, CSO
An award-winning, nationally recognized nutrition expert and media spokesperson.
Thanks for visiting! If you're like me: obsessed with eating, wine, going out and traveling, you're in the right place. Champagne Nutrition® LLC is a Registered Dietitian-run concierge virtual practice helping clients look and feel better. On this blog, you'll find cocktails, mocktails, and plant-based recipes that are easy to make quickly at home and pack for leftovers on your adventures.