Baking is just plain fun and I love getting creative with recipes in the kitchen. Of course, I'm always making cocktails so I figured…let's combine the best of both worlds and make a lovely little cocktail cake. My cucumber cake (and my take on gin gimlet inspired recipe) is perfect for celebrations or picnics. And yes, it is a boozy little cocktail cake since I use gin in the icing…but it's just a touch and it really adds to the fun flavor of the cake. 
Here's a little more information about the gimlet, how I made the cake and some pro-tips about the recipe.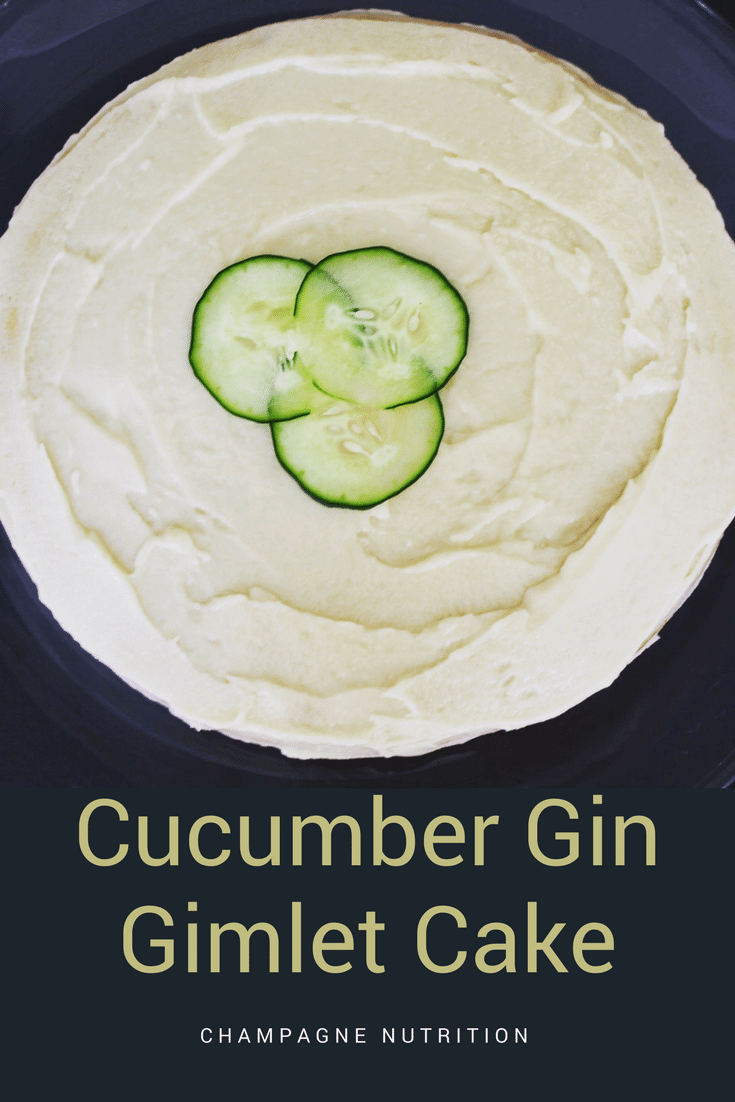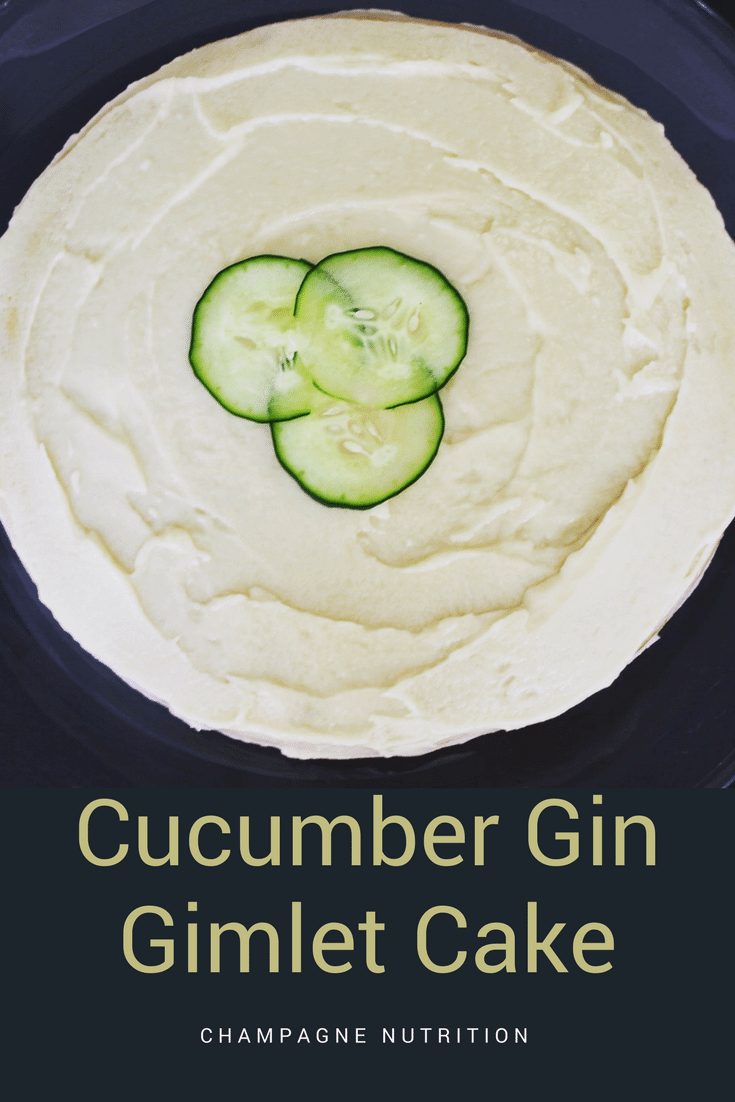 History of the Gin Gimlet
A gin gimlet is a classic drink that originally mixed gin with Rose's lime juice, which became popular in 1953. Before becoming a classic drink, it was actually used to help prevent scurvy in the British Royal Navy. As you probably know, scurvy is a disease where a lack of vitamin C – typically found in fresh fruits and veggies – causes major health issues and even death when sailors don't have access to it on long voyages. 
So the gimlet was known as sailor's drink for a long time. Rose's Lime Juice, often just called Rose's, is one of the earliest commercial fruit concentrates. It was a great way to preserve lime juice. It got more popular among Navy officers and by the mid-20th century, the main character in the famous novel The Long Goodbye, by Raymond Chandler, mentioned the gin gimlet in the book: "A real gimlet is half gin and half Rose's Lime Juice and nothing else. It beats martinis hollow." Because of this, the cocktail became really popular in Britain. 
Many different versions of gin gimlet have now been created — people use fresh lime juice instead of Rose's, and many other citrus mixers as well. Because cucumber pairs so well with gin, it's not uncommon to add it as a garnish for that fresh, bright flavor. 
Combining Cucumber with Gin
Cucumber has a fresh, mellow, even melon-like flavor and soft green color that pairs very well both gin and lime juice. It's the perfect drink for a humid and hot summer. 
What I love about cucumber is that it has a very light sweet and bitter taste that doesn't cover up gin or lime flavor. Actually, it enhances the juniper and herbaceous flavor of gin. For this reason, many gin manufacturers even add cucumber directly in their gin products. The most famous cucumber gin is Hendrick's, which uses both cucumber and rose during the distillation process. So, if you have a Hendrick's Gin on hand, it might be a good one for this cake. But actually every gin is suitable for this, and I used Beefeater because I had it on hand.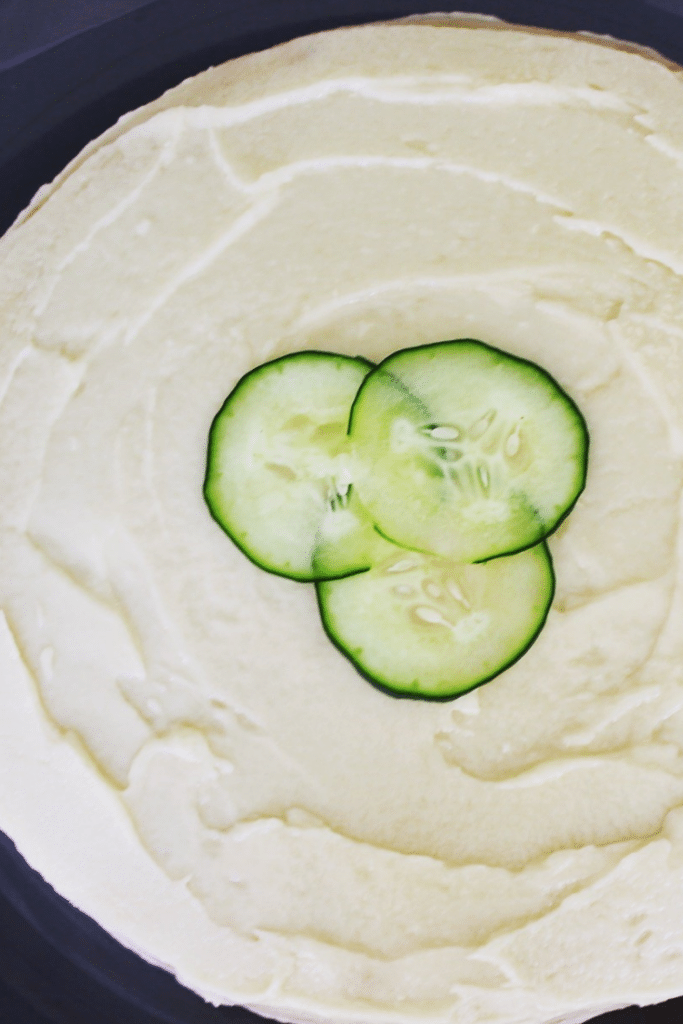 Make the Cucumber Cake
I adapted recipes from this amazing book: Veggie Desserts Cookbook and the Cucumber Cake was a huge hit.  I used Bob's Red Mill gluten-free flour blend instead of regular wheat and used non-dairy butter due to food allergies on my team at work. It's so easy to adapt recipes for the needs of those around you; the products are so good these days! 
This cake includes 1/2 a large cucumber blended up  to create a moist, flavorful, ever-so-lightly green cake. If you've got cucumbers growing like crazy in your garden, this will help you use it up!
The highlight of the whole recipe was definitely the gin icing – I'll be using that one again and again. Butter and powdered sugar are brightened right up with the gin and it pairs so nicely with the citrus and cucumber flavors in the cake. This Cucumber Gin Gimlet Cake combines fresh spring/summer flavors that you're going to want to serve at holidays and parties this spring. And of course, bring on your next picnic.
If you want the flavor of gin without the alcohol, feel free to just heat it on the stove for 5 minutes or so and the alcohol will burn off while the delicious taste remains. 
Other Recipes
If you need other picnic-type recipes, these Vegan Strawberry Rhubarb Mini Mason Jar Cheeescakes would do the trick. Enjoy!
Cucumber Cake
Make a classic cocktail cake with on-hand ingredients and a fresh garden cucumber! Don't leave out the delicious gin for the icing.
Print
Pin
Rate
Ingredients
1/2

medium/large cucumber

1/2

lemon, zested and juiced

zested and juiced

2/3

cup

unsalted regular or vegan butter, softened

3/4

cup

sugar

2

large eggs

1 1/2

teaspoons

vanilla extract

2

cups

gluten-free flour blend or all purpose flour

2

teaspoons

baking powder

1/2

teaspoon

salt
Icing
1/3

cup

unsalted regular or vegan butter, softened

1 1/4

cup

powdered sugar

1

Tablespoon

gin
Instructions
Preheat the oven to 325F. Lightly grease one 9-inch round cake pan and set it aside.

Slice the cucumber in half and remove the seeds with a spoon. Reserve 3-5 slices for garnish, then cut into large chunks then puree in a blender until smooth. Add the lemon zest and juice and mix well.

In a large bowl, cream the butter and sugar with an electric mixer for 1-2 minutes until light and fluffy. Beat in the eggs, one at a time, then beat in the vanilla.

In a separate bowl, mix together the flour, baking powder and salt. Stir 1/3 of the flour mixture into the egg mixture, then mix in 1/3 of the cucumber. Repeat until everything is combined and blended together.

Pour the batter into the prepared pan and bake for 30-35 minutes, until a skewer inserted in the middle comes out clean.

Leave to cool in the pans for 5 minutes, then turn out onto a wire rack to cool completely.
Icing
Beat the butter, powdered sugar and gin together with an electric mixer in a medium-sized mixing bowl until smooth and fluffy. Add more powdered sugar or gin, if needed, to reach the consistency of thick yet spreadable frosting.

Keep in the fridge until ready to ice the cake. Spread the icing over the top of the cake and onto the sides then decorate with the reserved cucumber slices.
Ginger Hultin,MS, RD, CSO
An award-winning, nationally recognized nutrition expert and media spokesperson.
Thanks for visiting! If you're like me: obsessed with eating, wine, going out and traveling, you're in the right place. Champagne Nutrition® LLC is a Registered Dietitian-run concierge virtual practice helping clients look and feel better. On this blog, you'll find cocktails, mocktails, and plant-based recipes that are easy to make quickly at home and pack for leftovers on your adventures.