Vegan Banana Chocolate Shake
Sometimes (like every day),  I find myself craving a sweet treat. My sweet of choice is chocolate but I don't like to have a lot of high-saturated fat chocolate in the house because then I tend to snack on that when I know that's not always the best thing for my health. I need something quick and easy to make but healthy and light. For a a long time, I've been utilizing this simple Vegan Banana Chocolate Shake as my go-to snack so I thought I'd share it here with you today in case this is something that may help your sweet tooth as well. If you love chocolate like I do, I think you'll find this an easy and delicious option. It provides a nice balance of protein, complex carbohydrates and healthy fat – perfect for a snack, for breakfast or to grab on the way to the gym.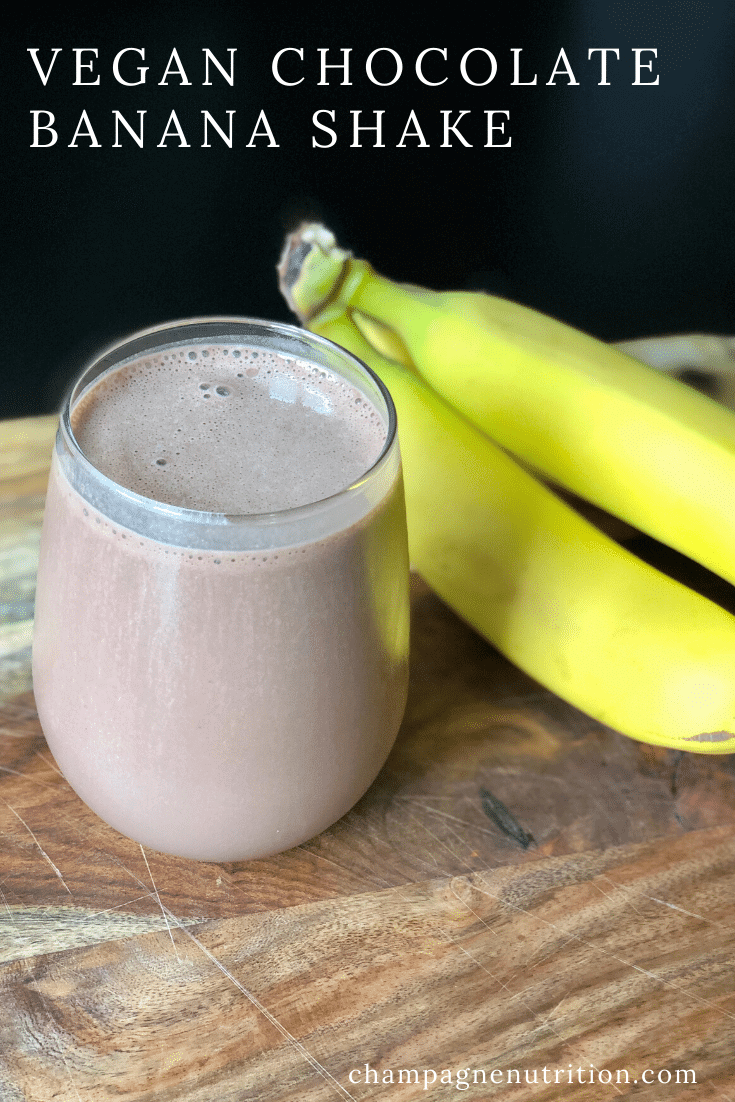 Nutrients in theVegan Banana Chocolate Shake
One of my favorite parts of this recipe is all the nutrients is provides! It's high in fiber because of the banana, high in antioxidants because of the banana and the cocoa, full of healthy fat if you happened to use regular peanut butter, and has protein, too depending on the amount of powdered peanut butter and/or type of milk you choose. When you make a non-dairy, low fat shake like this one, it will be lighter in your stomach if you need an easy and digestible breakfast or pre-workout snack. It's so rich in nutrition and very healthful. It's a treat you can enjoy every day if you want to.
Making the Vegan Banana Chocolate Shake
To make this super simple shake, you're going to have to choose your favorite non-dairy milk. I use soy because it's higher in protein than other types of plant-based milks but you could easily use almond or oat as well. If you want to get creative, you can use hemp, pea or cashew milk – there are so many option! And if you want to use dairy milk, go for it. The choice is always up to you. I really do like the non-dairy milks because all of them are more environmentally sustainable than dairy milk. That's a main driver behind my choices. I also like to use plant-products instead of animal products when I can. They're equal in a culinary use sense and they can be equal in nutrition, too, depending on what you choose.
After that, choose your banana. What I do is take a bunch and let them ripen all up. Once they're very ripe, I get a big sheet of plastic wrap and peel the bananas and place them on it. I cut individual pieces of the wrap and roll each banana in it individually then I pop them in the freezer. It's so convenient to have bananas ready to go like this. And when you use the frozen kind, the shake is so much more frothy.
Next, you'll add some cocoa powder. It's so chocolatey and completely devoid of added sugar or fat like a chocolate bar. I go through a container of cocoa every couple months, I use it so much. That's brain food right there because it's so high in antioxidants! The banana adds natural sweetness plus fiber, vitamins minerals and antioxidants. Cocoa powder on its own is bitter and not sweet so pairing it with a flavor like banana allows it to express it's chocolaty self when I'm craving that flavor.
You definitely want to focus on protein content. There are a few considerations here. You can use peanut powder like I have in the recipe. If you don't know what that is, you should. It's peanut butter that's powdered and has a lot of the nutrients and protein but not the fat found in regular peanut butter. It's dry like a protein powder. You can use it in so many things and I love it.
However, you can absolutely use regular peanut butter. I have a lot of clients that are trying to gain weight and so then I'll have them really pump up the peanut butter or add extra healthy fat calories by putting in some avocado as well. In a smoothie, I recommend a 'smooth' variety of peanut butter for the right texture. Of course you can use almond butter as well. Feel free to swap!
If you want to add some more protein, you can absolutely add in a scoop of protein powder. I love a plain, no sugar, no flavor added pea protein. Alternatively you could do whey if you eat dairy products. Or yo could try a plant-based blend but just be careful about any added vitamins, minerals, or artificial sweeteners. So many of these products have those and it's super frustrating. Other ways to boost protein include using some silken tofu (yum!), hemp, or chia seeds. These are all natural protein boosts.
Using ice cubes makes the Vegan Chocolate Banana Shake frosty and more like a milkshake. This snack/dessert feels very decadent even though it's a relatively light treat. You don't need a lot of ice cubes; just a few to really boost that comforting, chilled texture.
Bonus Ingredients and Other Smoothies
Feel free to toss in some vanilla or almond extract, cinnamon, cardamom or even spinach for more flavor and nutrients.  See me demo this chocolatey, frosty, naturally sweet Vegan Chocolate Banana Shake Treat on New Day NW, and check out my other whole-foods based smoothies for more on-the-go ideas:
Peanut Butter Pumpkin Spice Smoothie
Wild Blueberry Vanilla Matcha Smoothie
Enjoy! Let me know if you make this one by rating the recipe and putting a comment in the box below 🙂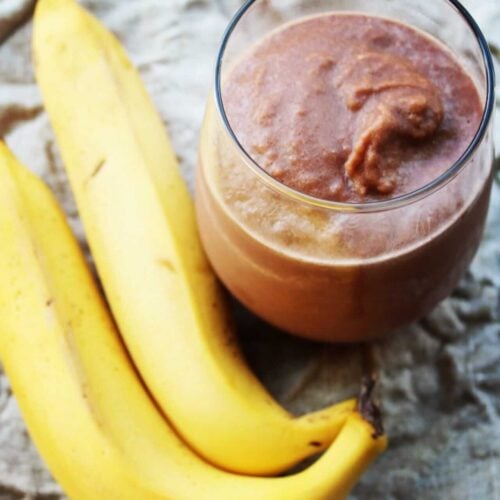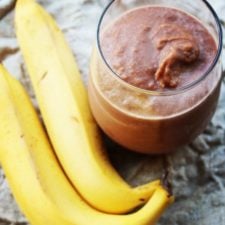 Ingredients
1

cup

unsweetened non-dairy milk

(use soy, oat or regular milk for more protein)

1

frozen banana

1

teaspoon

pure unsweetened cocoa powder

1

teaspoon

powdered peanut butter

(can also use regular peanut butter)

1/2

cup

ice cubes
Instructions
Add all ingredients to a blender and pulse until smooth. Add more milk if needed for consistency.
Ginger Hultin,MS, RD, CSO
An award-winning, nationally recognized nutrition expert and media spokesperson.
Thanks for visiting! If you're like me: obsessed with eating, wine, going out and traveling, you're in the right place. Champagne Nutrition® LLC is a Registered Dietitian-run concierge virtual practice helping clients look and feel better. On this blog, you'll find cocktails, mocktails, and plant-based recipes that are easy to make quickly at home and pack for leftovers on your adventures.