Easy Vegan Chickpea Endive Boats
Looking for a simple appetizer to bring to events and parties? Or maybe you just need an easy and filling snack for the week? I made these originally for a party that had some folks with dietary restrictions and they were a huge hit. Endive is just fun to eat so that helps these get snapped up quickly. These Easy Vegan Chickpea Boats are the perfect snack or appetizer for any occasion. To make the recipe vegan friendly, I swapped out greek yogurt and honey for vegenaise and agave nectar. I also took out the addition of olive oil, since vegenaise contains olive oil and I wanted something light and creamy. This recipe definitely hits those marks.
This Easy Vegan Chickpea Endive Boats recipe took some chopping and cutting, but it was still so simple to assemble and only took about 20 minutes total, including the assembly! If you can't find endive leaves at your local grocery store, try finding a substitute such as little gem or small Bibb lettuce leaves. If you like to work ahead of time, especially if you are prepping for a special gathering or event, you can mix all of the ingredients together a day in advance (minus the pears) and store tightly sealed in your refrigerator. A few hours before the event, add the pears, stir, fill the leaves, and go.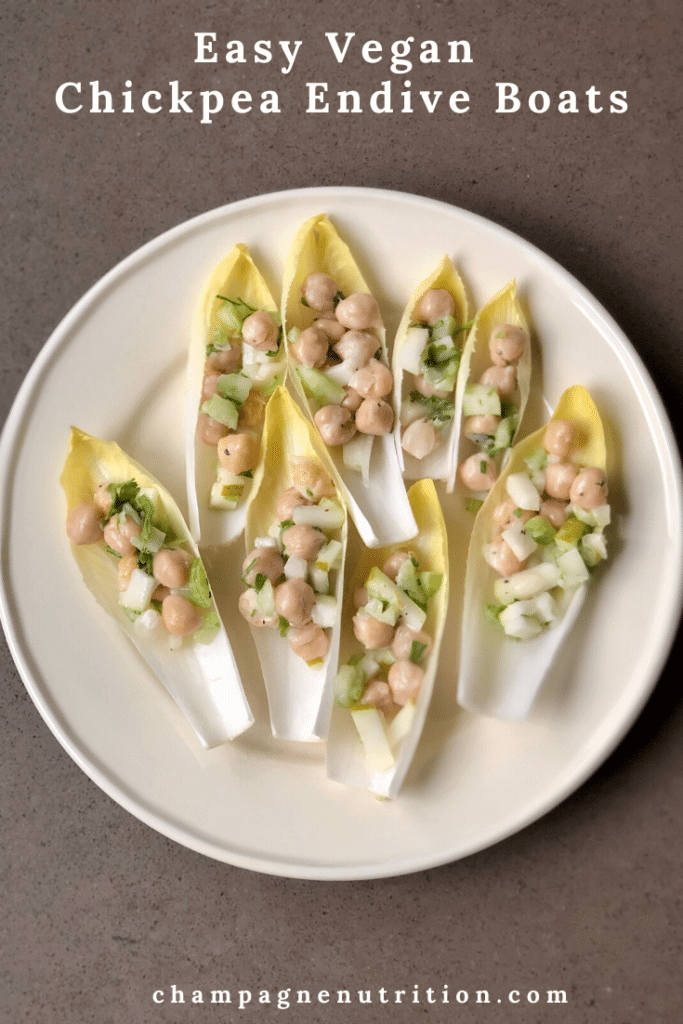 Making the Easy Vegan Chickpea Endive Boats
To get started, you will need a large mixing bowl, a rubber spatula or a wooden spoon for mixing, a whisk, a set of measuring cups and spoons, and a sharp chef's knife or something similar. You are going to begin with adding the vegenaise , agave nectar, lemon zest, lemon juice and salt and pepper to the large mixing bowl. Then, you'll miix the ingredients together with a whisk to get rid of clumps. 
Vegenaise is a great way to incorporate creaminess into many dishes, and it tastes so similar to mayonnaise. Swap it out for mayonnaise, or in this case, greek yogurt to make the recipe vegan friendly or if a friend or family member has an egg or dairy allergy. Agave is also a great substitute for honey (did you know honey is not vegan?) in many dishes, dressings, or drinks. You could also swap maple syrup for honey, but agave is more mild in flavor and is easily incorporated into dishes and drinks without detection. Another swap you can make is red onion instead of green onion if you like the taste and addition of purple/red to your endive boats. I really liked the look of all of the greens in the dish and prefer the taste of green onion, so it just depends on your preference.  
After you mix the first set of ingredients together, you will dice your pears and add them to the large bowl (unless you are making this a day or more in advance). The pears will add a little more sweetness to your dish and balance out the other flavors, along with adding more nutrients! You will continue with finely chopping the celery and adding them to the bowl, then chopping the green onion and parsley and adding them to the bowl. After you have done that, rinse and drain the chickpeas and add them to the bowl. The chickpeas will round out our veggie-filled dish and add some protein and additional fiber content. Mix all of the ingredients together until they are well combined and evenly coated with the vegenaise mixture. At this point, I tasted the mixture to make sure I didn't need to add anything additional. Add a little more of certain ingredients to taste, or cut down on certain ingredients if you like less of an ingredient (I am not a huge onion fan so I took some out of the recipe). Then, you're ready to fill the endive leaves!
Assembling the Easy Vegan Chickpea Endive Boats
Now, this part was a little tricky. The 'boats' like to tip over as you attempt to fill them (patience is a virtue). I'll be honest and tell you that having another person there to hold them for you is the easiest by far. Otherwise, try using a small spoon to put the mixture into the endive leaves while you hold each leaf with your other hand. I leaned the leaves up against each other to keep each one from tipping over. I had to transport these delicious boats to a party, however, so I would recommend waiting until you arrive at your destination and then assembling them, otherwise you are going to have a lot of capsized boats in your container. I would also recommend using a curved dish with a lip around the edges to prop the endive leaves up against so you don't lose the filling of the boats. This will also make it easier to fill all of the endive leaves.
You can also get creative with the finished product and add some tasty almond slivers to the tops of each one for a nutty flavor (be aware of allergies, though). These Easy Vegan Chickpea Endive Boats were a hit at the party I made them for – I didn't have any to take home! I chose this recipe specifically because I had to create appetizers for many diet restrictions – vegan, soy-free, sesame-free, and gluten-free. So, my options were limited. but, I ended up creating an amazing, delicious spread of appetizers for everyone. Check out my other allergen and plant-based-friendly recipes on the blog:  Crostini with Beans, Ricotta, Honey and Thyme, Garden Cherry Tomato Bruschetta, Vegetarian Stuffed Mushrooms, and more!
I was worried about adding the pears in with the rest of the ingredients because I didn't want them to start browning and alter the look and flavor of the dish. I could have cut and added the pears at the party, but I chose not to for time sake. In my experience, adding the pears ahead of time turned out perfectly fine and they did not brown. If you are making this dish a day or so in advance, though, you may want to wait until a few hours the day of the event to put the pears in. That way, you will still have a bright green dish and preserve the flavor of the pears. 
Let me know if you try this one!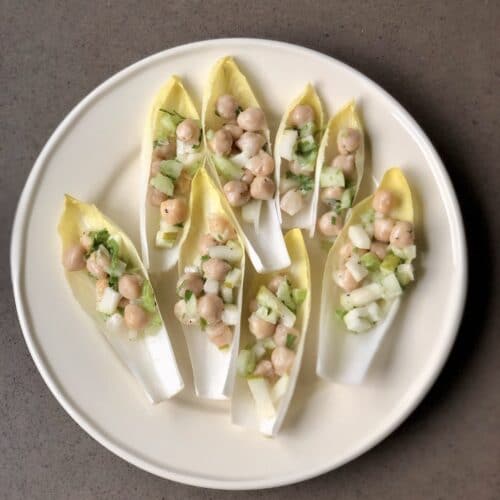 Easy Vegan Chickpea Endive Boats
These Easy Vegan Chickpea Endive Boats are allergen-free and fun to eat.
Print
Pin
Rate
Ingredients
5

Tablespoons

veganaise

1

Tablespoon

agave nectar

1 1/2

teaspoons

lemon zest

1 1/2

teaspoons

fresh lemon juice

1 1/2

teaspoon

Kosher salt

1/4

teaspoon

freshly ground black pepper

2

medium sized, ripe but firm pears

diced

2

15-oz

cans chickpeas

rinsed well

1 1/2

cup

flat leaf parsley

chopped

1/3

cup

celery

finely chopped

1/3

cup

green onion

thinly sliced

24

Belgian endives leaves

from 5 heads
Instructions
Whisk veganaise, lemon zest and lemon juice, salt and pepper in a large bowl.

Add the pears, chickpeas, celery, parsley and green onion into the same bowl and stir to coat.

Spoon the mixture into endive leaves. Arrange on serving platter and enjoy!
Nutrition
Ginger Hultin,MS, RD, CSO
An award-winning, nationally recognized nutrition expert and media spokesperson.
Thanks for visiting! If you're like me: obsessed with eating, wine, going out and traveling, you're in the right place. Champagne Nutrition® LLC is a Registered Dietitian-run concierge virtual practice helping clients look and feel better. On this blog, you'll find cocktails, mocktails, and plant-based recipes that are easy to make quickly at home and pack for leftovers on your adventures.