Fresh Herb Soup with Orzo
Are you looking for plant based recipes that are also a good source of protein? This soup recipe delivers on both. Packed with plant-based proteins from the creamy cannellini beans, this fresh herb soup with orzo recipe has a bright, savory flavor. If you're already a member of the Champagne Nutrition community, you know that I love one-pot recipes that are easy to make. This soup recipe is no different, making it a great meal prep option for weekday lunches or dinners.
A lot of my clients associate soup with winter and I hear things like, "I stop making soup when the weather gets warmer". But you're not stuck with chilled soups like gazpacho outside of fall and winter! By utilizing fresh herbs, you can really bring soup into the spring and summer with those vibrant flavors. When you don't have the fresh stuff, use dried for a more savory, earthy taste that really is perfect for colder weather. Please don't save your soup for 6 months of the year…it's such an amazing vehicle for anti-inflammatory veggies and herbs all year round. And if you need more anti-inflammatory recipes, of course you need to check out my book Anti-Inflammatory Diet Meal Prep which is focused entirely on that subject.
Making the Fresh Herb Soup with White Beans and Orzo
Luckily, this recipe does not require much prep ahead of time, especially if you have a good food processor. If not, don't fret! Even though there is some chopping and slicing involved, as long as you have a sharp knife on hand, you'll be good to go. If you don't have a Dutch oven, any large pot will do. Part of what makes this recipe so easy is that it utilizes ingredients you probably already have hanging around like canned beans, olive oil and onions.
My purpose as a registered dietitian nutritionist is to make getting into the kitchen more easy and fun. Set some time aside in your week to whip this soup up and be sure to make it more simple by using canned beans, boxed broth and even pre-chopped onion (yes – that comes frozen!) if you need to make it more simple or have a health condition that makes cooking a challenge. This can be an incredibly quick and easy recipe.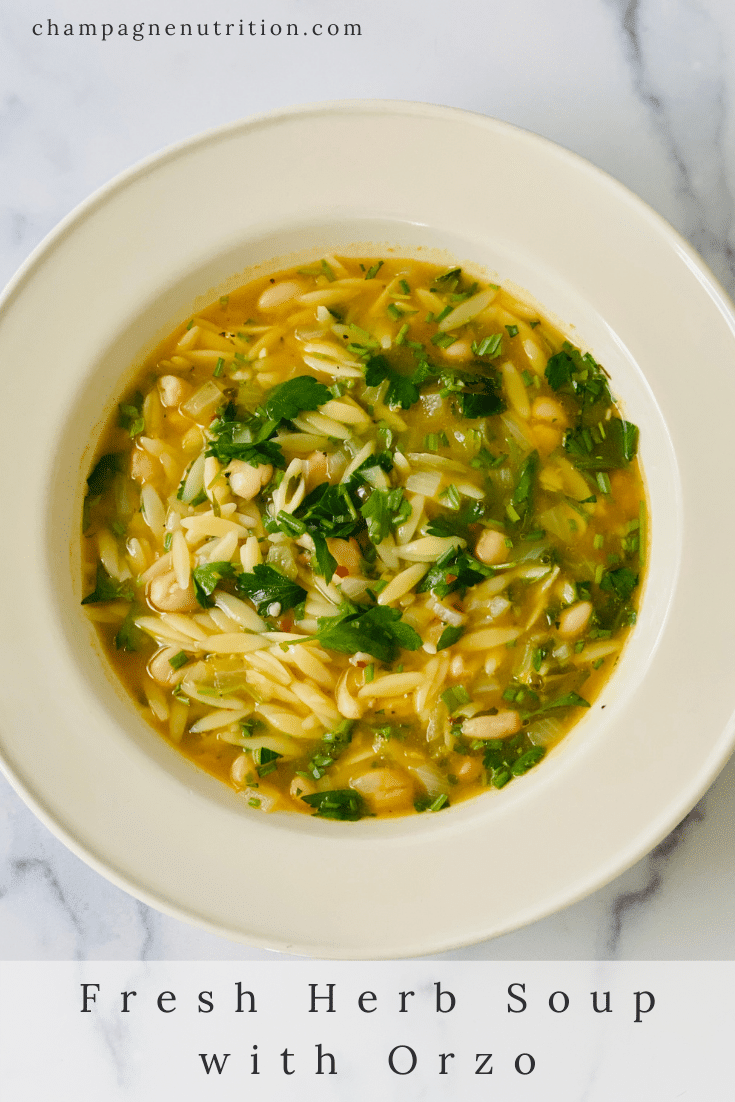 Orzo
Did you know that "orzo" the Italian word for barley? It's made from durum wheat semolina flour, making it a type of pasta, even though it's cut like rice. It's a great way to make your soups a little heartier. Look for whole grain varieties for added fiber, antioxidants, vitamin and mineral content. If you want to sub out for orzo, you an easily use fregola sarda or Israeli couscous or even rice. If you're aiming for a lower carb dish, feel free to leave it out completely.
Cannellini beans
Using canned beans is a great way to get all the health benefits of beans without the added cooking time. Cannellini beans have a very mild flavor, making them a versatile ingredient. They are a good source of iron, which is necessary for our cells to get enough oxygen. They also contain over half the recommended daily amount of copper which helps with iron metabolism and energy production. Looking for more ways to use cannellini beans? Check out this Creamy Vegan White Bean Soup recipe from my blog!
Fresh Herbs
Tarragon, chives and parsley combine to give this soup a bright, refreshing flavor. Depending on the time of year, you may be able to find them at farmer's markets or even in your own backyard. Chives grow fast and emerge in the spring after dying back during cold winters. They're super easy to maintain and come back year after year without replanting. Fresh herbs contain strong antioxidants due to their distinct flavors and aromas. Antioxidants help to protect our cells from damage, and can reduce our risk of chronic diseases like heart disease and certain cancers.
I actually don't love the flavor of tarragon or chives on their own. Chives are very onion-y and tarragon is quite 'anise' or black licorice flavor. However, when they're combined in this soup, they create the most lovely fragrance and complex flavor. It's very worth trying new herbs and veggie combos and giving them a chance more than once, especially as you get older and your tastes may change a bit. If you really don't like an herb in this recipe, swap it out and add in some basil or rosemary instead.
The Base
You can use either chicken or vegetable broth depending on your preference. While buying in store is a convenient option, sometimes I like to make my own broth at home. I save vegetable scraps in my freezer, then add them to some boiling water with herbs once I've saved up a large ziplock-bag's worth. You can also do this with animal bones if you prefer a bone-based broth. The result is a nutrient rich broth that is low in sodium. You can also save the broth for cooking rice or use it as an oil-alternative on the stove top. Pro tip: freeze your broth for later in an ice cube tray so you can easily pop them out without having to defrost an entire container at a time.
Putting this soup together is really simple. You simple heat the oil, then the onion, the white wine and some of the herbs before you add the broth and orzo and create a savory stock. At the end, you'll add the beans and even more herbs. You can multitask and make other dishes while this one is simmering. If you love this idea, check out my minestrone soup – it's one of my most favorite recipes ever!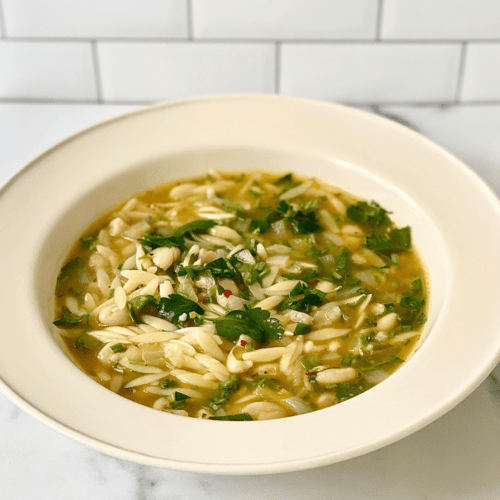 Fresh Herb Soup with Orzo
An all-season soup, this recipe features plenty of savory flavors and fresh herbs. It's completely vegetarian, too!
Print
Pin
Rate
Ingredients
2

tablespoons

extra-virgin olive oil

1

medium

yellow onion, finely chopped (about 2 cups)

1/2

teaspoon

salt

1/2

teaspoon

black pepper

1/2

cup

dry white wine

1 1/2

cup

uncooked orzo

3

tablespoons

finely chopped fresh flat-leaf parsley stems plus

1 1/2

cup

finely chopped parsley

2

cloves garlic, minced

1

teaspoon

crushed red pepper flakes

8

cups

low sodium vegetable stock

1

15oz

can cannellini or white beans, drained and rinsed

1/2

cup

finely chopped fresh chives

1/4

cup

finely chopped fresh tarragon

2

tablespoons

finely grated pecorino Romano cheese, for garnish
Instructions
Heat the oil in a medium Dutch oven or soup pot over medium heat.

Add the onion, salt and black pepper; cook, stirring occasionally, until softened, about 8-10 minutes.

Add the wine and cook, stirring occasionally, until the liquid has almost completely reduced, 4- 5 minutes.

Add the parsley stems, garlic, and crushed red pepper and cook, stirring constantly, until fragrant, 2-4 minutes. Add the broth and bring it to a boil over medium-high heat then reduce to medium-low and cook the orzo, stirring occasionally, 8-10 minutes until it's softened.

Reduce the heat to low and stir in the cannellini beans; cooking until they're heated through, about 2 minutes. Remove the soup from heat.

Stir in the chives, tarragon and parsley leaves. Add any additional salt or pepper as needed per your taste, and if you're not following a vegan diet, consider garnishing it with pecorino Romano and serving hot.
Ginger Hultin,MS, RD, CSO
An award-winning, nationally recognized nutrition expert and media spokesperson.
Thanks for visiting! If you're like me: obsessed with eating, wine, going out and traveling, you're in the right place. Champagne Nutrition® LLC is a Registered Dietitian-run concierge virtual practice helping clients look and feel better. On this blog, you'll find cocktails, mocktails, and plant-based recipes that are easy to make quickly at home and pack for leftovers on your adventures.