Gluten Free Minestrone Soup
You need a simple and healthy soup you can make any time of year, and that soup is certainly minestrone. An Italian-style classic with a tomato and broth base, packed with veggies and finished off with hearty pasta, this Gluten Free Minestrone Soup is a recipe you can literally make every week to have on hand for easy lunches or dinners. It freezes well for leftovers, too! Best of all, you can swap out the different veggies, herbs, or even the type of pasta you use based on your preferences and health goals. I'm breaking it all down below in this post. Believe me; you're going to love this one.
Health Benefits of Homemade Soup
This vibrant bowl of hot soup is not only a treat for your taste buds but also packs a punch when it comes to health benefits. First off, let's talk about inflammation. We all know that chronic inflammation can cause long-term health issues. The good news is that the combination of fresh veggies, legumes, and herbs in this minestrone helps with fighting inflammation. It's loaded with antioxidants, vitamins, and minerals that can help reduce inflammation and keep your body feeling fantastic.
By skipping the animal products and gluten, this soup is gentle on your digestive system, allowing your body to focus its energy on fighting those cancer cells. Plus, the abundance of veggies and legumes provides a rich source of phytochemicals and fiber, which have been shown to support overall wellness and reduce the risk of certain cancers.
Making the Gluten Free Minestrone Soup
Making this soup is really fun and easy! Honestly, a teen or someone in your family who doesn't have a lot of cooking skills could absolutely conquer this one. If you're like me, you have a few key recipes in the rotation that you make week after week. This is about to become one of them. I can tell you that having these staples certainly makes your life easier. It takes the guess-work out of "what's for dinner" and you'll always have a lunch you can grab and go. This will save you money, time, and stress, and it's also good for your health.
This soup contains lots of fiber in the form of veggies and the pasta as well. It's very filling but low in calories. You can adapt it to be whatever you need it to be including non-spicy or with even more veggies. This is how you modify if needed:
The Base
I use veggie broth and water as needed for more liquid. I'll warn you that it can get a little thick depending on the size of those squashes. The other base is a can of tomatoes. I literally use canned tomatoes every day for all my recipes. The nutrients in there keep so well and canned tomatoes are high in lycopene – the antioxidant found in tomatoes and other red and pink foods. If you love tomatoes like I do, feel free to add 2 cans instead of one. You'll only benefit from the extra fiber, antioxidants, and vitamin C.
The Veggies
I use a variety of fresh veggies in this soup but you have lots of options. All the ones I'm using are fresh but if you have frozen veggies that you love, those would be absolutely acceptable. Frozen beans or peas would work really well. You could stick with just the zucchini or just the squash – one or the other is fine, too. I do find that with more squash, it's very hearty and filling. Plus, most of us don't eat enough squash! It's such an amazing food. You can feel free to adjust the types of veggies or the quantities to suit your preferences.
The Flavors
I use lots of herbs and spices in this recipe. There's an entire onion and 3 cloves of garlic, so cut those back if that's better for you. I use dried herbs in the recipe but if you've got fresh, that would taste delicious! You could also garnish the soup with additional fresh or dried herbs. There's a teaspoon of salt but you could always start with 3/4 teaspoon and work up from there. I always use a lot of black pepper and in this one, I add a kick with crushed red peppers but again, if you need less spice, you could eliminate this completely or just cut it back to 1/2 teaspoon of each.
The Pasta
There are a ton of options for gluten-free pasta! Beans and lentils make incredible pasta and you can buy it right in the store now. These varieties are higher in protein and fiber and they taste great, too. I use them almost exclusively now in my cooking. If you have some regular wheat pasta on hand, go ahead and use it, just keep in mind that the soup will not be gluten-free. I find that my clients have a lot of guilt around eating pasta. Everyone tells me "I love it, but I wouldn't dare eat it". Why not? Let's bring back the pasta, people! It's a great, versatile food and in this recipe, it's not the main course, it's just a piece of the deliciousness.
If you like the sound of this soup, I've got a couple others you should try as well. Make sure to check out my Creamy Vegan White Bean Soup, Spicy Coconut Lemongrass Soup, or Corn Chowder with Potatoes and Basil. Guess what? These are all vegan and super delicious!
If you try this one or if you have questions, make sure to leave a comment below and rate the recipe!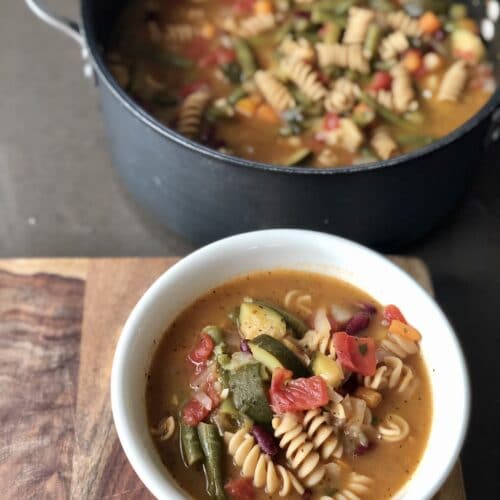 Gluten Free Minestrone Soup
an easy, veggie-packed soup that makes incredible leftovers
Print
Pin
Rate
Ingredients
2

tablespoons

olive oil

1

yellow onion

diced

2

carrots

peeled and cut into rounds

1 /2

pound

green beans

trimmed and cut in 1/2

1

zucchini

halved and cut into 1/4 inch half-moons

1

yellow squash

halved and cut into 1/4 inch half-moons

3

cloves

garlic

minced

1

teaspoon

dried basil

1

teaspoon

dried oregano

1

teaspoon

dried thyme

1

teaspoon

salt

1

teaspoon

black pepper

1

15-ounce

can diced tomatoes

4

cups

vegetable broth

1

15-ounce

cans kidney beans

drained and rinsed

1

cup

gluten-free pasta

1

teaspoon

crushed red pepper flakes
Instructions
 In a large soup pot, warm the olive oil over medium-high heat then add the onion, carrots, beans, zucchini and squash and cook for 12 minutes or until onions are translucent and vegetables soften. Add the garlic, basil, oregano, thyme, salt, and pepper and cook for another 2 minutes, stirring frequently.

Add tomatoes and broth. Increase the heat to medium-high and bring the soup to a boil. Then cover, reduce heat to medium-low, and let simmer for 15 minutes. If needed, add another cup of water 1/2 cup at a time if you need more liquid.

Add the canned beans and uncooked pasta; then cook, uncovered, for an additional 10-12 minutes, until the pasta is tender. Garnish with crushed red pepper flakes.
Nutrition
Calories:
176
kcal
|
Carbohydrates:
28
g
|
Protein:
7
g
|
Fat:
4
g
|
Saturated Fat:
1
g
|
Sodium:
588
mg
|
Potassium:
533
mg
|
Fiber:
5
g
|
Sugar:
7
g
Ginger Hultin,MS, RD, CSO
An award-winning, nationally recognized nutrition expert and media spokesperson.
Thanks for visiting! If you're like me: obsessed with eating, wine, going out and traveling, you're in the right place. Champagne Nutrition® LLC is a Registered Dietitian-run concierge virtual practice helping clients look and feel better. On this blog, you'll find cocktails, mocktails, and plant-based recipes that are easy to make quickly at home and pack for leftovers on your adventures.