Garlic Chili Roasted Brussels Sprouts
Have you heard? Brussels sprouts are back!  
I'm so happy that these mini cabbages are making a come-back after the trauma of the water-logged versions of the past, creating an entire generation who thinks they dislike these cruciferous veggies. Now, we know better, and all you really need in order to make Brussels sprouts delicious is some olive oil, salt and pepper. Cut them in half, pop them in the oven (or air fryer!) and then eat them like candy. In today's recipe, we are going to the next level with spice in this new and improved version of Brussels sprouts: Garlic Chili Roasted Brussels Sprouts.
See, the secret to making delicious Brussels sprouts, or really any veggie, is two simple words: oven roasted. Roasting veggies in the oven takes minimal prep and clean-up and results in flavorful, textured veggies. Brussels sprouts go from bland and boring to charred, caramelized goodness in just 20 minutes! Then you have the perfect side dish to your main entree, and they can be dressed up or down to your preferences. The recipe I am sharing today is a savory and zesty take on this new and improved version of Brussels sprouts: Garlic Chili Roasted Brussels Sprouts.
History and Cultivation of Brussels Sprouts
Brussels sprouts are little cabbages (gemmifera) that belong to the mustard family, Brassicaceae. In this family, they are joined by broccoli, cauliflower, and kale that you might recognize by their more commonly known name, cruciferous veggies. Brussels sprouts got their name from their association with Brussels, Belgium, as their first records of this vegetable is dated in the 16th century in Belgium. 
The mini cabbages have a unique development as they grow along a main stem that grows to about two or three feet tall. Along this tall stem hangs the growing axillary buds that grow to be the heads, or sprouts, that we eat. They are in season in the fall as they require a cooler temperature to grow. Here are some tips on how to buy and care for them. 
Health Benefits of Brussels Sprouts 
The flavor profile is not the only special thing about these Brussels sprouts. Cruciferous veggies are packed with nutrients as they are generally good sources of vitamin C, fiber, folate, selenium and carotenoids. Additionally, within a Brussels Sprout you will find sulfuric compounds, antioxidants, and phytochemicals such as glucosinolate, the precursor to isothiocyanates and indole-3-carbinol, that exhibit anti-cancer properties. In particular, isothiocyanates help defend against oxidative stress and the damaging effect it can have that has been associated with the development of cancer. 
By simply including a serving of Brussels sprouts, broccoli, cauliflower, kale or bok choy you can up-regulate detoxification pathways in your liver…and also have a delicious meal while you're at it, of course! Garlic Chili Roasted Brussels Sprouts is just one preparation of many to make these taste fabulous and reap some health benefits.
Making the Garlic Chili Roasted Brussels Sprouts
The Brussels Sprouts

At the store, select bright green Brussels sprouts with tightly packed leaves. They should be firm and heavy. Sizes vary, but the smaller sized heads tend to be more sweeter and tender than the larger ones. When you are preparing Brussels it is important to rinse them first before cutting. To cut a Brussels sprout simply slice off  the stem and then slice the head vertically to make halves.
The Garlic 
Do more or less garlic, up to you! If you're out of fresh garlic or don't care for it, you could try some garlic powder to still get the garlicky flavor. Otherwise, garlic can be substituted out for chopped onion or shallot. You might consider doing a short sauté on them first to really maximize flavor.
The Chili Pepper
If you love spice, feel free to increase the chili pepper, or use cayenne or red chili flakes. If you don't like spice, this ingredient can easily be eliminated without a sweat.
Seasoning
Add more salt and pepper or less to taste – consider using kosher salt or fresh cracked black pepper if you are looking for more texture.
Preparation and Cooking 
For this recipe, simplicity and ease is the goal. For your convenience and maximum efficiency, you can chop the Brussels sprouts ahead of time and toss all the ingredients together into a bowl to stick in the fridge. Then, when the oven is on and ready, even for another dish, just place them on a baking sheet and stick them in to roast. 
Brussels sprouts are hearty and hands-off, making them the perfect go-to roasting veggie when you're in a pinch or not sure what to make for dinner. Once they're done, they reheat well and actually make good leftovers, too. This is exactly why they are the perfect side dish at large dinner parties, or Thanksgiving. Efficient, delicious, and a huge hit with everyone. Any time of the year, any entree, this cruciferous veggie will add the finishing touches on your meal. 

Air Fryer Variation
Air fryers have gained tremendous popularity over the past couple years. If you haven't heard of an air fryer, it is simply a compact countertop convection oven that cooks food at high temperatures for a shorter period of time. The result is a product that resembles frying food, but with no oil! So, when we are talking about roasting veggies this could mean in your oven or your air fryer if you have one! The cooking temperature and times vary with air fryers and ovens.
I hope you enjoy these Garlic Chili Roasted Brussels Sprouts, they will not disappoint! 
If you like this recipe…
30 Creative Recipes to Help you eat More Vegetables 
Other Side Dishes for Thanksgiving
Celeriac Salad with Honey Vanilla Dressing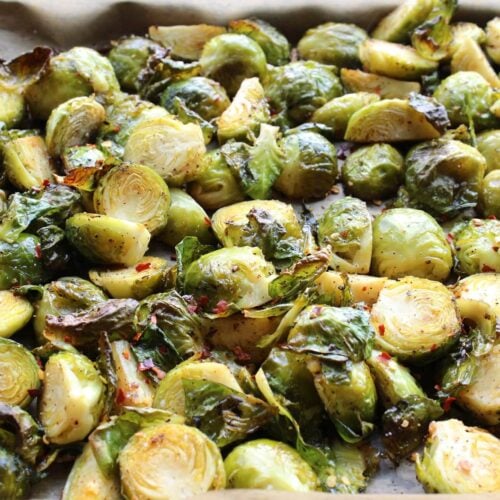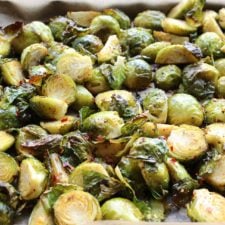 Garlic Chili Oven Roasted Brussels Sprouts
This side dish is the most simple, everyday dish that you'll make over and over
Print
Pin
Rate
Ingredients
4

cups

Brussels sprouts, halved

2

tablespoons

extra virgin olive oil

4

garlic cloves, minced

2

teaspoon

chili pepper

1/4

teaspoon

pepper

1/4

teaspoon

salt
Instructions
Preheat oven to 375 degrees. In a medium mixing bowl, coat Brussels sprouts and garlic cloves with olive oil then add chili powder, pepper and salt. Pour onto a parchment-lined a baking sheet.

Place in the oven and cook for 20-25 minutes until tender and slightly crispy brown. Toss once or twice throughout cooking. Remove from oven and serve hot.
Ginger Hultin,MS, RD, CSO
An award-winning, nationally recognized nutrition expert and media spokesperson.
Thanks for visiting! If you're like me: obsessed with eating, wine, going out and traveling, you're in the right place. Champagne Nutrition® LLC is a Registered Dietitian-run concierge virtual practice helping clients look and feel better. On this blog, you'll find cocktails, mocktails, and plant-based recipes that are easy to make quickly at home and pack for leftovers on your adventures.