No Bake Vegan Chocolate Haystack Cookie Bites
I came home last Wednesday night late after a long day of Champagne craziness and I realized that I needed to make cookies for an event the next day. I wanted to go to bed but instead, I nabbed these 9 ingredients, I mixed them into a pot on the stove, dropped them onto parchment and they were "done" within 10 minutes. The next morning they had hardened and I popped them in a container and everyone at the party loved them. Perfection! If you're busy (who's not really) – make these No Bake Vegan Chocolate Haystack Cookie Bites and make your life easier.
I have a childhood memory of the chocolate oat combination bubbling on the stove for no bake chocolate haystack cookies. My mom would set them on the counter in long lines on parchment paper and I could eat SO many. Know what they're typically made out of? Butter and sugar – just like most cookies. So I wanted to make a vegan version. It was so easy! The key ingredients are vegan – peanut butter, coconut, oats…no problem. These delicious No Bake Vegan Chocolate Haystack Cookie Bites are fun to make with your kids, make great gifts to give to your friends and co-workers and last for a long time in the fridge or freezer. I can't tell the difference between the regular butter version and this one.
The good news about No Bake Vegan Chocolate Haystack Cookie Bites is that though they are dense in calories, they are quite small – bite-sized – so if you can stick to just 1-2, they can fit easily into a healthy diet. All cookies can, actually! I mean, do you really want a life without cookies? Some of my clients are really ready to give it all up. I honestly support them based on what they want to do. Each person is different. A lot of people say things to me like, "I won't give up wine – that's the one thing I'm not willing to do" or "it's really important to me to have a treat every day or I feel deprived". And I am with that 100%. But sometimes wanting to keep those foods in the diet and also reach health goals isn't congruent. It's hard to achieve lower cholesterol without cutting back on saturated fat, for example. It's really hard to lose weight if you drink alcohol multiple times per week. And so sometimes I have conversations with people about what they want to give up and what they want to keep, based on their goals. MY goal is for them to keep everything they love. That's what life is all about, right?
There are some good, nutritious ingredients in these No Bake Vegan Chocolate Haystack Cookie Bites. Rolled oats for fiber, vitamins and minerals combined with protein-packed peanut butter for example. Like I mention in the recipe, be sure to get a variety that does not have added sugar, salt or oil. Cocoa powder is packed with antioxidants and minerals like magnesium. So though these are certainly treats….No Bake Vegan Chocolate Haystack Cookie Bites have some good-for-you ingredients, too.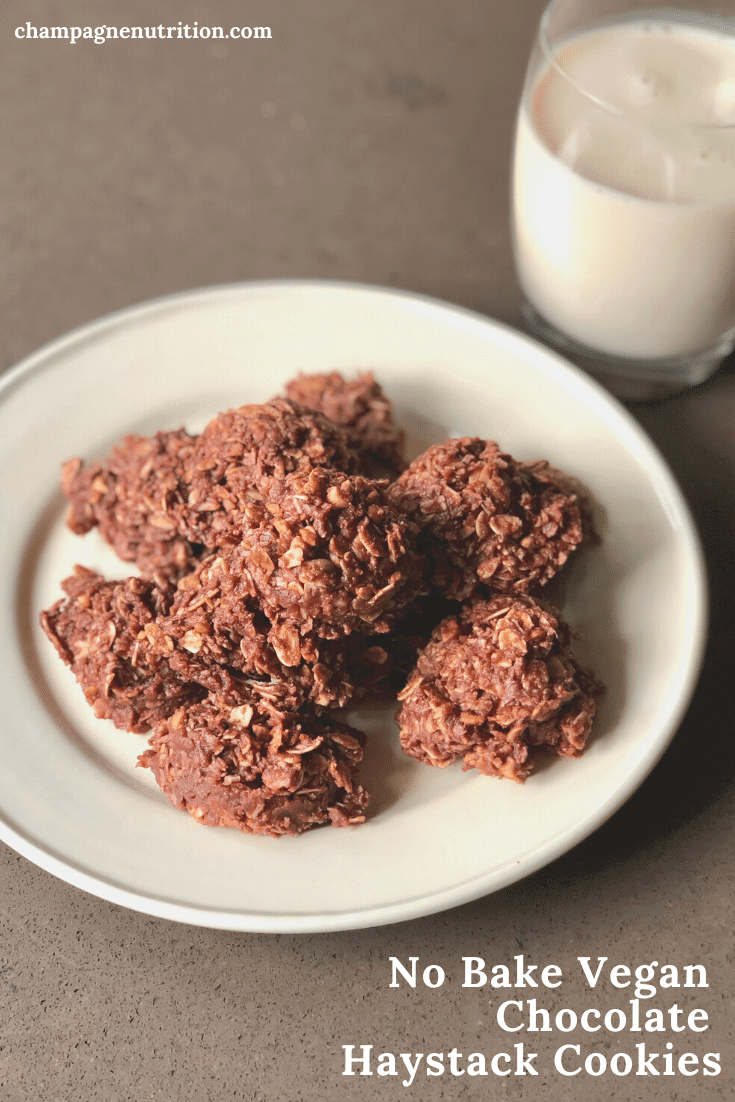 Making No Bake Vegan Chocolate Haystack Cookie Bites
This is super easy and again, you can make these in minutes, drop them on parchment and let them sit to firm – that's it! You do need a little stovetop action, however, and so what I suggest is getting everything out, measured and prepped because this recipe moves pretty fast.
Get your saucepan out and put the coconut oil, milk and cocoa in it and cook it over medium-high heat. Use a spatula to mix it and scrape it down and make sure to watch it because it's not very much liquid and it could burn easily. Once that's done and completely combined into a chocolate paste, you need to get out your wooden spoon. Mix in the peanut butter – that will get melting right away. And then mix in the coconut flakes, oats, vanilla and a little sprinkle of salt. That's seriously it!
Use an ice cream scoop, a melon scoop, a small ladle or just two large spoons to scoop and place the cookies on a piece of parchment paper. They'll be a little messy looking and that's ok; they're haystacks after all. It really takes just about 30 minutes for these to harden. If you live in a place that's very warm or very humid, you may want to actually stick them in the refrigerator instead because they'll firm up in there very well.
After that, you're so good to go! You can keep these at room temperature (again, if it's not super hot and/or humid where you live), in an airtight container for up to 5 days. If you want to, put them in covered Tupperware in the fridge. If you want to freeze them, that's perfect, too! Then you can take out one by one when you want to enjoy it, set it on the counter and it will be soft enough to eat in about 30 minutes.
If you need another vegan chocolate recipe, check out my Vegan Chocolate Mousse and my Cocoa Chia Seed Pudding (also vegan).
No Bake Vegan Chocolate Haystack Cookie Bites
Whip these up in minutes and never use the oven!
Print
Pin
Rate
Ingredients
3

Tablespoons

coconut oil

1/2

cup

granulated white sugar

2

Tablespoons

unsweetened non-dairy milk

oat, soy or almond

2 1/2

Tablespoons

baking cocoa

1/3

cup

smooth peanut butter

(no salt, sugar or oil added)

3/4

cup

unsweetened coconut flakes

1

cup

rolled oats

1/2

teaspoon

pure vanilla extract

1/8

teaspoon

sea salt
Instructions
Line a baking sheet with parchment paper and set beside the stove. In a medium saucepan, combine coconut oil, sugar, non-dairy milk, cocoa powder and cook until the oil has melted and the ingredients are combine (about 5 minutes), stirring frequently, scraping down the sides with a spatula.

Remove from heat and add peanut butter. Stir to incorporate then add oats, coconut flakes, vanilla and salt. Stir to combine. Drop heaping tablespoons of the batter onto the prepared baking sheet with two teaspoons. Let sit at room temperature until cooled and hardened - about 30 minutes.
Ginger Hultin,MS, RD, CSO
An award-winning, nationally recognized nutrition expert and media spokesperson.
Thanks for visiting! If you're like me: obsessed with eating, wine, going out and traveling, you're in the right place. Champagne Nutrition® LLC is a Registered Dietitian-run concierge virtual practice helping clients look and feel better. On this blog, you'll find cocktails, mocktails, and plant-based recipes that are easy to make quickly at home and pack for leftovers on your adventures.