Healthy Oatmeal Raisin Energy Bites
Are you an oatmeal raisin cookie person? How you could not be! They're so delicious, warm, out of the oven…and I don't even love raisins that much. However, I'm really into oatmeal, from Healthy Oatmeal Raisin Energy Bites to oatmeal bakes to oatmeal cookies and beyond. Oatmeal is such an important addition to diets and is a great source of so many nutrients. It's a very versatile ingredient that boost your health in several ways from immune support to lowering cholesterol. It tastes great as well. 
As a busy Registered Dietitian, I'm all about the energy bites because I so often need a quick, easy snack or dessert on the go. I love how long these stay good for in the fridge – up to 5 days – and in the freezer too – up to 3 months. These Healthy Oatmeal Raisin Energy Bites are a lot lighter than cookies because they don't contain all the butter so if you're working on your health, these are a great substitute. Plus they're portable for snacking or before or after a workout. I wanted to share my simple recipe for Healthy Oatmeal Raisin Energy Bites with you today because you can literally whip them up in minutes, they're no-bake and are so comforting and delicious.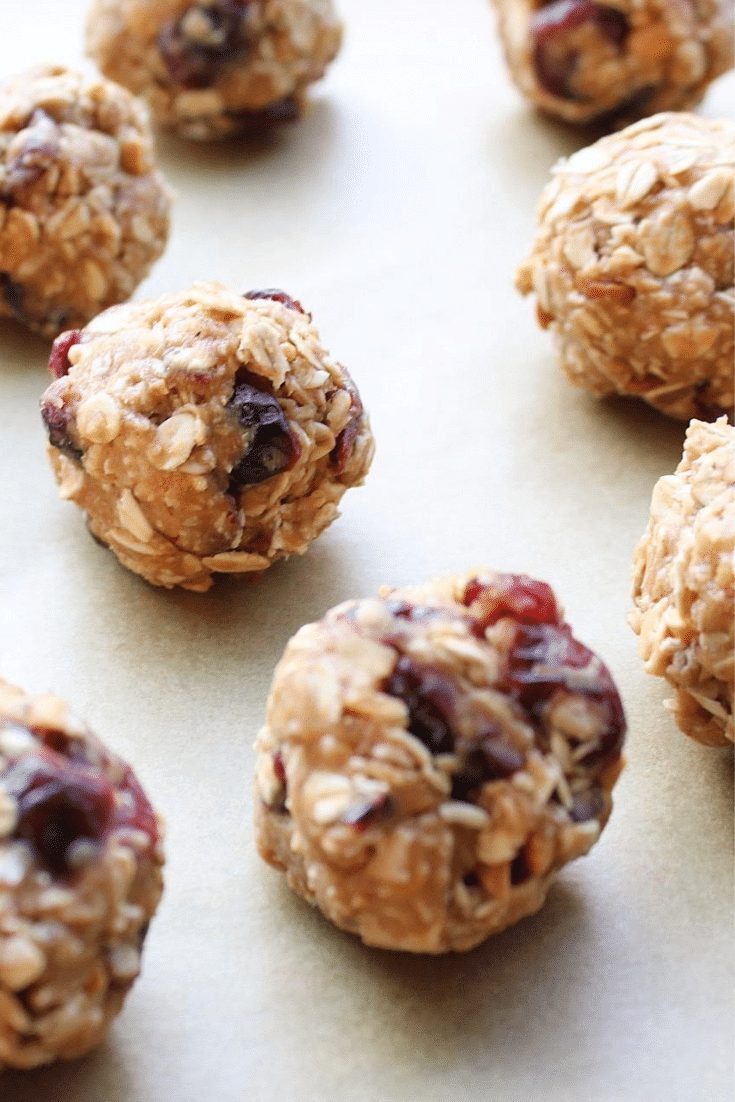 Oatmeal Fun Facts
Oats are very healthy grains and provide slow-burning, sustainable energy. They are a whole-grain food, which is the best way to enjoy grains. Being whole-grain means that all parts of the grain, like the bran or the germ, are present and haven't been removed during the milling process. Oats are packed with so many nutrients, such as complex carbohydrates and fiber, to help provide long-lasting energy and aid in digestive health. 
One powerful fiber that oats are rich in is beta-glucan, a soluble fiber. Beta-glucan provides the body with so many amazing health benefits, such as lowering LDL and total cholesterol levels, reducing blood sugar, and increased growth of good bacteria in guts. There's also some evidence that this compound can increase the immune system, making your fight against bacteria and viruses stronger. 
Oats also contain so many essential vitamins and minerals, such as manganese, phosphorus, iron, folate, and many more. Additionally, they are rich in antioxidants, specifically avenanthramides, which help reduce inflammation and lower blood pressure levels by lowering LDL cholesterol levels. Plus, oats are gluten-free, making them much more nutritious and beneficial for a wider group of people.
What I love most about oats and oatmeal is how versatile they are! You can add them to so many different recipes, like cookies or pie crumbles, and they are also amazing just on their own. Creating fun, new oatmeal combinations is so fun and I love switching it up from hot oatmeal to overnight oats to these Healthy Oatmeal Raisin Energy Bites. Plus, these bites are super easy to make and are perfect for busy people (like myself!) to pack for a midday work snack or post-workout snack.
Why Raisins?
Oats and raisins have become a classic pairing, and honestly, one that many people are on the fence about whether they enjoy it or not. Raisins, while not very popular in taste to some, are packed with health benefits. Raisins contain many vitamins and minerals such as B-vitamins, magnesium, potassium, iron, and calcium, just to name a few. They are also rich in fiber, they can be used in a huge variety of dishes both sweet and savory, and they are extremely portable and convenient to snack on. They are also sweet and sticky and so they're perfect for snacking including these healthy Oatmeal Raisin Energy Bites. And hey – if you don't like them, just sub cranberries or dried cherries, cranberries or blueberries.
Did you know that the word raisin comes from the Latin racemes, which means a "cluster of grapes or berries" and there is evidence that raisins were sun dried from grapes as far back as 1490 BC? The California Raisin Board explains on their site that the Greeks and Romans decorated places of worship with raisins and handed them out to winners in sporting contests. 
Raisins are great for a quick energy boost before a workout or during a busy day. These are the perfect, antioxidant-rich ingredient to add into energy balls to help fuel the body. They are perfect for athletes, the combination of protein and carbs are sure to satisfy! And if you need more easy no-bake bites or homemade energy bars to go make sure to try my Cran-Almond Energy Bars or Cherry Coconut Energy Oat Balls. I took both of these recipes to work and they were gone within minutes.
Making the Healthy Oatmeal Raisin Energy Bites
Choosing the Oatmeal
I personally always choose to use rolled oats in any recipe that calls for oats, simply because they are easier to work with and to enjoy. Rolled oats are flatter and hold their shape a little better than steel cut oats do. Using rolled oats in this recipe specifically will help keep the shape of the bites along with help bind all the ingredients together. Additionally, I always like to choose just plain rolled oats, but if flavored oats are more your style, feel free to use them! Just be aware that there are already so many amazing flavors in these Oatmeal Raisin Bites that the flavored oats might overpower them.
Choosing your Raisins
Feel free to use any type of raisin you prefer, whether it be red raisins or golden raisins. Either will work in this recipe. I even recommended chopping them into smaller pieces to make sure each energy bite has the perfect balance of raisins to the other ingredients, as to not overpower the bites with raisins. And, if raisins really aren't your thing, feel free to substitute them with another dried fruit, such as dried cranberries or dried blueberries.
Adding some Protein and Sweetness
I love throwing in some additional ingredients to amp up the nutrient content in these Healthy Oatmeal Raisin Bites. I added some nut butter to increase the protein content and also make these bites stick together easier. Any type of nut butter will do, from peanut to almond to sunflower, so feel free to choose whatever you prefer! Additionally, I added some honey and vanilla extract to provide these treats with some natural sweetness without being overpowering. Plus, these natural sweeteners provide the sweet taste without all the added sugars!
These Healthy Oatmeal Raisin Energy Bites have been a game-changer in my morning and post-workout routine, providing an easy and filling way to start my day or replenish after a hard workout. You'll have to let me know if you try these! What's your favorite way to enjoy oatmeal?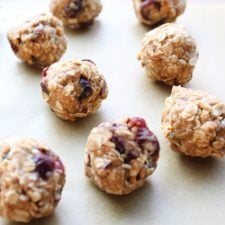 Ingredients
3/4

cup

raisins

1 1/4

cup

rolled oats

(divided)

1

teaspoon

cinnamon

1/2

cup

peanut butter or almond butter

1

teaspoon

pure vanilla extract

1/4

cup

honey
Instructions
In a food processor blend together the dry ingredients: raisins, one cup oats, and cinnamon.

After processing the dry ingredients, add the additional 1/4 cup of oats, nut butter, honey and vanilla extract. Stir to combine.Cover and let sit in refrigerator for an hour. Once chilled, roll into small, bite-sized balls. Optional: sprinkle shaved dark chocolate on top
Ginger Hultin,MS, RD, CSO
An award-winning, nationally recognized nutrition expert and media spokesperson.
Thanks for visiting! If you're like me: obsessed with eating, wine, going out and traveling, you're in the right place. Champagne Nutrition® LLC is a Registered Dietitian-run concierge virtual practice helping clients look and feel better. On this blog, you'll find cocktails, mocktails, and plant-based recipes that are easy to make quickly at home and pack for leftovers on your adventures.