Do you need a light little cocktail that's not too boozy? I definitely did on the day of my wine club hosting because, let's be honest, adding a cocktail to wine night is asking for trouble. I wanted an aperitif that would fit in with our gathering but not leave my guests feeling tipsy that early on in the evening. Enter my Lillet Spritz. If you're not familiar with Lillet yet, you're in for a wonderful treat.
I'll tell you what I was really after the night that I created the Lillet Spritz…I was actually after a Vesper. Have you heard of this James Bond martini? It's kind of insane….gin and vodka served up with a splash of Lillet and a twist of lemon. That's right: gin AND vodka. Wow. That was not going to happen at wine club because liquor and wine don't mix.
Instead, I went with sweet little Lillet, which is similar to vermouth in some ways – it's French, and it's  "aromatized wine" commonly used as an aperitif. I was drawn to it because it's in the wine category. It's also quite sweet, and you'll just use a little of it in a cocktail. Like others in its category, a little goes a long way. At 17% "ABV" (alcohol by volume), it's not like a true spirit (the vodka and gin situation), but it's much higher than wine which is usually in the 10-12% range.
There are three types of Lillet,, and all of them taste like bright honey with some citrus and floral in there. It's definitely sweet which is why it's good to mix with seltzer or soda and/or spirits like gin or vodka. We used Lillet Blanc in this Lillet Spritz, which I liked for the light, clear color. Lillet Blanc was originally called Kina Lillet and is made from white grapes. Rouge is obviously made from red grapes and then Rosé is quite new. Rosé continues to be such a hot trend,  so the rosé Lillet is made from a blend of the blanc and rouge grapes and gives a nice splash of color to your drink. If you love rosé like I do, make sure to check out my 3-ingredient frosé that you can make at home!
Seltzer Cocktails
I've been getting interviewed a lot lately about seltzer water. The flavored varieties are incredibly popular as are the canned varieties with the alcohol already in it. To be clear, in this recipe you want the regular kind and not the kind with alcohol because then you'll have a very strong drink and probably some strange flavor combos.
A couple of my favorite interviews about soda and seltzer are this Experience Life piece about whether or not carbonated water is dehydrating (no it's not), and this MyFitnessPal blog post about if it's ok to drink sparking water daily (yes, it is).
I actually make cocktails with seltzer all the time so be sure to check out my Sparkling Water Southern Comfort Cocktail and my Sparkling Plum Basil Cocktail if you're into these like I am.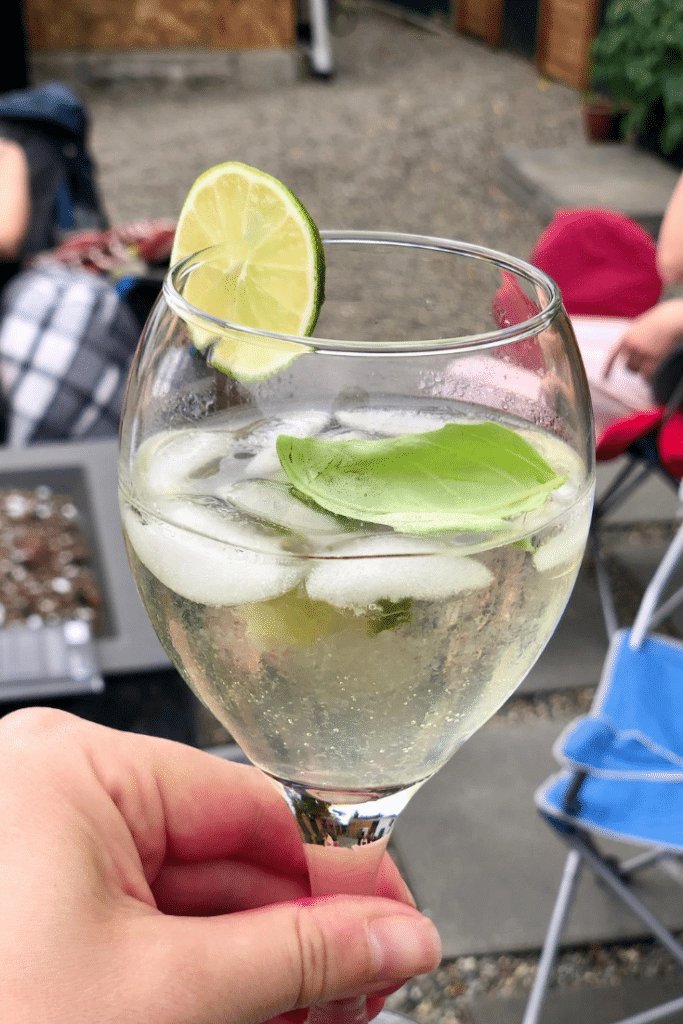 Making the Lillet Spritz
One of the best things about this drink is that it's incredibly simple to make and serve. It's perfect for a party of two (or one), but also for larger gatherings. It's an impressive cocktail that seems fancy but that you can make in just a minute while chatting with guests. There are some considerations with shaking, serving, and garnishing so I want to walk you through them here.
The Shaker
You could have a fancy shaker….or you could use something else. Don't feel like you need all the perfect bar equipment because you don't. I honestly use a water bottle with a secure lid most of the time anyway and it works perfectly well. The secret ingredient here really is the ice because you want to shake it really hard to get that frothiness when you pour it into the glass. The ones I'm holding in these pictures have settled down already but I do love a good froth on a fresh drink.
The Lillet
Like I discussed above, there are three types of Lillet but this one is meant to be made with the classic Blanc. If you want to use a different kind then go right ahead! It will just be a darker color which could be beautiful for a holiday party. Each type has a similar flavor profile so you really can't go wrong.
The Seltzer
When making this drink, make sure that you get a plain variety rather than flavored unless you really want it. The flavor of Lillet is very light so it could get overpowered and hidden by a flavored seltzer. If you do want to try a flavor, consider lime or lemon.
Do not make the mistake of getting tonic instead of soda/seltzer because it has a very strong flavor that may not suit your taste. However, if you love tonic, go right ahead and see how you find it combined with Lillet. I know a lot of people really enjoy that cocktail. It will be a little higher in calories because tonic has calories, like cola, while regular, plain soda and seltzer do not.
The Garnish
I love a little spritz of fresh lime, and lemon would work very well, too. A fresh leaf of basil adds such a nice little herbal note that really complements the Lillet, but if you don't have that, you could also do a sprig of thyme or rosemary. Mint is an option, too, but it's a stronger flavor that, again, could overpower the subtle Lillet notes. I love a good garnish, but if you don't have any on hand, just enjoy the drink on ice and it will still be wonderful.
If you try this one, leave me a message about how it turned out!
Lillet Cocktail with Seltzer
A fresh, bright, and light cocktail featuring honey-sweet Lillet
Print
Pin
Rate
Ingredients
3

cups

ice cubes

divided

2

ounces

Lillet Blanc

can also use rose or rouge if desired

6

ounces

seltzer water

divided

1

small

lime, sliced

for garnish

2

medium

basil leaves

can also use thyme or rosemary
Instructions
Place 2 cups of ice cubes in a large shaker. Pour in the Lillet and half of the seltzer water and shake it well until it's frothy (about 30 seconds). Fill two wine glasses with the remaining ice, split, then strain the liquid into the glasses and garnish them both with a slice of lime and a sprig of basil.
Nutrition
Serving:
1
glass
|
Calories:
40
kcal
|
Carbohydrates:
3
g
Ginger Hultin,MS, RD, CSO
An award-winning, nationally recognized nutrition expert and media spokesperson.
Thanks for visiting! If you're like me: obsessed with eating, wine, going out and traveling, you're in the right place. Champagne Nutrition® LLC is a Registered Dietitian-run concierge virtual practice helping clients look and feel better. On this blog, you'll find cocktails, mocktails, and plant-based recipes that are easy to make quickly at home and pack for leftovers on your adventures.