There's one thing you can do to make your life easier every single day: meal prep. I'm not talking about an extensive, all day event where you package everything in special containers. You can keep it simple by prepping big batches of food when you do feel like cooking, then serving it again for lunches or dinners later in the week. You can also freeze many recipes and pull them out whenever you need them. I love creating recipes that are perfect for meal prep and leftovers, and this Mediterranean lasagna is no exception. It's perfect to snack on for days after you make it. Plus, it's gluten-free, vegetarian and high in fiber!
I'm a bit obsessed with lasagna because it's a traditional comfort food that can be made ahead, creates incredible leftovers, is a dish that everyone loves, and can actually be created in a very healthful, anti-inflammatory way. This Mediterranean lasagna is interesting because of the quinoa and eggplant ingredients that make it unique. The flavors blend so well together and it has a really nice texture. I love the idea of quinoa in a lasagna dish because it adds some heartiness and complexity. A high-protein grain, quinoa makes this dish quite filling as well. 
If you like the idea of an easy lasagna and/or using quinoa in recipes, I have some awesome lasagna rolls up on the blog and you should also check out my gluten-free quinoa breakfast porridge. If you try these, be sure to drop me a comment on the blog so I know you were there! 
Anti-inflammatory aspects of lasagna
Other highlights for making a lasagna of your own? Tons of veggies! Spinach and red sauce are both featured in my Mediterranean lasagna, but eggplant takes center stage in this dish. In this lasagna, thin slices of eggplant replace the noodles. You pre-bake them so they're not slimy at all; they're actually very firm and make wonderful layers in the dish. It's not very "eggplanty" so if you don't love that veggie, then I still encourage you to try it. You may find, that you're an eggplant convert in certain conditions.
Eggplants have some unique antioxidants, too. Whenever you see that blue/purple color you know that you're getting the antioxidant anthocyanins. All these features make this a great anti-inflammatory dish.
Whenever I use marinara sauce it reminds me of my friends over at tomato wellness because they're obsessed with all things cooked tomato. There are so many health benefits to them. Marinara sauce is particularly high in lycopene – an antioxidant that has unique anti-cancer effects, especially in research done on prostate cancer. It also contains vitamins A, E, K and B-vitamins, and minerals like potassium and copper. 
Making Mediterranean lasagna
Making this recipe is all about multi-tasking. When you bake the eggplant, make the quinoa at the same time. Chop the spinach and mix the ricotta and crack the eggs while they are cooking. Set everything out and you're ready to assemble. If you took this one piece by piece, it would be a long and complicated recipe but if you look at it as a series of simple steps, it's much more doable. Here's how I do it: 
Preheat the oven and slice the eggplant to get it baking. Try to slice the eggplant thinly and evenly. It's challenging since they're a bit curved. What I generally do is reserve the very small rounds from the ends in case I need to fill in any gaps when I'm layering.

Lay all the slices on a baking sheet and brush them lightly with oil then flip them, brush them again and do a really light sprinkle of salt and pepper. I have an actual little kitchen brush that I dip in olive oil. You don't want to saturate them but just do it very lightly.

Put the eggplant in the oven to bake for 20 minutes, while it's baking start the quinoa. Be sure to check it after 10 so your eggplant doesn't get overdone.

Give the quinoa a quick rinse until the water runs clear, then combine the quinoa with water in a pot, bring it to a boil then cook it on a low heat, covered, until it's fluffy.

While the quinoa and eggplant are both cooking, prep the: spinach, egg and ricotta mixture:
a. Chop the spinach really roughly and set it aside. No need to make it very small as the hot quinoa will make it wilted anyhow.
b. Crack the eggs into a small bowl, whisk them up and add the herbs and set that aside.


c. Mix the mozzarella and Parmesan into the ricotta in a medium bowl and set that aside

Next get your marinara ready: If you want to make your own red sauce, that's totally fine and you likely have time to do it but I really like to keep things simple. I usually just pick one up at the store. There are some great choices. Look for one without added sugar that has minimal ingredients. Simple is best.

Finally, when the quinoa and eggplant are done, take them off the heat. Add your spinach to the quinoa and set it aside so that the spinach wilts a bit and the mixture cools.

Once the quinoa mixture cools (you don't want to cook the egg) -about 10 minutes, add the egg to the quinoa and mix it all together. It will be a nicely coated, combined mixture.

Make your layers: Pour some of your red sauce (about 1/3 cup) and spread it on the bottom of the pan. Put down a layer of eggplant. I use 6 large pieces and fill in the gaps with any smaller ones. Then I layer the quinoa mixture evenly on top. I dollop ricotta mixture in 6 places and spread it slightly to the best I can with a spatula. It doesn't have to be perfect. Then add another 1/3 cup of red sauce and another layer of eggplant followed by another layer of quinoa and more dollops of ricotta to use both mixtures up. Finally, add a final layer of eggplant then top with the remaining red sauce and cheese and bake. You're ready to go!
I hope you get to try this awesome Mediterranean lasagna! Please be sure to give it a 'rate' and drop me a comment so I can get your feedback on how it turned out for you 🙂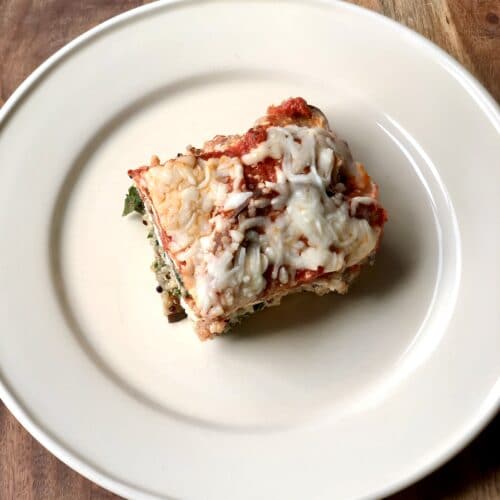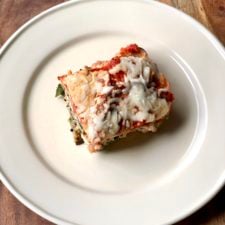 Ingredients
2

medium-sized eggplants

3

Tablespoons

olive oil

1/2

teaspoon

sea salt

1/2

teaspoon

freshly ground pepper

1

cup

quinoa,

rinsed

2

cups

baby spinach,

roughly chopped

14

ounce

jar marinara sauce

2

eggs

1

teaspoon

dried oregano

1

teaspoon

dried basil

1

teaspoon

dried parsley

1/2

cup

ricotta cheese

1

cup

grated mozzarella cheese,

divided

1/2

cup

Parmesan cheese,

divided

1

teaspoon

crushed red peppers
Instructions
Preheat oven to 375 degrees F. Line 2 baking sheets with parchment paper.

Slice off top and bottom bits of eggplant and cut into 1/4-rounds. Arrange on baking sheet then brush both sides with olive oil. Sprinkle lightly with salt and pepper then roast in the oven for 20 minutes.

Bring quinoa and 1 3/4 cups water to a boil in a saucepan. Reduce heat and simmer, covered for 15 minutes. Turn off heat and let rest for 5 minutes. Transfer to a large bowl and add spinach. Blend together and let rest for an additional 10 minutes. Meanwhile, whisk eggs and add oregano, basil and parsley in a separate bowl. Add egg mixture to quinoa spinach mixture and blend well. In another bowl, blend 1/2 the mozzarella and 1/2 the Parmesan into the ricotta and set aside.

In a 13x9 glass baking pan, spread 1 cup of marinara sauce evenly on the bottom. Layer half the eggplant slices in the bottom of the pan (about 6 large pieces). Spread quinoa mixture evenly on top. Dollop ricotta mixture on top of the quinoa mixture so it is spaced evenly around the casserole. Add another layer of eggplant on top then add about 1 cup of red sauce and then cover with another layer of quinoa/spinach to use it all up and then another dollop of ricotta mixture to use it all up. Cover with remaining marinara sauce then remaining mozzarella and Parmesan. Cover with foil and bake for 25 minutes. Uncover and bake for an additional 20 minutes. Serve hot. Also makes great leftovers.
Nutrition
Serving:
1
slice
|
Calories:
398
kcal
|
Carbohydrates:
38
g
|
Protein:
18
g
|
Fat:
20
g
|
Saturated Fat:
6.8
g
|
Fiber:
9.4
g
Ginger Hultin,MS, RD, CSO
An award-winning, nationally recognized nutrition expert and media spokesperson.
Thanks for visiting! If you're like me: obsessed with eating, wine, going out and traveling, you're in the right place. Champagne Nutrition® LLC is a Registered Dietitian-run concierge virtual practice helping clients look and feel better. On this blog, you'll find cocktails, mocktails, and plant-based recipes that are easy to make quickly at home and pack for leftovers on your adventures.