Penne with Cauliflower Curried Cream Sauce
Have you hopped on the cauliflower bandwagon? Cauli rice, cauli tots, cauli soup, whole roasted cauli, cauli pizza crust and now: cauliflower SAUCE. This cruciferous veggie has been trending for a couple years now and for good reason. It's incredibly versatile, healthful and delicious. I know that it sounds a little nuts to make pizza crust out of cauliflower but when I finally tried it (I was very late to the game on this one), I loved it. I also finally riced my own cauliflower and honestly, I was blown away by how good it was. I made this delicious little pasta curry 100% vegan by cooking then blending the cauliflower. Trust me: you need to try this Penne with Spicy Curried Cream Sauce.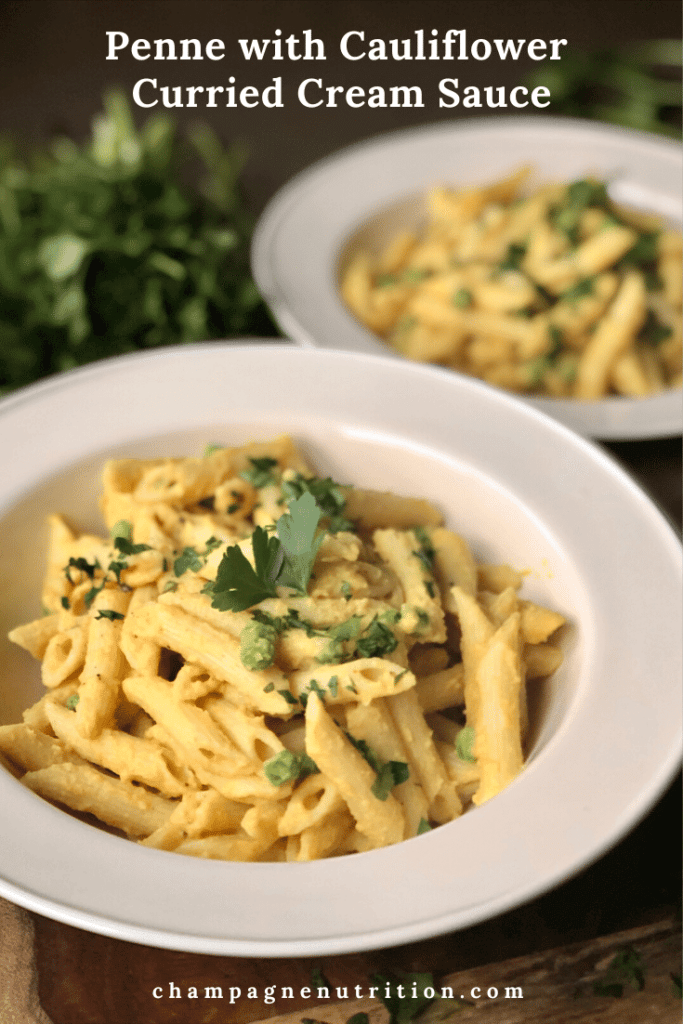 Creating the Perfect Pasta Dish
I know it might sound a little strange to make pasta with a curried sauce. Honestly, I think it's a breath of fresh air that's so different than a traditional Italian-inspired pasta dish. The problem with pastas so often is that they're often unbalanced – all carbs and fat. Alfredo sauce, while delicious, is so decadent and really, really high in saturated fat. This is the perfect solution because it's creamy yet vegan and based in veggies.
If you want to make this even better, get creative and use my new obsession: bean pasta. Use any shape you like – though penne works really well. Get a lentil, bean or chickpea variety – all are welcome! I can't get enough of these pastas and there's a huge benefit over regular pasta: these varieties are way higher in both protein and fiber. They even have more fiber than whole wheat pasta! If you haven't tried it yet and you miss your pasta, this is definitely the recipe for you. The bonus with the Penne with Cauliflower Curried Cream Sauce recipe is that it makes a big batch that you can enjoy throughout the week. Meal prep, check!
Making Penne with Cauliflower Curried Cream Sauce
I love this recipe because you can multitask it. Get the pasta cooking and while that's happening, heat the broth and cook the cauliflower. This veggie interesting because it comes in such a range of sizes from really small to gigantic. Aim for the middle and get a mid-sized cauliflower. Make sure you get white, as well – not purple or orange – as it will be a better color for your sauce. When the cauliflower is done cooking, you're going to blend it up but until then, focus on making the base of the sauce.
Warm the other veggies in a skillet in olive oil then add the spices. Curry is key here and will provide a fragrant taste as well as that beautiful, golden color. Bonus: massive anti-inflammatory health benefits in every part of this dish. The green peas are key in this recipe. I always use frozen because they're just so easy and affordable to keep on hand. If you're like me, you'll add a little extra. They also provide a beautiful color that balances out the cream sauce and the pasta. If you get a frozen variety, you can pop it in the microwave or steam it to heat them through. You could also put them in the hot pan after you add the rest of those ingredients in the onion and spice mixture to the blender to cream up with the cauliflower. That's all up to you. I like to make my recipes as simple as possible with few steps.
I garnish this recipe with cilantro. It adds a bright, fresh flavor that goes well with the curry sauce. If you don't like cilantro – and many people don't – that's fine! Consider using some parsley, either curly or flat-leaf instead. Parsley is such an underrated herb in American cuisine. I think we should be using it in salads and as a garnish for dishes all the time. It has an incredible flavor and is packed with vitamins, minerals, and antioxidants.
To reduce spice, simply cut back on the quantity of red pepper flakes added. You could also add more – that part is up to you!
Other Comfort Food Recipes to Try
If you like the idea of this dish and you want some more bean-based, healthy yet delicious recipes you can meal prep for the week, I've got several for you.
My Lemon Fettuccini with Black Pepper is actually a 'traditional' pasta dish with more of an Alfredo sauce that's so lovely any time of year.
I've also got a really simple Edamame Pasta Salad that can be served cold and makes a perfect on-the-go lunch or side dish at a picnic.
My most famous recipe of all-time is this Simple Garlic Lemon Zoodle recipe. Maybe you've seen it trending on Pinterest!
And if you need a homemade tomato sauce, this one just has a few, simple ingredients. Make your own in minutes instead of buying it.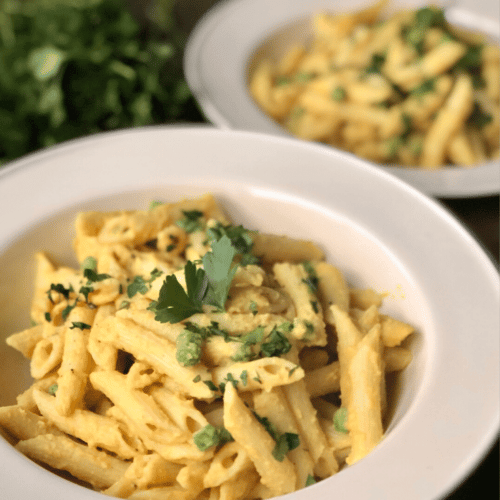 Penne with Cauliflower Curried Cream Sauce
adapted from the Forks Over Knives cookbook
Print
Pin
Rate
Ingredients
1

large head of cauliflower, chopped into florets

1 1/4

cups

vegetable stock or broth

2

teaspoons

olive oil

1/2

medium yellow onion, diced

2

cloves

garlic, minced

1

Tablespoon

curry powder

1/2

teaspoon

crushed red pepper flakes

1/2

teaspoon

sea salt

1

cup

green peas (fresh or frozen)

1

pound

whole grain penne pasta

I used Tolerant lentil pasta!

1/2

cup

cilantro, roughly chopped
Instructions
Cook penne paste according to box instructions. Drain it and set aside when finished.

In a medium saucepan, combine the cauliflower and vegetable stock and bring to a boil, cooking for 10 minutes until cauliflower is tender.

Pour the cooked cauliflower and broth into a blender and set aside.

In the same pan, add olive oil, onion, and garlic. Saute it over medium heat until onion is soft and translucent, about 5 minutes. 

Add the curry powder, crushed red pepper, and salt, stirring for about 1 minute. Use a splash of water to deglaze the pan if the spices are sticking.

Add the spices, onions and garlic to the blender and puree until smooth. Cook the peas on the stove or the microwave if they're frozen.

In a large bowl, combine the penne pasta, cauliflower curry sauce, and peas. Stir to combine. Garnish with chopped cilantro and serve warm.
Ginger Hultin,MS, RD, CSO
An award-winning, nationally recognized nutrition expert and media spokesperson.
Thanks for visiting! If you're like me: obsessed with eating, wine, going out and traveling, you're in the right place. Champagne Nutrition® LLC is a Registered Dietitian-run concierge virtual practice helping clients look and feel better. On this blog, you'll find cocktails, mocktails, and plant-based recipes that are easy to make quickly at home and pack for leftovers on your adventures.