Pumpkin Snickerdoodle Cookies
What is it about pumpkin spice that keeps us coming back to this staple seasonal flavor? Researchers at Johns Hopkins University say: nostalgia. Memories can be tied to scents and the familiar notes of nutmeg, cinnamon, and ginger that define pumpkin spice can trigger familiar memories of cozy autumn and winter days. You'll need my recipe for Homemade Pumpkin Pie Spice when you make these deliciously unique Pumpkin Snickerdoodle Cookies this season! 
I made this Pumpkin Snickerdoodle Cookies recipe for all the autumn and winter nostalgia you can handle. These cookies are great for holiday gatherings or just as a yummy after school or work snack. Pro tip as you whip these up – hopefully with friends or family in a cozy kitchen –  shape the batter into 1-inch balls and freeze them to bake later when you want to warm up with a cozy fall treat any time of year! Yes: you can absolutely eat pumpkin spice anything year round. 
Health Benefits of Pumpkin
Pumpkins are more than a fall decoration. They are a type of winter squash packed with impressive health benefits. Orange in color, pumpkins are rich in beta-carotene, a photochemical that the body turns into vitamin A. Vitamin A promotes a healthy functioning body by supporting eye health, the immune system, and reproduction. It also helps major organs like the heart, lungs, and kidneys function normally. 
Another great benefit of pumpkins is that they are rich in antioxidants. These phytochemicals can help to protect the body from free radicals. Free radicals have been known to cause cancer and damage cells in the body. Eating a diet rich in antioxidants can help neutralize free radicals, providing a protective effect against cancer. 
Health Benefits of Spices and Herbs
Did you know that many herbs and spices offer more than a delicious taste and a soothing scent? The spices in these Pumpkin Snickerdoodle Cookies may offer health benefits as well. Similar to pumpkin, several spices are packed with antioxidants.
Cloves, vanilla, nutmeg, and cinnamon, to name a few, have really unique compounds that help support your health. These antioxidants work the same as in pumpkin, offering free radical neutralization benefits. Beyond that, cloves are rich in manganese, which can help support brain functioning and strong bones. Vanilla can help reduce inflammation in the body through its anti-inflammatory properties. Next time you reach in the cabinet for your spices, keep in mind these wonderful benefits!
Making the Pumpkin Snickerdoodle Cookies
To begin making the Pumpkin Snickerdoodle Cookies, preheat the oven to 350 degrees F and prepare a couple of baking sheets by lining them with parchment paper. 
While the oven is heating up, begin making the cookie dough. In a small bowl, you will want to mix together ¼ cup of sugar and the spices, cinnamon, cardamom, nutmeg, cloves, and ¼ teaspoon salt and set aside.
In a separate medium bowl, mix the dry ingredients by adding the flour, cream of tartar, baking soda, and ¾ teaspoon salt. Stir until combined and set aside. 
Using an electric mixer, beat the butter and 1 ½ cups sugar on medium-high speed for 4 minutes or until it becomes light and fluffy. Next up, incorporate the eggs, 1 at a time. After each egg is added, mix on medium speed.
Now that you have your wet ingredients and dry ingredients prepared, you will combine them. Add half of the dry mixture to the wet mixture and mix on low speed until completely combined. Add the other half of the dry mixture and mix until fully incorporated. 
At this point, you will want to form 20 balls using a 1 ½ ounce cookie scoop. Once you have formed the balls, place them in the spice mixture, 1 by 1, and roll until fully coated. Honestly, this makes a lot of cookies so unless you're on your way to a cookie party, definitely consider freezing some for later. 
Move the balls to the prepared baking sheets, spacing them 3 inches apart so they have room to expand as they bake. These certainly spread out a lot when baking. Keeping them too close together can cause your cookies to run into each other.
Once you have your baking sheets loaded with the cookie dough, place them in the oven and bake for 12 to 14 minutes, or until outer edges set and wrinkles are evident. They may still look a little soft but they'll continue to cook a bit more on the hot pan. Remove the cookies from the oven and allow them to sit for 10 minutes on the baking sheet. Transfer the cookies to a cooling rack.
Enjoy these cookies immediately or freeze some of the cookie dough balls to bake later on. 
Recipe FAQs
This Pumpkin Snickerdoodle Cookies recipe is sure to be a crowd pleaser, but what if your crowd has food allergies? Not to worry! You can do some simple swaps to meet the needs of individuals with food allergies or just food preferences. 
To make this recipe vegan, substitute the butter with a vegan butter option and the eggs with flaxseed eggs. 
If you are looking to go the gluten-free route, substitute the all-purpose flour for a gluten-free version, like Bob's Red Mill gluten-free 1 to 1 baking flour. 
Let me know in the comments if you adapted these Pumpkin Snickerdoodle Cookies to your preference and how they turned out! 
If you are looking for more pumpkin recipes, check out my:
Mason Jar Vegan Pumpkin Pie Parfaits
Healthy Pumpkin Pie Breakfast Bake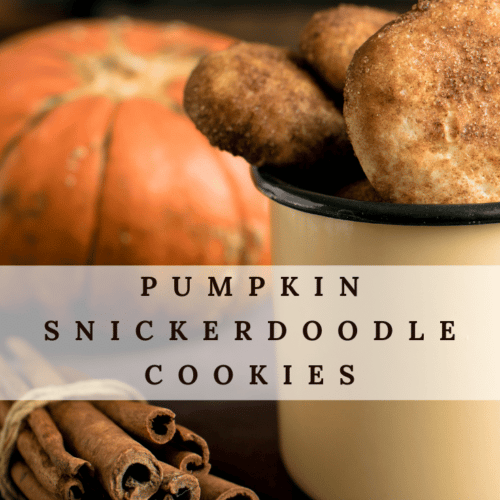 Pumpkin Snickerdoodle Cookies
Add real pumpkin to your Snickerdoodles and then roll them in warming spices like cinnamon, cloves, and nutmeg for the perfect amount of sweet and spicy.
Print
Pin
Rate
Ingredients
1 1/2

cup

sugar, divided

2

tablespoons

cinnamon

1/2

teaspoon

ground ginger

1/2

teaspoon

nutmeg

1/2

teaspoon

ground cloves

3/4

teaspoon

salt, divided

2 3/4

cups

flour

2

teaspoons

cream of tartar

1

teaspoon

baking soda

3/4

cup

unsalted dairy or non-dairy butter at room temperature

2

eggs at room temperature

*or egg replacement for a vegan/allergy friendly option

1

teaspoon

vanilla extract

1/3

cup

canned pumpkin
Instructions
Preheat the oven to 350 degrees F and line 2 baking sheets with parchment paper or a silicone liner.

In a small mixing bowl, combine ¼ cup sugar, cinnamon, ginger, nutmeg, cloves, and ¼ teaspoon salt and set it aside.

In a medium sized mixing bowl, stir together the flour, cream of tartar, baking soda, and 1/2 teaspoon salt and set it aside.

In the bowl of a stand mixer, beat the butter and 1 1/4 cups sugar on medium-high speed for 3-4 minutes or until light and fluffy.

Incorporate the eggs, one at a time, mixing on medium speed after each egg is added.

With the mixer running on low, pour in the vanilla and pumpkin and mix until they are incorporated, about 15-20 seconds.

Add the flour mixture slowly, mixing it on low speed until completely combined and a thick dough is formed. Set the dough in the refrigerator to firm up for at least 30 minutes or up to 8 hours/overnight.

Form 1 1/2 ounce dough balls with your hands, rolling each one in the sugar and spice mixture before placing them on the sheet pans, evenly spaced.

Bake the cookies for 12-14 minutes until the outer edges have started to brown and the middle has risen slightly. The cookies will continue cooking on the hot pan once they're removed from the oven. Let them sit on the sheets for an additional 10 minutes before moving them to wire racks to cool completely.
Nutrition
Serving:
1
g
|
Calories:
224
kcal
|
Carbohydrates:
32
g
|
Protein:
1
g
|
Fat:
10
g
|
Saturated Fat:
6
g
|
Cholesterol:
43
mg
|
Fiber:
1
g
|
Sugar:
18
g
Ginger Hultin,MS, RD, CSO
An award-winning, nationally recognized nutrition expert and media spokesperson.
Thanks for visiting! If you're like me: obsessed with eating, wine, going out and traveling, you're in the right place. Champagne Nutrition® LLC is a Registered Dietitian-run concierge virtual practice helping clients look and feel better. On this blog, you'll find cocktails, mocktails, and plant-based recipes that are easy to make quickly at home and pack for leftovers on your adventures.