Sparkling Water Southern Comfort Cocktail
LaCroix sparkling water and Southern Comfort are two extremely popular beverages that are delicious on their own, but why not put them together to make an even better drink? Introducing my Sparkling Water Southern Comfort Cocktail. This cocktail is exceptionally easy to make, better-for-you AND tastes amazing. I always love coming up with recipes with ingredients I have laying around. My husband and I had a handle of Southern Comfort left over from a party and wanted to use it to make some cocktails for ourselves, but the only mix-in we had at the time was coconut LaCroix. We were skeptical but thought we would give it a try – and let me tell you… I am so glad we did. 
This light, refreshing and simple cocktail is ideal for the summertime, but I find myself wanting it all year round. Because it only requires two ingredients, it's so easy to whip up during get-togethers. Flavored sparkling water is such a great mix-in for cocktails because it not only adds flavor and bubbles, but it also will help you stay hydrated (I talk about the safety of sparkling water here on myfitnesspal.com). 
A lot of the time cocktails turn into sugar bombs – syrupy mixes, sugar rims and lots of juice – it's basically a guaranteed hangover. You should be able to enjoy a delicious cocktail without feeling regret the next day. Anyone who likes  Southern Comfort and LaCroix is going to love mySparkling Water Southern Comfort Cocktail. Mixing up a really simple, lighter cocktail at home makes enjoying a little personal happy hour a little easier and if you're entertaining, then you won't spend all your time in the kitchen or behind the bar with recipes like this one. 
Southern Comfort History 
Southern Comfort is a sweet, fruity, strong golden alcohol that commonly gets mistaken for whiskey – but, it actually is a whiskey-flavored liquor. It was invented in 1874 in New Orleans by bartender Martin Wilkes Heron, when he added fruit and spices to low-quality whiskey to make it taste better – and it was a hit. In 1889 he started selling his creation, calling it Cuffs & Buttons because the ingredients he used to flavor the whiskey resembled cuffs (citrus peels) and buttons (cloves) – this name was also a jab at his main competitor: Hats & Tails. Eventually the liquor was renamed Southern Comfort, and is now commonly referred to as SoCo. 
This unique liquor has inspired many different cocktails including the Comfort Collins (SoCo, lime juice, lemon-lime soda), the Southern Manhattan (SoCo, sweet vermouth, aromatic bitters) and the Southern Mule (SoCo, ginger beer). The brand now sells three different variations of the liquor: the original, 80 proof and 100 proof (just in case you want an EXTRA strong drink). This tasty liquor is ideal for cocktails, so there's no wonder why my Sparkling Water Southern Comfort Cocktail is so good! 
All About Sparkling Water 
If you're unfamiliar with LaCroix, it's a brand of sparkling water that has gained a massive fan group over the past several years – and I am one of those fans. LaCroix has actually been around since the 1980s and was initially only available in the Midwest. The brand gained so much success within the past several years because they decided to heavily market their brand on social media. With aesthetically-pleasing packaging and an array of fun flavors, like pamplemousse and limoncello, it instantly became "instagramable," which led to tons of posts about it, which ultimately amped up their name. 
LaCroix's sparkling water actually stands up to its strong brand presence – it's delicious. With so many different flavors to choose from, it's easy to become addicted to it (I always have it in my fridge). It also is just as hydrating as regular water (I talk all about it here) and has no added sugar, so you can drink as much of it as you want. Every time I catch myself craving a soda, I drink flavored sparkling water instead – not only do the flavorings taste refreshing and clean, but the bubbles make it even more satisfying to drink. I love creating cocktails with sparkling water because it takes out the sugar and increases the flavor. It's fun getting a variety pack and trying out different recipes – use the coconut LaCroix for my Sparkling Water Southern Comfort Cocktail, the tangerine one for my Creamsicle Cocktail and the lime one for my Sparkling Plum Basil Cocktail. 
Making the Sparkling Water Southern Comfort Cocktail
This cocktail is by far one of my easiest drinks to make. It only requires 4 things – ice, Southern Comfort, Coconut LaCroix and a lime for garnish. 
I used the regular Southern Comfort for this cocktail, but if you want an extra kick, you can easily replace it with the 80 or 100 proof variety. All three have the same flavor – fruit juice, caramel and a bit of cinnamon, but the higher proofs have a richer taste. 
The flavor profile of Southern Comfort surprisingly pairs amazingly with the coconut LaCroix. I was skeptical when I first combined the two, but trust me – this delicious combo is worth trying. The flavors really complement each other. I'll throw it out there that some people really don't care for the coconut flavor so if that's you, try replacing it with lemon or lime instead and see how that goes. It won't be exactly the same because it's designed for that coconut but it will still be a light, refreshing drink. 
Once you have your Southern Comfort and Coconut LaCroix, pour them in a glass over ice and garnish with a slice of lime – it's that easy. I love adding lots of ice because then it stays super cold and melts into the drink over time so you can sip and savor it. Remember, we're going for quality over quantity here.  
If you're a fan of bubbly whiskey drinks, you should also try my Citrus Kombucha Old Fashioned. It's another good one.
If you try this one, let me know how you like it by leaving a comment!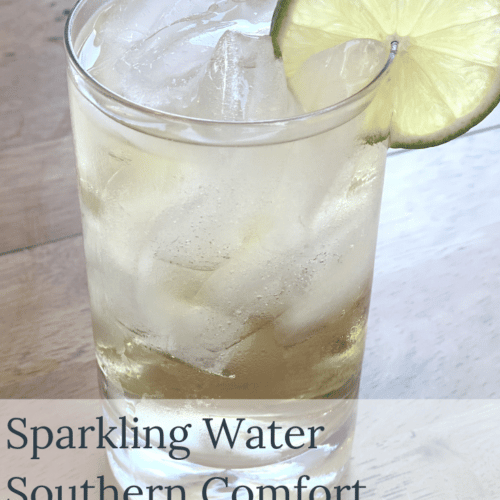 Sparkling Water Southern Comfort Cocktail
A healthier version of a SoCo cocktail, you can make this one in less than 5 minutes at home!
Print
Pin
Rate
Ingredients
2

cups

cubed ice

4

ounces

Southern Comfort

1

can Coconut LaCroix sparkling water

1

lime

sliced for garnish
Instructions
Fill 2 glasses with ice. Add 2 ounces Southern Comfort to each glass then top with 1/2 can each of sparkling water. Stir to combine and serve immediately with a slice of time for a garnish.
Ginger Hultin,MS, RD, CSO
An award-winning, nationally recognized nutrition expert and media spokesperson.
Thanks for visiting! If you're like me: obsessed with eating, wine, going out and traveling, you're in the right place. Champagne Nutrition® LLC is a Registered Dietitian-run concierge virtual practice helping clients look and feel better. On this blog, you'll find cocktails, mocktails, and plant-based recipes that are easy to make quickly at home and pack for leftovers on your adventures.