Green Chile Butternut Squash Chickpea Enchiladas
Enchiladas are my favorite – both for their flavor and their convenience. They are the perfect meal to prepare ahead for the week and create delicious leftovers. With my busy life, I have to plan ahead each week to avoid going out too much and these Green Chile Butternut Squash Chickpea Enchiladas are the best. Hearty for anytime of the year, this dish reminds me of fall with warm spices and seasonal squash. Enchiladas are often loaded with cheese, meat and salty sauce but you can make them healthier by packing in the veggies and minimizing cheese to get the most vitamins, minerals, antioxidants and fiber possible. Beans add a nice protein balance in addition to the whole wheat tortillas so you get that satiating feeling to keep you full for hours.
What I love most about these enchiladas, aside from how easy they are to make, is that they are the perfect meatless meal. The chickpeas provide a great source of plant-based protein and the butternut squash is rich in fiber and numerous nutrients. If you celebrate "Meatless Mondays", a movement that encourages people to enjoy just one day meat-free which makes a difference to the environment, the lives of animals and also our health, or if you're just interested in eating less meat, this type of recipe is for you. Green Chile Butternut Squash Chickpea Enchiladas are a vegetarian dish that fits perfectly at the start of the week, can be packed for lunch and makes amazing leftovers.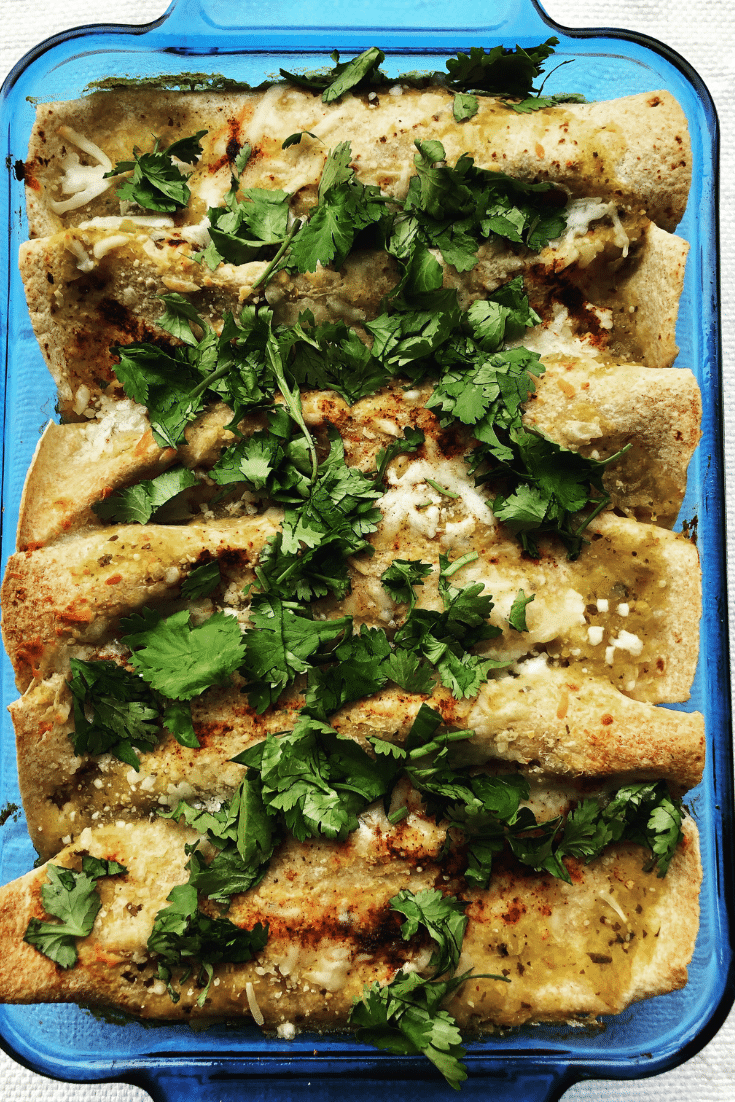 Why butternut squash?
Butternut squash is one of my favorite seasonal food items. I use it all fall and winter long, making meal after meal with them. Butternut squash is an amazing source of fiber, complex carbohydrates, and many vitamins and minerals such as vitamin A, vitamin C, vitamin E, magnesium, potassium, and others. In fact, one cup of cooked butternut squash contains about 457% of the Reference Daily Intake (RDI) of vitamin A. Vitamin A is essential for regulating cell growth, eye health, and immune function. Butternut squash is rich in carotenoids, specifically beta-carotene, beta-cryptoxanthin, and alpha-carotene. These compounds are all provitamin A carotenoids, meaning that the body actively converts them into retinal and retinoic acid, the active forms of vitamin A.
Butternut squash is also rich in antioxidants, mainly in the form of vitamin A and vitamin C. Both vitamins help the body get rid of free radicals, protecting cells and reducing risk of further disease. Including butternut squash in these Green Chile Butternut Squash Chickpea Enchiladas provides the meal with so many amazing health benefits along with making it a great source of numerous nutrients.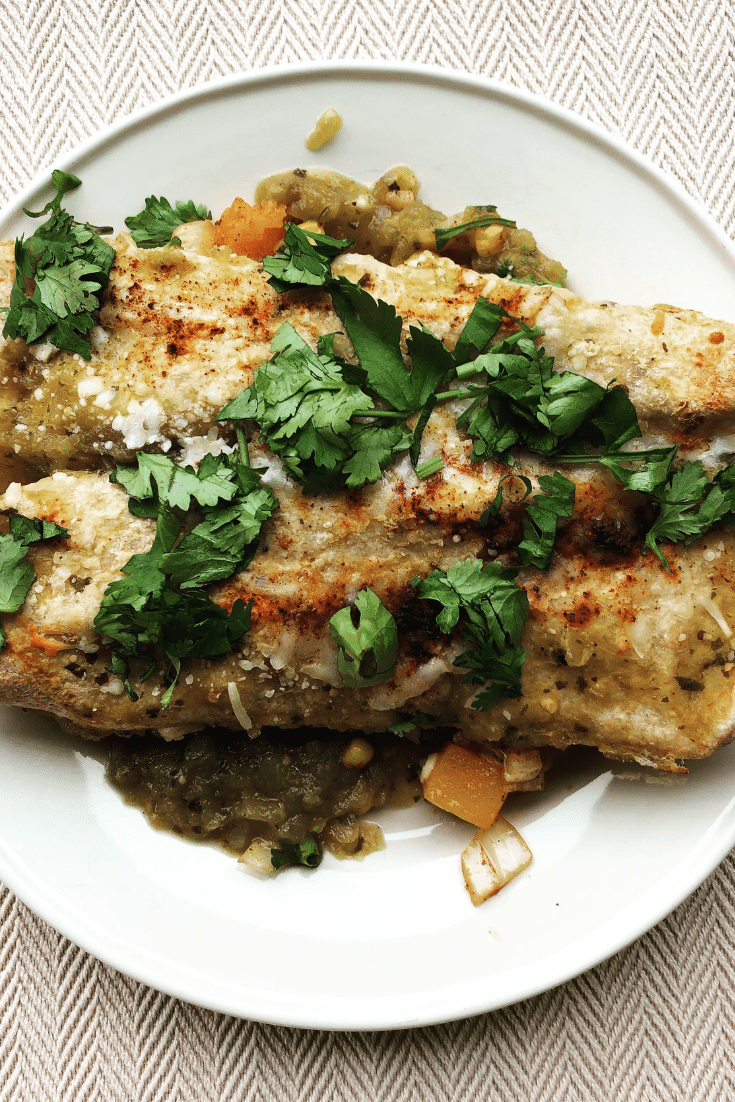 Making the Green Chili Butternut Squash Chickpea Enchiladas
Prepare the Ingredients
Before I begin making these enchiladas, I like to start by gathering all the ingredients needed and preparing them according to the recipe. First, I dice the yellow onion and peel and dice the butternut squash. I switch off between using fresh butternut squash and frozen, pre-diced butternut squash depending on how busy I am. Using frozen butternut squash is a great, easy alternative to use instead of fresh butternut squash and still tastes so amazing in this dish. I then gather some frozen corn, chickpeas (drained and rinsed), un-drained diced green chiles, various spices, salsa verde, shredded cheese, tortillas, and cilantro.
These Green Chile Butternut Squash Chickpea Enchiladas feature conveniently prepared whole foods like canned beans, frozen sweet potato chunks, and frozen corn. Simple ingredients to have on hand, affordable and quick to prepare, look for these types of unprocessed foods that come in a form that makes cooking easier. Did you know that frozen fruits and vegetables have the same nutrient quality as fresh produce? Frozen produce is flash frozen right after it is harvested, maintaining their nutritional value. I never hesitate to use frozen foods; they're a big part of my shopping list and my meal prep. Once I have all of the ingredients prepped and ready to go, I begin assembling the enchiladas.
Assembling the Enchiladas
Before I begin any cooking, I preheat my oven to 350 degrees F so that it will be ready once the enchiladas are assembled. I then lightly coat a large sauté pan with some olive oil and sauté the diced onions until soft, about 1-2 minutes. Once soft, I add the fresh or frozen diced butternut squash and frozen corn to the pan, sautéing for 3-5 minutes. I then add the chickpeas, green chiles, cumin, chili powder, salt and pepper and cook for an additional 3 minutes, stirring often. These enchiladas are packed with spice so feel free to cut down on the chili powder if you need to mellow them out. 
I then add one cup of the salsa verde to a 12×9 baking dish, spreading the salsa evenly across the bottom. Taking a tortilla, I fill it with about ½ cup of the filling and 2 tablespoons of shredded cheese (I like to use either Colby or Monterey Jack – and you can absolutely use vegan cheese if you want), then roll tightly and place seam side down in the baking dish. I repeat this with all the remaining tortillas. Once all of the enchiladas are in the dish, I top with the remaining salsa and some additional shredded cheese. I then cover the dish with foil and bake for 20 minutes, until the cheese is melted, and remove the foil and bake for another 5 minutes until golden brown. Let cool for about 5 minutes and garnish with cilantro. You can also add additional toppings as well, such as sour cream or avocados. Both help to cut the spice and avocados in particular are a heart-healthy fat that will help keep you full for a long time and offer some wonderful fiber, vitamins, minerals, and antioxidants.
If you like this recipe here are a couple of other simple, healthy casserole-type dishes to try as you are meal planning this week: Simple Vegan Enchilada Casserole, Vegetarian Lasagna Roll-Ups, Chickpea Stuffed Sweet Potatoes with Coconut and Kale, Hasselback Potatoes with Cheesy Vegan Sauce.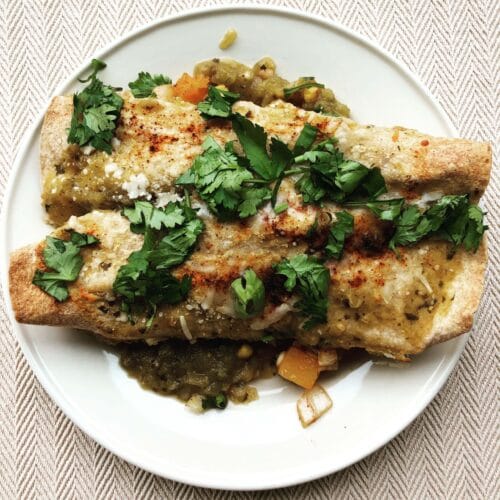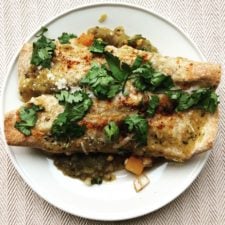 Ingredients
1

Tablespoon

olive oil

1

medium

yellow onion, diced

3

cups

peeled, diced butternut squash

(frozen variety for simplicity)

1 1/2

cups

frozen corn

15

ounce

can chickpeas, drained and rinsed

8

ounce

can diced green chilies, un-drained

2

teaspoons

cumin

1

Tablespoon

chili powder

½

teaspoon

salt

½

teaspoon

freshly ground black pepper

2

cups

salsa verde

8

ounces

shredded Colby or Monterey jack cheese

can use a vegan sub

8

6-inch

whole wheat or soft corn flour tortillas

1/3

cup

cilantro, chopped
Instructions
Preheat oven to 350°F. Lightly coat a large sauté pan with olive oil over medium heat. Add onion and cook until softened, 1-2 minutes. Add butternut squash and corn, sautéing for 3-5 minutes. Add beans, green chilies, cumin, chili powder, salt, and pepper, cook for an additional 3 minutes, stirring often.

In a 12x9 glass baking dish, spread one cup of the salsa verde evenly on the bottom. Fill each tortilla with about ½ cup of filling, add 2 Tablespoons of shredded cheese, roll tightly and place seam-down in the baking dish. Repeat for the remaining tortillas.

When all enchiladas are in the dish, top with the remaining salsa to prevent cracking and sprinkle with remaining cheese. Cover with foil and bake for 30 minutes, until the cheese is melted, remove the foil for the last 5 minutes and let cook until lightly browned. Let cool for 5 minutes and serve with cilantro garnish.
Ginger Hultin,MS, RD, CSO
An award-winning, nationally recognized nutrition expert and media spokesperson.
Thanks for visiting! If you're like me: obsessed with eating, wine, going out and traveling, you're in the right place. Champagne Nutrition® LLC is a Registered Dietitian-run concierge virtual practice helping clients look and feel better. On this blog, you'll find cocktails, mocktails, and plant-based recipes that are easy to make quickly at home and pack for leftovers on your adventures.