Strawberry Orange Turmeric Immunity CBD Tonic
It's cold and flu season and there are some scary viruses floating around…especially here in Seattle right now. Of course you should wash your hands and avoid going out if you're sick. Don't touch your face and wipe down potentially dirty surfaces (like doorknobs, your phone, gas pumps and beyond). Those are the basics but there's something more that you can do to take immunity into your own hands. Something that may make you less likely to get sick or if you do get sick, make the symptoms less severe and the recovery faster. That's take care of your body by giving it the vitamins, minerals and antioxidants it needs for optima performance. So I made this beautiful little Strawberry Orange Turmeric Immunity CBD Tonic for you!
I got the idea for this recipe from my dietitian friend Carlene Thomas' new book: CBD Drinks for Health when I saw her "Vitamin C Shot" which combines fresh orange juice, lemon, papaya, cayenne pepper and turmeric. It's hard to get papaya here in Seattle this time of year but I love the idea of the beverage. I've been wanting to make a CBD beverage so I used that recipe as a base, with the permission of the publisher, and created this Strawberry Orange Turmeric Immunity CBD Tonic.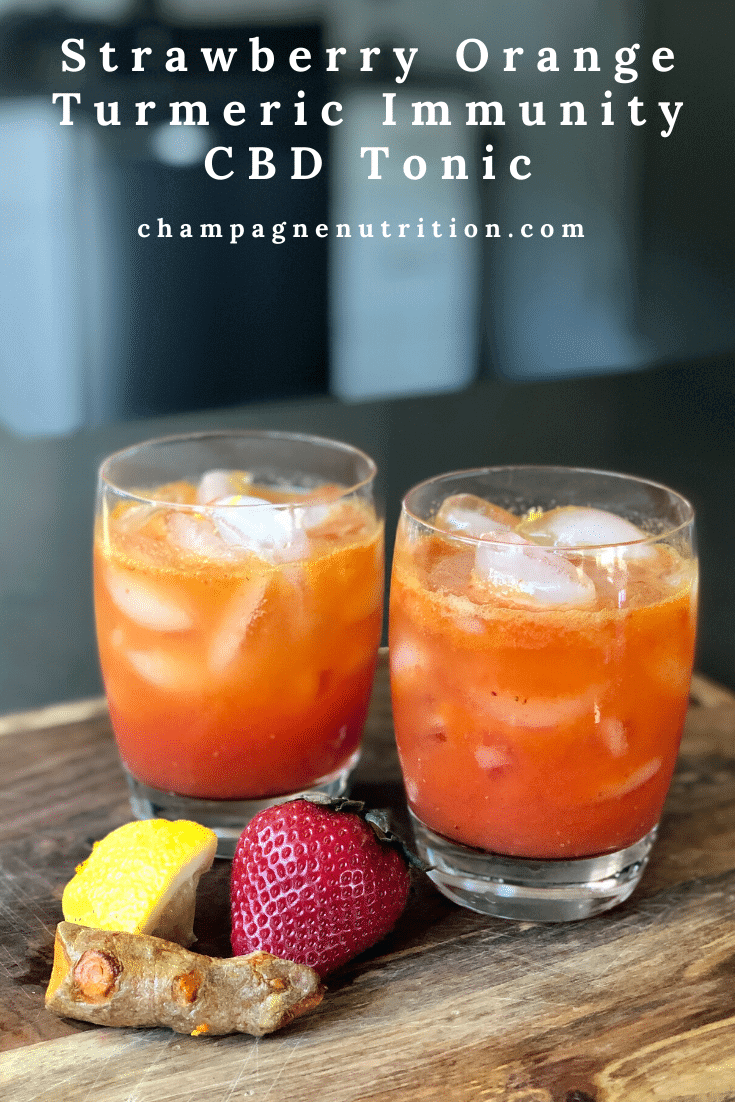 Variations of the Strawberry Orange Turmeric Immunity CBD Tonic
Carlene's original Vitamin C Shot was made as a concentrated beverage in shot form but I wanted my Strawberry Orange Turmeric Immunity CBD Tonic t0 be a sip-able drink served over ice. That being said, you could definitely enjoy it as a shot. I poured the recipe over ice in two glasses and topped it with a little sparkling water. It's so zesty, slightly sweet and refreshing. Alternatively, you could serve it 'up' in a martini or wine glass for a true cocktail feel.
The fun thing about beverages like these are that they are full of vitamins and minerals, they do contain whole fruit so you get the fiber and there's some really interesting added herbs and spices that offer even more nutrients as well as tons of flavor.
To CBD or not to CBD
I live in a legalized state – Washington – so when I was reading CBD Drinks for Health I was like, "no problem, I'll just go get some CBD. Carlene does an awesome job of breaking it down; what CBD is, how it's different then marijuana or THC. That being said, I didn't know this until I went into a dispensary but they actually (at least here) can't sell any products that don't contain any THC. So it's either you get a very small amount of potential psychoactive or you go somewhere else.
True CBD isn't sold on Amazon or other online retailers like that generally; you have to go directly to the source and buy it specifically from a company you trust. A lot of what you can find out there is actually hemp oil which is different than true CBD. Hemp plants often are sprayed with high amounts of pesticides so if you're taking a concentrated dose, you definitely want organic. You'll notice a huge difference in price and that's because there's a huge difference in quality. I ended up getting 50:1 CBD to THC ratio oil at a local dispensary who told me that it was the best. It was over $50. Someone else recommended another product online to me and it was $100. You definitely pay for quality and safety in these products.
All that being said; you can put CBD in this drink or not! If you can't get it or you don't have a good source or you don't want to use it then don't. No problem at all. Many people do experience some amazing effects of using this compound and it has some fascinating potential effects for pain, mood, and other positive health outcomes.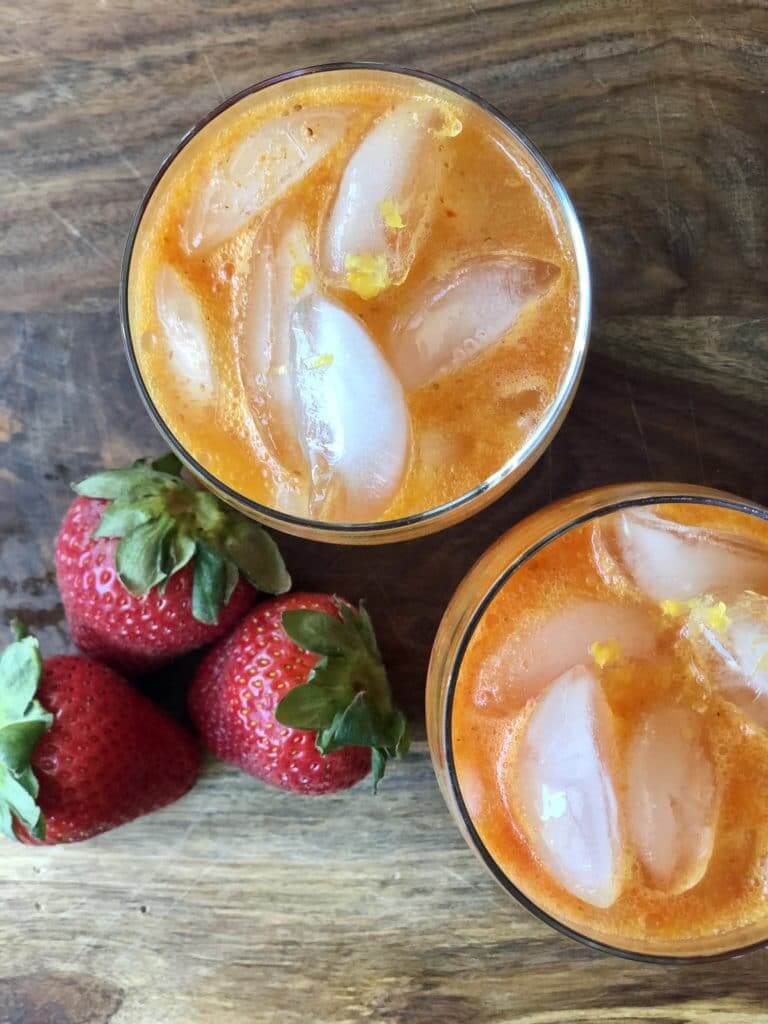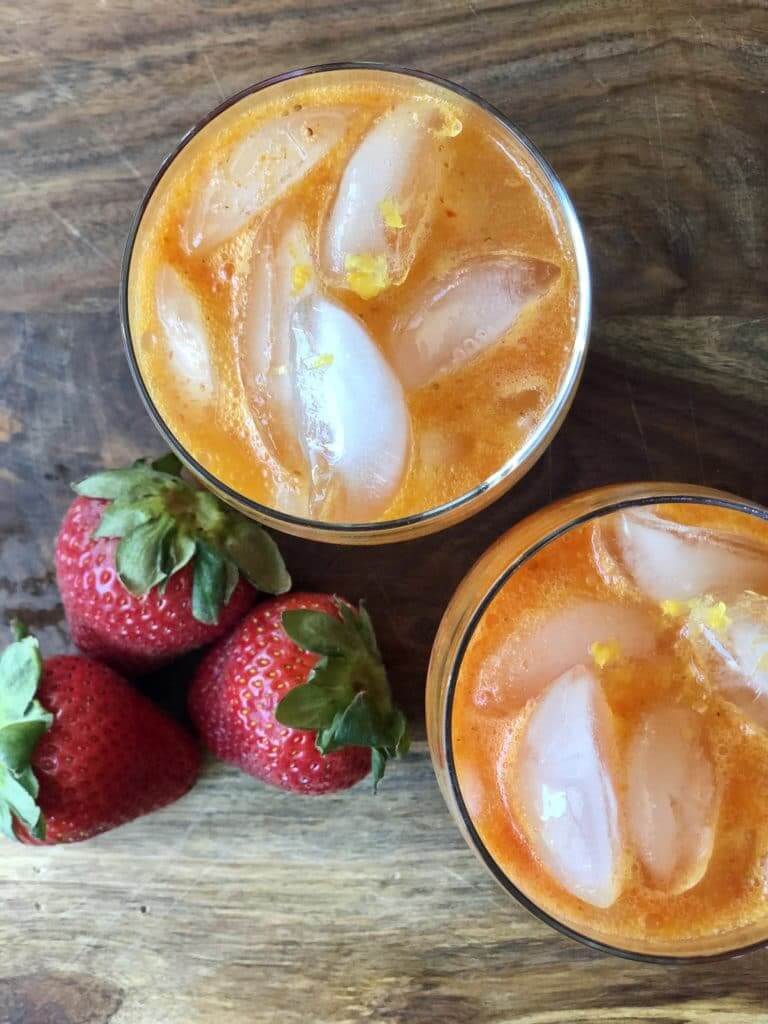 Cocktail vs Mocktail
It's listed here as a mocktail or as a 'shot' that's non-alcoholic but I'm just going to throw it out there that you could definitely add some vodka to this recipe. If you want to, add 1-2 ounces of vodka straight into the blender with the juice and serve over ice or "up". I find that CBD cocktails are trending for really good reason – it's a magical combination of relaxation. Please use caution when combining CBD (especially if you have a product with any THC in it) and alcohol. Never drive after having one of these and pay close attention to how you feel and how it affects you.
If you're not a vodka person, rum is another spirit that would pair well with this Strawberry Orange Turmeric Immunity CBD Tonic
Making the Strawberry Orange Turmeric Immunity CBD Tonic
Start off by prepping all your ingredients. I juiced the orange and lemon, washed the berries, grated the turmeric and set them all aside in small bowls. You could also just place them in the blender one-by-one. I'd say this is just enough for two small beverages and you may need to bump it up a little with some sparkling water. Feel free to add another orange or more strawberries to taste.
If yon need some other ideas for mocktails, I've got my famous Pomegranate Ginger Mocktail up on the blog now. I also often post recipe that contain lower amounts of alcohol such as my Apple Cider Wine Spritzer and my Pomegranate Rose Cocktail and Strawberry Basil Kombucha Cocktail.
Strawberry Orange Turmeric Immunity CBD Tonic
An immune-boosting tonic made from freshly juiced fruits and anti-inflammatory herbs and spices. Take it as a shot or pour it over ice to enjoy as a mocktail or refreshing treat. Excerpted from CBD Drinks for Health by Carlene Thomas. Copyright © 2020 by Simon & Schuster, Inc. Used by permission of the publisher. All rights reserved.  
Print
Rate
Ingredients
2

oranges

juiced with seeds removed (1 cup)

5

large strawberries

washed and hulled

1/2

medium lemon

juiced with seeds removed

dash

cayenne pepper

1/2

teaspoon

freshly ground turmeric

use ground turmeric if needed

26

milligrams

CBD full-spectrum oil
Instructions
Place all ingredients in a blender and mix until strawberries are completely blended.
Ginger Hultin,MS, RD, CSO
An award-winning, nationally recognized nutrition expert and media spokesperson.
Thanks for visiting! If you're like me: obsessed with eating, wine, going out and traveling, you're in the right place. Champagne Nutrition® LLC is a Registered Dietitian-run concierge virtual practice helping clients look and feel better. On this blog, you'll find cocktails, mocktails, and plant-based recipes that are easy to make quickly at home and pack for leftovers on your adventures.