The How to Eat to Beat Disease Cookbook
You've heard that food helps the body heal and keeps it healthy and strong. But did you know that there's solid research that shows that different types of foods influence specific aspects of healing that the body has naturally in place? From the microbiome to stem cell regeneration, the immune system, protecting its own DNA from damage and allowing blood vessels to appropriately feed tissues without getting out of control and feeding cancer cells, its complex and it's real. There's so much you can do and so my new book, How to Eat to Beat Disease Cookbook, is your absolute go-to guide for how to do this on your own. Best of all? It's got  75 healthy recipes that you're going to love.
When I tell people that I've got a new book out…they say: 2 books in 1 year? Yea – I did that LOL and the downtime during the pandemic really allowed me the space to focus on writing and cooking. This one is also published by Rockridge Press and will be available in paperback April 27th, 2021 just 8 months after Anti-Inflammatory Diet Meal Prep came out. Launching the first book did exactly what I wanted it to do: it helped a lot of people feel better. People literally send me messages regularly telling me how much better they feel after following the plan in that book. Cholesterol and blood sugar levels plummet after just a few weeks of it. My sincere hope is thatHow to Eat to Beat Disease Cookbook does exactly the same thing. 
I wanted to tell you more about why I wrote this book, who it can help, and about some of the recipes it features! Please check it out below, grab a copy from one of my favorite local bookstores Ballast Book Co or Liberty Bay Books and be sure to leave an honest review after you read it!
More info about The How to Eat to Beat Disease Cookbook
Bolster your body's natural defense systems through diet with this complete guide and cookbook
Your body has powerful systems in place to keep you healthy and prevent disease, and the foods you eat can help those systems function at their best. The How to Eat to Beat Disease Cookbook offers a complete overview of the popular Eat to Beat Disease program by Dr. William Li and provides a meal plan and 75 delicious recipes to help you implement the program.
How to Eat to Beat Disease Cookbook includes:
Bioactive recipes―Each recipe has at least three (but usually many, many more) bioactive (or health-promoting) ingredients, from fresh produce to herbs and spices, so you can maximize the benefits of every meal.
A 14-day meal plan―Easily adopt the Eat to Beat Disease program with two weeks of pre-planned meals and grocery shopping lists to help you get started on the right foot.
An intro to the body's defense systems―Learn about the body's five major disease-fighting systems (angiogenesis, cell regeneration, microbiome health, DNA protection, and the immune system), how they work, and how food supports them.
Recipe tips and tricks―Find variation suggestions with most recipes so you can make the dishes even healthier and adjust them to suit every taste and dietary preference.
Help your body heal and protect itself with the practical guidance in How to Eat to Beat Disease Cookbook.
I start off with an in-depth exploration of the body's natural defense systems, how they work and what foods help support them. My reference pages in the back are extensive so if you've got any questions or want to reference the studies I was using, they're all there for you! From there, you'll see all the foods laid out in a multi-page food list for reference when planning your recipes and meals. After that, I've got a full 2-week meal plan that uses both recipes in the book as well as other simple, disease fighting ingredients you likely have on-hand. I keep it really simple, using leftovers and ingredients to make your weekly meal prep easy and seamless.
From there, you'll move into chapters with recipes for: breakfast, salads and soups, seafood, chicken, vegetarian (this is the largest chapter!), then baked goods and treats. You know I wasn't going to do a healthy cookbook without baked goods and sweet treats….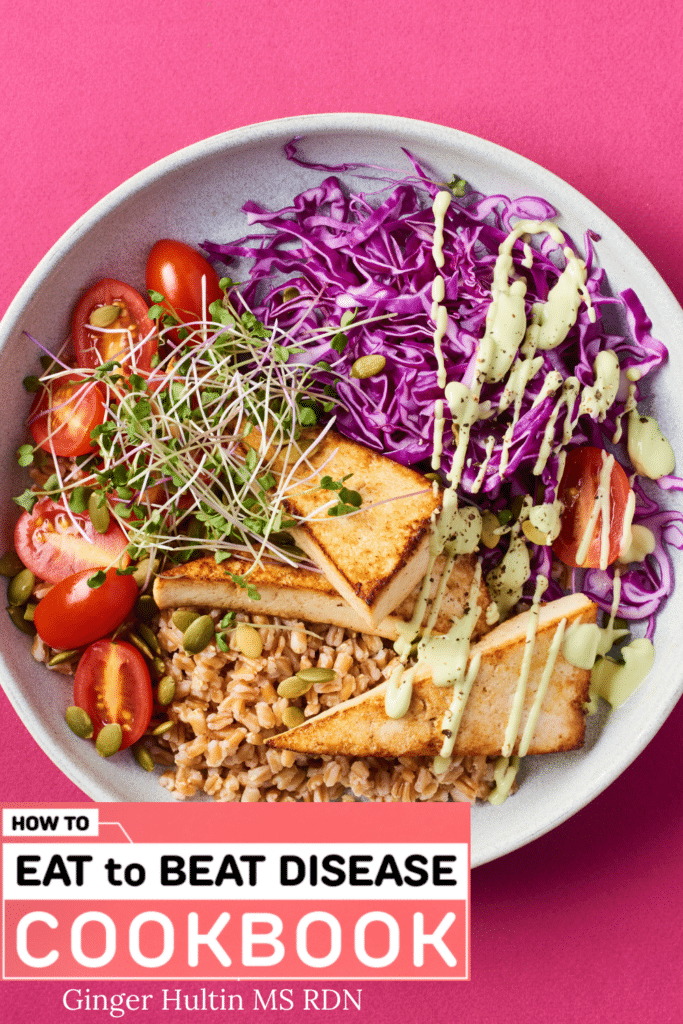 The Inspiration
My work as a dietitian has pretty much one theme: helping people use food to improve their health.  From my work as an intern at the Veterans Hospital in Chicago and my rotations in the city supporting people living with HIV or at the Children's Hospital, dealing with serious illnesses, I saw how disease can ravage a body first-hand. My first job as a dietitian was at a large hospital where I spent a lot of time on the cardiac floor, educating folks who had just had heart attacks.
I was recruited to work at the Block Center for Integrative Cancer Treatment where I spent years as a dietitian there supporting people going through active treatment – chemotherapy and radiation – with plant-based diet education, supplements and lifestyle changes all geared towards calming the inflammation, controlling angiogenesis, supporting the immune system, and nurturing the microbiome so they could heal.
My next stop was at a large biotech start-up here in Seattle, Arivale, where we assessed people genetic markers and blood labs. Guess what we were tracking in both the genetics and blood? Inflammatory markers, immune markers, and microbiome data! In both of these jobs where I had access to so much data, I learned that you can absolutely, 100% influence health markers in the body with nutrition. It's so incredible. By supporting the body's natural processes, you feel better, experience less pain, support your body's healing and increase energy.
I now run two virtual private practices here in Seattle – Champagne Nutrition and Seattle Cancer Nutritionist where my team and I utilize concierge nutrition programs that include nutrigenomic testing (for some, not all), meal prep with an anti-inflammatory approach, and a very high-touch, hands on partnership approach to helping clients change their health and change their lives. If you're intrigued and you know that you need help, we're here for you so please join the newsletter and reach out to contact me and we'll talk.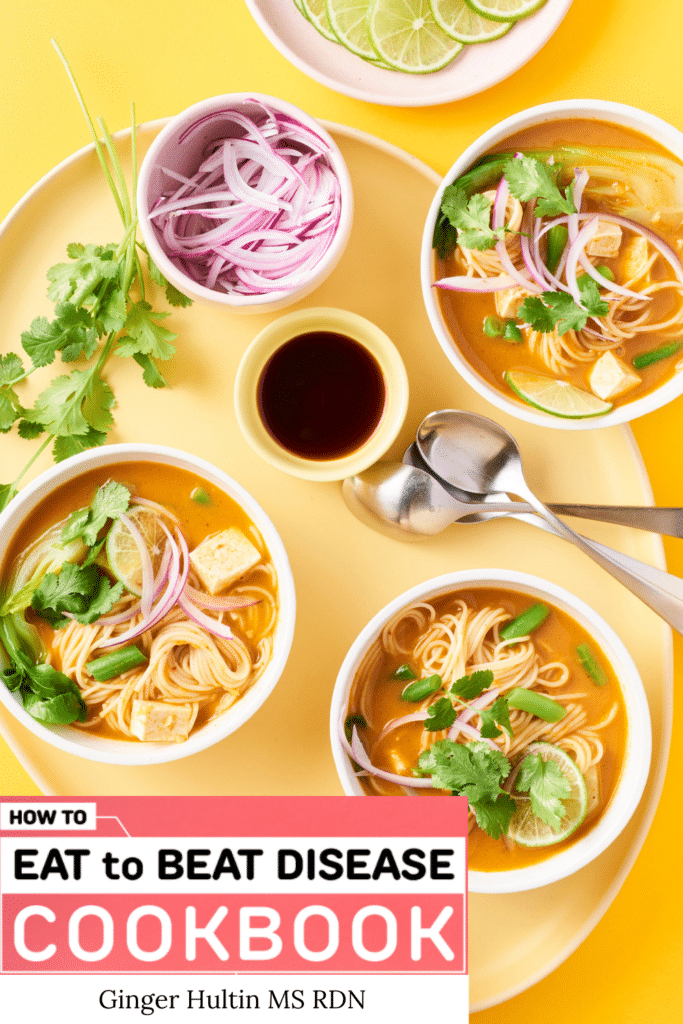 The Journey
I've wanted to write books my entire life. As a young child, I "wrote books", all the time. I uncovered piles of them in boxes of old schoolwork ranging from string-bound construction paper in early grade school up to gigantic typed documents in high school and college when I was an English major.
Being a dietitian really gave me the platform to finally write nutrition books that break down the science into bite sized pieces and also make it approachable and accessible to all. If there's one thing I want this book to do is to help people across the country live healthier lives. I strived to keep it simple, evidence-based and easy to use. I pulled on all my years of clinical experience including my integrative and holistic education I received during my Masters degree at Bastyr University. My goal was to lay out step by step how to use foods to support the natural healing processes of the body.
The Recipes
I'm so excited about these recipes! My strong preference is to be plant-based and cook vegan and vegetarian recipes but my ultimate goal is also to create recipes that are accessible and interesting to all. For that reason, there is a chapter in this book that features chicken and there's one that features seafood. If desired, you could weave in other types of meat that are part of your diet and preferences. Alternatively, for the vast majority of these recipes, you could remove the meat completely and make it vegetarian.
Some of my favorites in the book are
If you or anyone you know needs a new cookbook with healthy recipes and has questions or an interest in harnessing the healing power of natural foods, be sure to order it online or – my preference – from one of the local bookstores selling it currently such as Ballast Book Co or Liberty Bay Books (and grab it right away for the pre-order price guarantee!). If you're a person who wants to make eating healthier easy and still delicious, this book is for you. Let me know what questions you have here in the comments and when you pick up your copy, make sure to leave an honest review to let me know what you think!
Ginger Hultin,MS, RD, CSO
An award-winning, nationally recognized nutrition expert and media spokesperson.
Thanks for visiting! If you're like me: obsessed with eating, wine, going out and traveling, you're in the right place. Champagne Nutrition® LLC is a Registered Dietitian-run concierge virtual practice helping clients look and feel better. On this blog, you'll find cocktails, mocktails, and plant-based recipes that are easy to make quickly at home and pack for leftovers on your adventures.