Happy Taco Tuesday! Tacos are a great easy meal that can be enjoyed any day of the week. It's so easy to fit in a lot of vegetables when making tacos, and you can completely customize them with your favorite toppings. Tacos were likely invented by silver miners in Mexico, and they became mainstream in the United States through the fast food restaurant Taco Bell. While tacos are traditionally made with a meat-based filling, vegetarian tacos are delicious as well. Diversifying your proteins to include plant-based proteins can improve your health and be more environmentally sustainable. This is where my Vegan Tempeh Tacos come in.   
This is one of my favorite 15-minute weeknight meals. When I get home at the end of the day, I can combine the tempeh, beans and spices and let it sit while I change out of my work clothes. I prep the veggies quickly while the tempeh is cooking and get the entire dish on the table in well under 30 minutes. Healthy meals do not have to take long or be complicated. Quick healthy recipes like this one are great to have on hand for our busy lifestyles.
You'll notice there aren't any special sauces or fancy ingredients here – most of the ingredients you may have in your pantry already. Of course you could spice it up by making guac, a sauce, or adding other favorite herbs, spices, veggies and toppings! Mid-week, I need to keep it simple so this is the most basic version of Vegan Tempeh Taco Tuesday. Keep in mind that the possibilities are endless. If I have time, I do like to make my spicy radish pico de gallo or simple spicy guacamole.  If you love the idea of this recipe and want to mix it up, check out my Vegan Mushroom Tacos or my Sweet Potato Black Bean Burritos.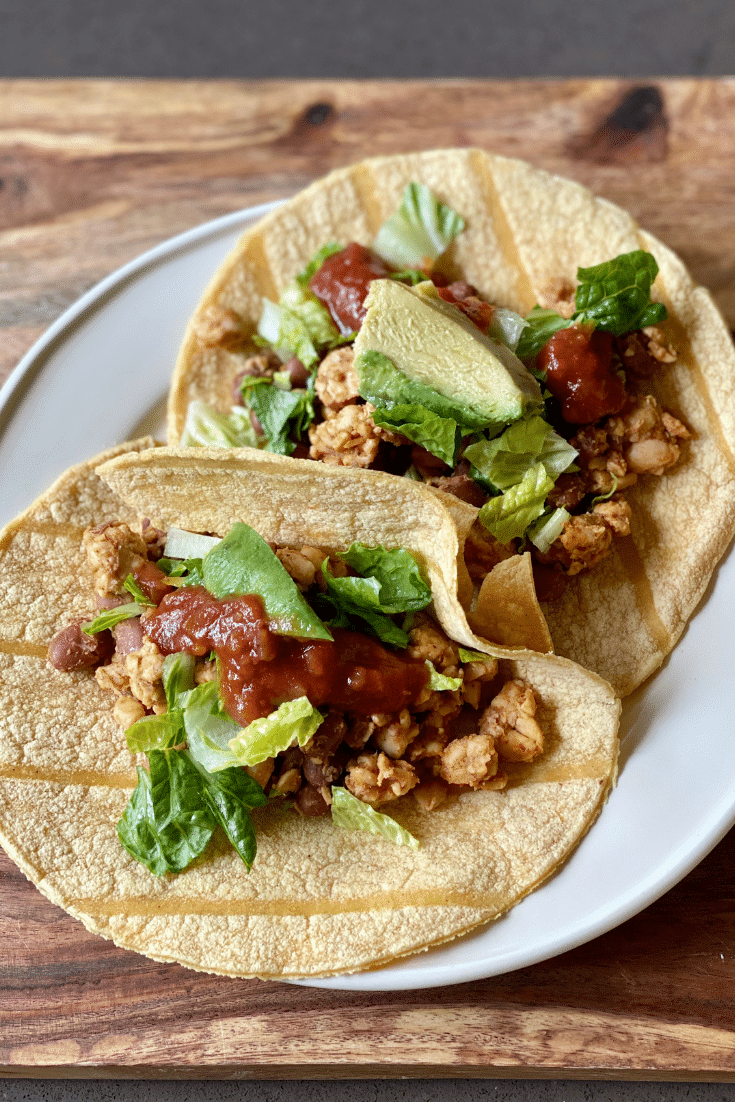 About my Vegan Tempeh Tacos
Most people are familiar with tofu but tempeh may be more mysterious for many of us in the United States. Really, tempeh is just fermented soybeans that originated in Indonesia. While tempeh is uncommon in surrounding countries such as Japan and China, tempeh is one of the most popular fermented foods in Indonesia. Luckily it is available in many grocery stores across the US. You can find it in the refrigerated section of the grocery store, next to the tofu. 
Tempeh is an important vegan/vegetarian protein. It has more protein than tofu, with 23 grams in just 4oz. This makes it one of the plant-based proteins that is most comparable to meat. Tempeh is also packed with nutrients. It is a good source of important trace minerals like iron, zinc, calcium, magnesium, manganese, phosphorus and copper which all have important functions in the body including keeping our bones, blood, and nervous system healthy. Tempeh is an excellent source of B-vitamins, especially B2, B3, and B6. These vitamins are important for our metabolism and utilizing nutrients for energy.  
Tempeh shows up in scientific literature as a support for cardiovascular health. It is high in fiber, low in saturated fat, and cholesterol free. It contains antioxidants called isoflavones that have been associated with decreasing cholesterol levels and may play a role in preventing certain cancers.  
At the end of the day, it tastes great and takes on whichever spices you add to it similar to tofu. I hope you have a wonderful start to your week and can enjoy this Vegan Tempeh Taco Tuesday recipe!
About the Herbs and Spices
Adding spices to meals is a great way to boost its nutritional profile. The chili powder used in this recipe is rich in antioxidants including capsaicin which has been linked to many health benefits including decreasing inflammation, and reducing the risk of heart disease. Cumin contains antioxidants that have anti-cancer properties. It can also help with digestion, and blood sugar control. Oregano is also rich in antioxidants and has been associated with anti-inflammatory and antiviral properties.  
Preparing the Ingredients
The first step is crumbling the tempeh into a medium sized bowl. You can do this by simply breaking off small pieces with your hands. Next drain and rinse one can of black beans and add it in with the tempeh. Mix the two together well. The mixture may be a bit dry – if so you can add in a little water as needed while you're mixing (about ¼ cup total, if needed). Then add in all of the spices – while tempeh and beans are bland on their own, the spices will give them a delicious flavor. Add in the chili powder, crushed red pepper flakes, oregano, cumin, and salt. Mix everything together well. You can adjust the spice level according to your personal preference.
Next heat the olive oil in a large pan and add in the garlic. Saute for about one minute, until it becomes fragrant. Add in the tempeh and black bean mixture. Turn the head down to medium-low, and cook the mixture for about 10 minutes, until warmed through. If you find that it is too try, you can add another ¼ cup of water as needed to get the desired texture. Remove from heat and season to taste.
Putting it all Together
The great thing about tacos is that they are completely customizable. I like packing in a lot of veggies in my tacos. Serve with chopped tomatoes, shredded green cabbage, and your favorite salsa. You can serve it in a hard or soft shell, whichever you prefer. Scoop the tempeh and bean mixture into the shells, and top with whichever topping you like. Enjoy!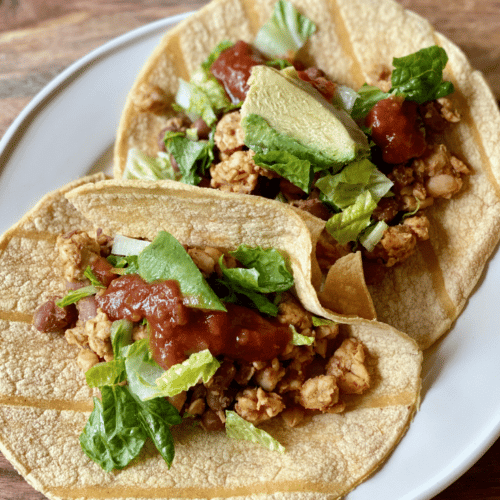 Vegan Tempeh Tacos
There's no meat needed at all in this savory, protein-rich recipe. You'll make these vegan tacos every week!
Print
Pin
Rate
Ingredients
1

8 oz

package tempeh

1

15 oz

can black beans, rinsed and drained

1

teaspoon

chili powder

1/4

teaspoon

crushed red pepper flakes

1/2

teaspoon

dried oregano

1

teaspoon

ground cumin

1/2

teaspoon

sea salt

1/2

teaspoon

freshly ground black pepper

2

teaspoons

olive oil

2

cloves

garlic, minced

1

medium ripe tomato, chopped

1/2

head green cabbage, shredded

1/2

cup

salsa

8

hard or soft taco shells
Instructions
Crumble the tempeh in a medium sized mixing bowl and add the beans and spices. Mix well, adding water as needed if the mixture is dry (about 1/4 cup).

Heat the olive oil in a large pan and add in the garlic. Saute for 1 minute, until fragrant.

Add in the tempeh/black bean mixture, turn the heat down to medium-low and cook for 10 minutes, adding water if needed for texture (about 1/4 cup as needed).

Taste and season to taste. Serve the tempeh tacos with chopped tomato, green cabbage, salsa and any other topping you enjoy over hard or soft shells of your choice.
Ginger Hultin,MS, RD, CSO
An award-winning, nationally recognized nutrition expert and media spokesperson.
Thanks for visiting! If you're like me: obsessed with eating, wine, going out and traveling, you're in the right place. Champagne Nutrition® LLC is a Registered Dietitian-run concierge virtual practice helping clients look and feel better. On this blog, you'll find cocktails, mocktails, and plant-based recipes that are easy to make quickly at home and pack for leftovers on your adventures.