If you know me,  you know that I believe in high quality margaritas. I don't mess with store-bought syrups or mixes because it's so easy – and much healthier – to make your own. I've made thousands of margaritas in my life. In my previous career, I managed a bar and I bartended, too. We were incredibly busy – like, line out the door, bouncers, all of that – from open to close, every single day. I made margarita mix by the bucket and I made them from scratch, muddling limes in each and every one and hand-shaking them all. There was no mix bought. We used real citrus juice, sugar and high quality tequila. It inspired in me a true appreciation of quality margaritas for life.
Store-bought regular or "skinny" margarita mix isn't something you want to consume because it's full of additives and preservatives. You're better off using fresh juice and whole-food ingredients. That is one of my most popular posts and it even got picked up by the Seattle Times in this piece about how confusing alcohol research is. This is one of my areas of expertise and passion; helping my clients understand the research and choose what's gong to be best for them if they choose to drink alcohol.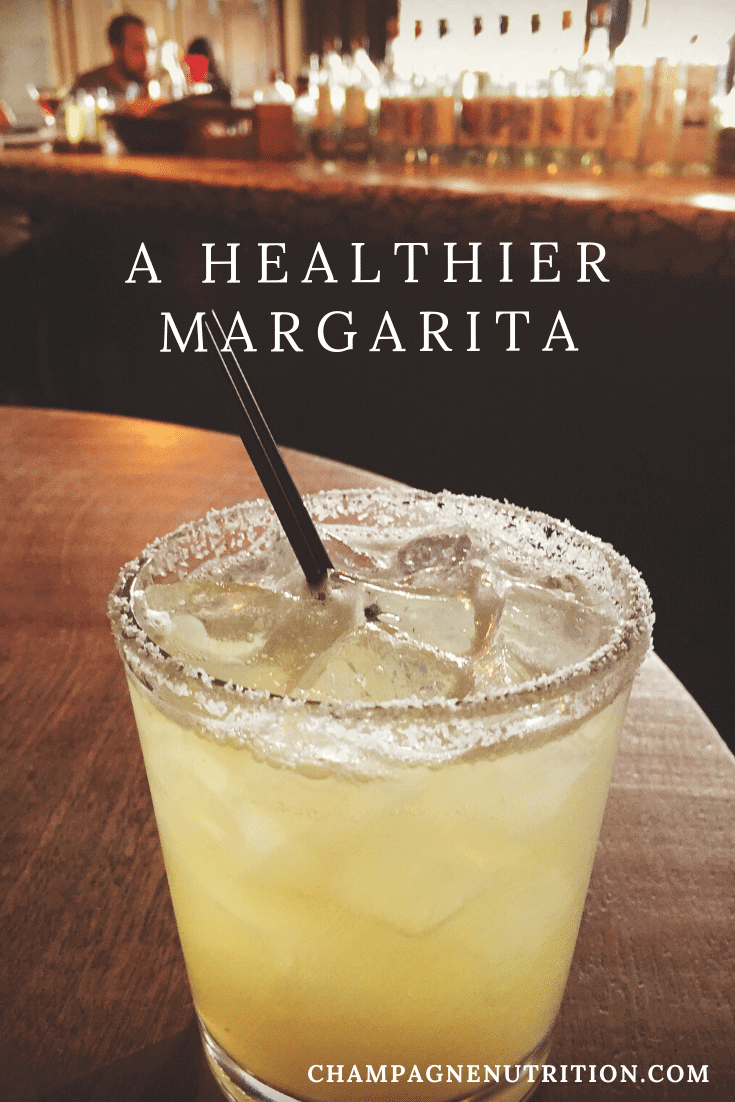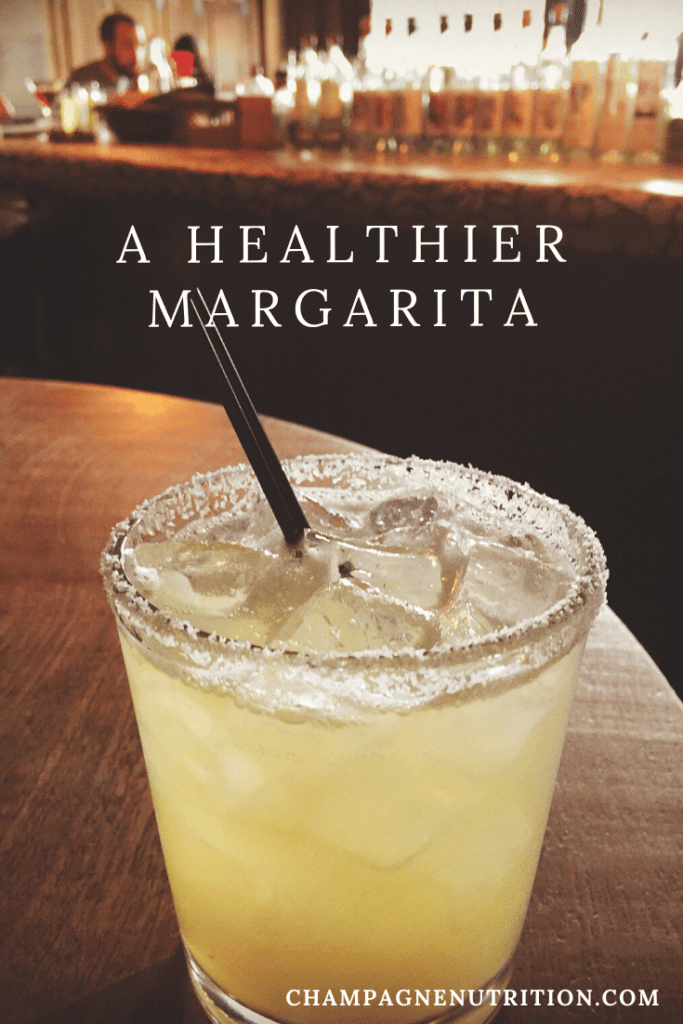 Have you ever looked at the ingredient list in a typical mix?:
Water
high fructose corn syrup
citric acid
natural flavors
sodium citrate
sodium benzoate
potassium sorbate
cellulose gum
polysorbate 60
FD&C Yellows
Basically, corn syrup with some additives, preservatives, and food dye.
Skinny margaritas aren't better
water
citric acid
natural flavor
sodium citrate
potassium benzoate
potassium sorbate
sucralose
gum Arabic
Acesulfame Potassium
Sucrose Acetate Isobutryrate
Yellow #5
These have the same additives and coloring but contain less calories because they're using sugar alcohol like sucralose that doesn't get digested by the body BUT can cause GI distress (bloating, diarrhea, cramping) in some people. You can do better with a healthier margarita.
How to Make a Healthier Margarita
Yes, margaritas are calorie bombs. If you don't supersize it and go beyond 8 ounces, you're still looking at about 250 calories per margarita. It's also easy to order (and drink) more than one. That adds up fast, especially if you're eating chips and guac so these meals can become a challenge if you're working on weight or blood sugar management. Personally, I've noticed that if I have more than one 'rita in a sitting, it makes me feel really bad – low energy and tired the next day. It's really important to pay attention to how foods and beverages make you feel so that you're in-tune with your body and what will suit it best.
Not that making a margarita lighter or with better ingredients makes it innately "healthy", but you can make it healthier with less burden on the body. One thing I like to do is to use natural juices like lemonade. One of my favorites is Santa Cruz Organic lemonade or Newman's Own Lemonade. If I'm making a batch of margaritas, I'll use one of each. You could also mix it up and do one lemonade and one lime-aid.
Add plenty of ice because margaritas must be frosty cold. If you can get cubed rather than those oval/curved ones, that's even better. If you've got a shaker, shake it hard so it gets frothy. If you don't, you know what I use? A water bottle with a secure lid. A Nalgene works really well for this. You could also use a mason jar with a lid on it. I really prefer margaritas on the rocks. However, you could also strain this rita into a martini glass; served "up", You could blend it as well, if that's your taste but I often find that creates a more watered down beverage. If you serve it up or on the rocks, you really let the natural flavors shine through.
I don't like to use triple sec or simple syrup and instead use Grand Mariner for orange flavor and for sweetness, embracing a more tart flavor overall. What I like to do is "float" it on top. Make your margarita and then pour the liqueur on top. Keep it simple and let the natural sweet-tart flavors combine in a healthier margarita.If this really is too tart for you, that's no problem, just pour in a teaspoon of agave syrup or honey to brighten it up. You'll have more added sugar but you may enjoy it more. Everyone's taste is different!
The final question is: to salt or not to salt? If you need more info on salt -a really confusing subject, I just recently updated a post here about it, but I like to take a wedge of lime, rub it on the rim of the glass so it't wet, then dip the rim into a plate-full of Kosher salt so it has those big flakes. Feel free to do a "half-salt" variety where you just dip half the rim!
Let me know if you try it! If you're into margaritas, I've got another good one up on the blog – this Spicy Blackberry Citrus Margarita served up. Enjoy 🙂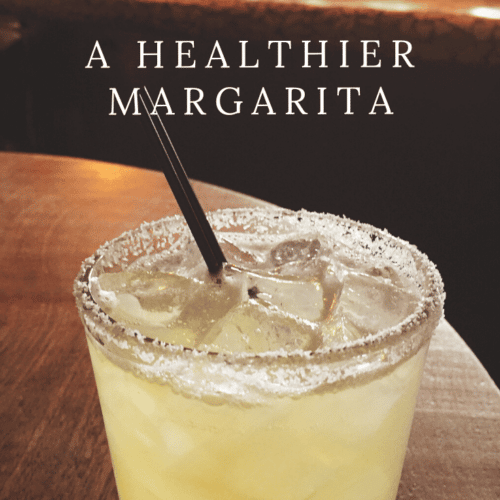 A Healthier Margarita
The only margarita recipe you'll ever need - simple, healthy, tasty
Print
Pin
Rate
Ingredients
6

cups

Cubed ice

2

large

limes

(sliced into 4 wedges each)

1

oz

bottle/32Santa Cruz Organic Lemonade or 1/2 container/30Newman's Own Lemonade

8

oz

silver tequila of your choice

I like Don Julio, El Tosoro, and Cazadores

1/4

cup

Kosher Salt

4

oz

Grand Mariner
Instructions
Muddle a slice of lime in 1 cup of ice in a shaker then add 8 oz lemonade and 2 oz tequila. Shake firmly until liquid is thoroughly shaken. Rub another lime wedge on the rim of the glass. Dip the edge of the glass into salt poured onto a plate so that it is thoroughly coated. Garnish the rim with the lime wedge. Pour liquid into the glass, adding ice if needed. Float 1 ounce of Grand Mariner on the top in a circular motion. Serve with a straw.
Notes
Ingredients in Santa Cruz lemonade: FILTERED WATER, ORGANIC SUGAR, ORGANIC LEMON JUICE CONCENTRATE, ORGANIC LEMON JUICE, ORGANIC NATURAL LEMON FLAVOR.
Ingredients in Newman's Own lemonade: Pure Filtered Water, Cane Sugar, Lemon Juice Concentrate, Lemon Pulp, Lemon Oi
Ginger Hultin,MS, RD, CSO
An award-winning, nationally recognized nutrition expert and media spokesperson.
Thanks for visiting! If you're like me: obsessed with eating, wine, going out and traveling, you're in the right place. Champagne Nutrition® LLC is a Registered Dietitian-run concierge virtual practice helping clients look and feel better. On this blog, you'll find cocktails, mocktails, and plant-based recipes that are easy to make quickly at home and pack for leftovers on your adventures.