Wild Blueberry Vanilla Matcha Smoothie
I am loving smoothies lately for a quick breakfast or post-gym and almost always use wild blueberries in them because they have the best berry flavor and make the smoothie frothy when they're so cold. Wild blueberries are so unique – they're tiny! Unlike the other varieties you can get in the store, these are super dense and still very sweet. I love using them in recipes and especially in smoothies. Though they're arguably the most important ingredient in the Wild Blueberry Vanilla Matcha Smoothie, I also bump up the nutrition even more with matcha green tea powder, vanilla extract, and frozen bananas. I'm going to break down why you should include all of these ingredients on the regular down below and make sure to catch all my other popular smoothies listed at the end of the post!
Smoothie Ingredient Benefits
Matcha
This smoothie carries an antioxidant-packed punch. With a strong flavor, matcha green tea continues trending strongly – you'll see it on coffee shop menu options around the country. It's also easy to get in the grocery store these days. First, look in the tea aisle. You may find it there in a package rather than in bags like the other tea. Otherwise, I can sometimes find it in the herbs and spices aisle or, in my Seattle grocery store, it's actually in the bulk section. So if you've never looked for it before, definitely ask someone who works there so you can save yourself some time. Matcha tea is very concentrated and it has this delicious, earthy, flavor. It's one of those flavors you either love or you don't – but most people do enjoy it. The thing to consider is that it's a little bitter on it's own so it goes very well with sweet flavors like my blueberries and banana in this Wild Blueberry Vanilla Matcha Smoothie. To me, matcha tastes sort of like a marshmallow. Basically it is powdered green tea leaves so the antioxidant capacity including Epigallocatechin gallate (EGCg) is very potent and linked to some interesting anti-inflammatory and anti-cancer research.
Wild blueberries
I combined delicious matcha with bright-flavored frozen wild blueberries and rich vanilla extract for an unexpected favor profile.  This is a nutrient rich smoothie with the vitamins and antioxidants in wild blueberries and bananas. In fact, studies show that wild blueberries have more antioxidant anthocyanin than regular blueberries.
The other benefit here is all the fiber in those fruits which is great for your digestive system, helps lower cholesterol and also keeps you feeling full for longer.
Smoothies for your workout
This is a very healthy way to start the day or recover from intense physical activity. A smoothie can be a very easy way to ease into eating breakfast if you're not generally into it. Not having to prep a big, hot meal and just grabbing a cold smoothie instead can work surprisingly well. Alternatively, you could add this for a snack in the morning or afternoon. It's pretty light in calories; in the 200-300 range depending on the size of the banana and if you add protein and what kind of milk you use, so it's actually a great little snack to have that's balanced and won't give you a blood sugar crash like other items people often choose (chips, pretzels, candy, or even a granola bar!). Best of all, I just love smoothies pre or post workout. They're easy to digest and deliver perfect energy right when you need it. Remember, there's no need to drink the whole smoothie all at once! Sip it slowly or split it in 1/2 – pre and post workout – so you don't get too full.
I'm so into all things anti-inflammatory right now… so much in fact that, aside from this blog post, I also wrote an entire book about it! Here's a link for the Anti-inflammatory Diet Meal Prep book if you need more support in this area.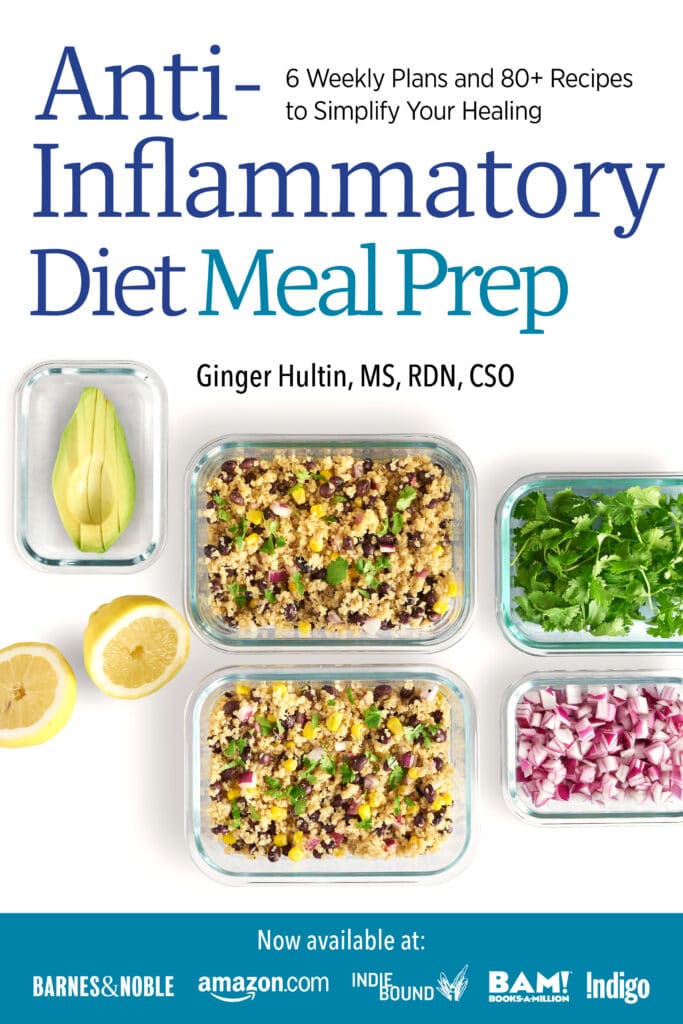 Making the Wild Blueberry Vanilla Matcha Smoothie
This is the easy part! Making the smoothie itself. Once you get all the ingredients out and ready to go, you're about three minutes away from a delicious treat. I highly recommend this for breakfast, as a snack or for a healthier dessert.
The milk
The milk part is easy. You can choose whatever non-dairy milk you enjoy and make SURE it's unsweetened. And hey, if you prefer dairy milk then go for that. Of all the non-dairy milks, I most often recommend soy because it has the highest protein content by far and it's also got a really nice, creamy texture. If you want to boost the protein in another type of milk or just boost it in general in this recipe, feel free to add a scoop of protein powder. I'm really into pea protein right now – preferably with no added colors, flavors, vitamins, or sweeteners. If you've got questions about which protein powder to pick for you, make sure to contact me and we'll talk about it.
Frozen fruit
My secret for success is the frozen banana and wild blueberries. Frozen fruit in general is just awesome because it keeps its nutrients better even than fresh options sometimes, it can be cheaper, and it keeps for a long time. Wild blueberries are picked at peak freshness and then flash frozen so you get all that goodness without losing nutrients sitting on a truck or in a store. What's not to love?
For the bananas, what you want to do is peel a bunch of ripe bananas, wrap them individually in plastic then store them in the freezer for up to 2 months. When you need one, take it out and use the whole thing or easily rip it in half.
I'm totally not into adding sweeteners to smoothies; it's completely unnecessary. Half a banana with the blueberries is sweet enough to serve two smoothies so no need for honey or any other sweet additive. If you are a sweet person; you can add a little splash of agave, maple syrup or honey but I'd really suggest that you start to explore what life is like without. Less sweeteners really lets the natural flavors of food shine through. Best of all? Your tastebuds will adjust over time!
Love smoothies? I've got many more up on the blog – check it out!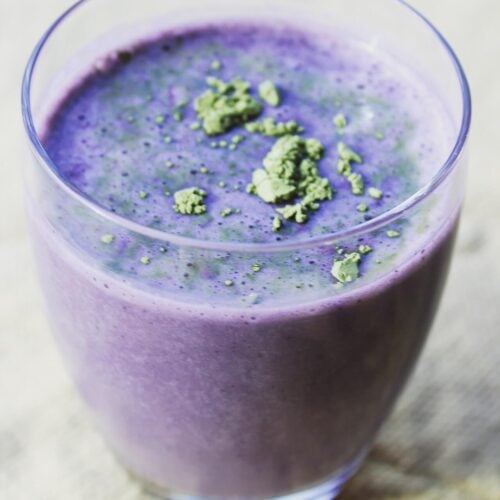 Wild Blueberry Vanilla Matcha Smoothie
A delicious smoothie with complex flavors and tons of antioxidants
Print
Pin
Rate
Ingredients
1

cup

unsweetened vanilla soy, oat or almond milk

1/2

cup

frozen wild blueberries

1

teaspoon

matcha green tea powder

1

teaspoon

pure vanilla extract

½

large

frozen banana

1/2

cup

ice cubes
Instructions
Combine all ingredients in a blender and pulse until completely smooth and frothy. Serve cold – enjoy!
Nutrition
Serving:
1
g
|
Calories:
94
kcal
|
Carbohydrates:
11
g
|
Protein:
5
g
|
Fat:
2
g
|
Saturated Fat:
0
g
|
Cholesterol:
0
mg
|
Fiber:
3
g
|
Sugar:
7
g
Ginger Hultin,MS, RD, CSO
An award-winning, nationally recognized nutrition expert and media spokesperson.
Thanks for visiting! If you're like me: obsessed with eating, wine, going out and traveling, you're in the right place. Champagne Nutrition® LLC is a Registered Dietitian-run concierge virtual practice helping clients look and feel better. On this blog, you'll find cocktails, mocktails, and plant-based recipes that are easy to make quickly at home and pack for leftovers on your adventures.