Anti-Inflammatory Diet Meal Prep
Do you ever wish that you could have an outline of how to follow an anti-inflammatory diet without having to wonder about all the controversy? One that answers easily and succinctly about nightshades, soy, dairy, sugar, alcohol with actual research and science? And wouldn't it be nice if it had a meal plan that laid out exactly how to follow the diet and prep the food in a way that saves you time and money? Yes! I thought so, too and so I wrote a book about it: Anti-Inflammatory Diet Meal Prep: 6 Weekly Plans and 80+ Recipes to Simplify Your Healing. It is published by Rockridge Press, available in paperback August 18th, 2020.
I wanted to tell you more about why I wrote this book, what the process was like and my journey to get here. It's been a long road and I can hardly explain the joy I feel when I look at the cover. Best of all, the excitement around it launching has been ever greater than I expected. So many people have pre-ordered so they can receive it right away and I'm seeing it being shared all over social media with posts saying things like "I don't know who needs this but here's a book that could really help you" and "Anyone living with inflammation can benefit from this book". Ultimately, I know that Anti-Inflammatory Diet Meal Prep will change so many people's lives and help them feel better. It's thrilling to think of that! And if you enjoy watching videos, make sure to head on over to my YouTube channel where I'm sharing lots of tips about meal prepping, kitchen equipment and answering questions about hot topics the book has brought up from lectins to weight management to veganism.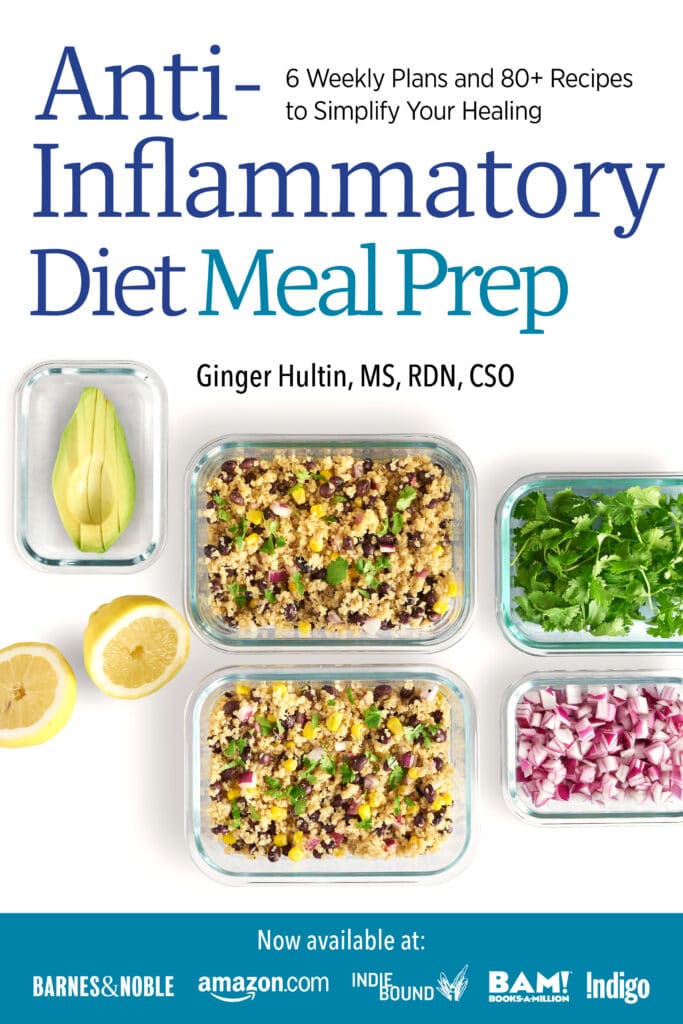 More info about Anti-Inflammatory Diet Meal Prep 
Reduce inflammation with good food―84 easy recipes and 6 weeks of meal prep plans.
Sticking to an anti inflammatory diet can feel overwhelming, but the Anti-Inflammatory Diet Meal Prep cookbook makes it efficient, effective, and delicious to improve your health. This book shows you how to make perfectly portioned, pre-prepared meals for six full weeks, so whenever you open your fridge or freezer, you'll have healthy, home-cooked, anti inflammatory options ready to go.
From pasta and salads to dressings and desserts, these anti inflammatory diet recipes make it a breeze to keep track of proper portions and pick the right ingredients. Find expert advice on which foods to include and avoid and how to meal prep efficiently, taking the guesswork out of fighting inflammation.
Anti Inflammatory Diet Meal Prep features:
The power of meal prep―Learn how pre-planning your meals helps you stick to your anti inflammatory diet, boost your cooking skills, and save time.
6 Weeks of plans―Weeks one and two eliminate processed foods; weeks three and four help you increase fruit and vegetable intake, and weeks five and six include recipes packed with nutrients to reduce inflammation.
A complete meal guide―Every week's meal prep includes the recipes for the week, a shopping list of ingredients, and clear instructions for cooking and prepping. You'll even get tips on storing, preserving, and reusing leftovers.
Learn how meal prep can make an anti inflammatory diet easy and efficient for anyone.

The Inspiration
My work as a dietitian has pretty much one theme: helping people lower inflammation in their bodies.  From my work as an intern at the Veterans Hospital in Chicago and my rotations in the city supporting people living with HIV or at the Children's Hospital, dealing with serious illnesses, I saw inflammation first-hand. My first job as a dietitian was at a large hospital where I spent a lot of time on the cardiac floor, educating folks who had just had heart attacks.
I was recruited to work at the Block Center for Integrative Cancer Treatment where I spent years as a dietitian there supporting people going through active treatment – chemotherapy and radiation – with plant-based diet education, supplements and lifestyle changes all geared towards calming the inflammation in their bodies so they could heal. We would track inflammatory markers like CRP, TNF-a, and IL-6 every few months, tracking them as they came down when we made changes to their diets.
My next stop was at a large biotech start-up here in Seattle, Arivale, where we assessed people genetic markers and blood labs. Guess what we were tracking in both the genetics and blood? Inflammatory markers once again! In both of these jobs where I had access to so much data, I learned that you can absolutely, 100% influence inflammatory markers in the body with nutrition. It's so incredible. With less inflammation, you feel better, experience less pain, support your body's healing and increase energy.
Writing a book that not only outlines exactly what an anti-inflammatory diet is but also precisely how to do it through preparing your meals ahead of time and planning out your weeks was thrilling. One thing that happens if you've got chronic inflammation or an inflammatory disease is that you often live in pain and/or experience fatigue. That's not a great combination for getting in the kitchen and cooking. With my meal prep plan, you plan once a week. You shop once a week. You prep once a week and then you're done. You'll never have to worry about what's for breakfast, lunch or dinner again. The recipes are easy, versatile so you can flex them to your needs, and use on-hand ingredients that are affordable and familiar.
The Journey
I've wanted to write a book my entire life. As a young child, I "wrote books", all the time. I uncovered piles of them in boxes of old schoolwork ranging from string-bound construction paper in early grade school up to gigantic typed documents in high school and college when I was an English major.
Being a dietitian really gave me the platform to finally write the book of my dreams. One that I know will help so many people across the country. I strived to keep it simple, evidence-based and easy to use. I pulled on all my years of clinical experience including my integrative and holistic education I received during my Masters degree at Bastyr University. My goal was to make following an anti-inflammatory diet easier and to include meal prep at the heart of the process.
My literary agent and the team over at the publisher were such a gift during the process. Writing a book is no joke! Creating recipes and testing them over and over, recreating my entire meal prep process in my kitchen night after night was a joy and a lot of work. I found the creative process really fun. Reviewing all the latest research on inflammation and how we can lower it through food was just fascinating. The research is really, really clear – there is SO much that is in our control.
If you or anyone you know is suffering from inflammation or an inflammatory disease, make sure to pick up the book on Amazon (and grab it right away for the pre-order price guarantee!). If you're a person who wants to make your weekly schedule lighter and easier through meal prep, this book is also for you. Let me know what questions you have here in the comments and when you pick up your copy, make sure to leave an honest review to let me know what you think!
Ginger Hultin,MS, RD, CSO
An award-winning, nationally recognized nutrition expert and media spokesperson.
Thanks for visiting! If you're like me: obsessed with eating, wine, going out and traveling, you're in the right place. Champagne Nutrition® LLC is a Registered Dietitian-run concierge virtual practice helping clients look and feel better. On this blog, you'll find cocktails, mocktails, and plant-based recipes that are easy to make quickly at home and pack for leftovers on your adventures.