Benefits of Evidence Based Fitness Training
How often do you need to train to see desired progress? Just how hard do you need to work? How do you know who to trust and who is going to get you where you want to go? I'm not sure if you remember my story but before I was a registered dietitian, I was a personal trainer and though I had my certification, I honestly wasn't a 'specialist'. I was a young person with a passion for working out. I'm grateful for it because it brought me to nutrition and led me to becoming a real health care professional and that's why I'm obsessed with connecting with others out there who offer the same high quality of work and who are trained specialists with credentials…not just certifications. I'm happy to bring you this piece by my friends at Seattle-based MoveMend. Aaron Shaw, a Physio Coach and Certified Strength and Conditioning Specialist is the movement specialist that I refer to most often. Whether you need physical or occupational therapy or targeted training from his qualified team, this is the kind of place you can trust for results. Read on to gain insight and better understand the benefits of evidence based fitness training to support your workouts!
Aaron is breaking down key pieces of the benefits of evidence based fitness training here for you: frequency, intensity and exertion. And I asked him to please speak to who's truly qualified and who's not to work with you on your rehabilitation and training.
Frequency
"How many days a week do I need to train?"
"Shouldn't I be working out every day to see as much progress as possible?"
If you're new to exercise, you may find that working an individual muscle group 1x/week is enough to see progress. As you gain more experience and as muscle groups become more accustomed to the challenge, it will likely take more frequent exercise to see strength gains.
The research shows that for non-beginners, the optimal range for muscle growth is around 10-20 sets per week, per specific muscle group. If you're newer to exercise, you will likely see progress at the lower end of this range. And for those with more strength training experience, the opposite is true. Working a certain muscle group beyond 20 sets in a week, whether you are new to exercise or have been at it for 20 years, has not been shown to elicit significant improvement in strength and is likely not worth your time. In this case, more is not better.
Figure 1 General guidelines on frequency and intensity of training for optimal strength and performance gains.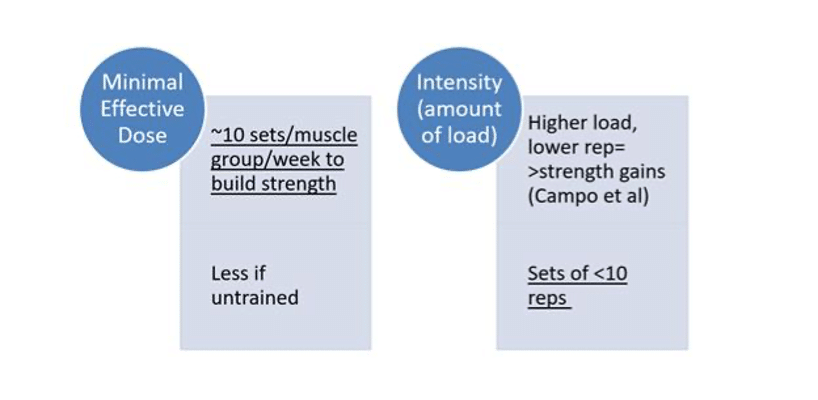 Intensity
"Won't lifting heavier make me 'bulky'?" "Don't high reps make my muscles more 'toned?'"
Though widely believed, the myths about "bulky" and "toned" are just that: myths. Research has shown that, rather, doing both high load/low rep and low load/high rep training will grow similar amounts of muscle mass if worked to fatigue. Both can facilitate the same amount of so-called "bulk"! Where the two loading schemes differ is that the higher repetition scheme is not nearly as effective when it comes to building strength. Essentially, working a muscle group to fatigue, whether it is with a lighter or heavier load brings about a hormonal response that will trigger muscle growth, but changes in strength will come about in relation to the loads that your muscles are exposed to. So, if you only expose your muscles to lighter loads, you won't see increases in strength.
Exertion
"Am I working hard enough?" "Do I need to break a sweat?"
Exercise intensity, i.e. how hard you are working, is an essential component to your training. By the end of an exercise's prescribed sets and reps, just how fatigued is the targeted muscle group? Check out the "Rating of Perceived Exertion" chart below for reference. To see optimal gains in strength, particularly if you're not a beginner, you should be using a weight that challenges you to a level of 7-10 by the last rep of the prescribed sets for each exercise.
Resistance Training Rating of Perceived Exertion                             
| | |
| --- | --- |
| Rating of Intensity | Perceived exertion |
| 10 | Maximum effort- unable to perform 1 more repetition with appropriate form |
| 9 | 1 rep remaining |
| 8 | 2 reps remaining |
| 7 | 3 reps remaining |
| 5-6 | 4-6 reps remaining |
| 3-4 | Little effort |
| 1-2 | Little to no effort |
Phew! There is A LOT to be mindful of when it comes to optimizing training!
It can be tough and, understandably, overwhelming. You've got to consider not only the number of sets per muscle group per week, but also optimal rep ranges for each exercise, all while being aware of how to find that sweet spot of optimal intensity. And if you have a history of injury or limited access to equipment, that complexity amplifies.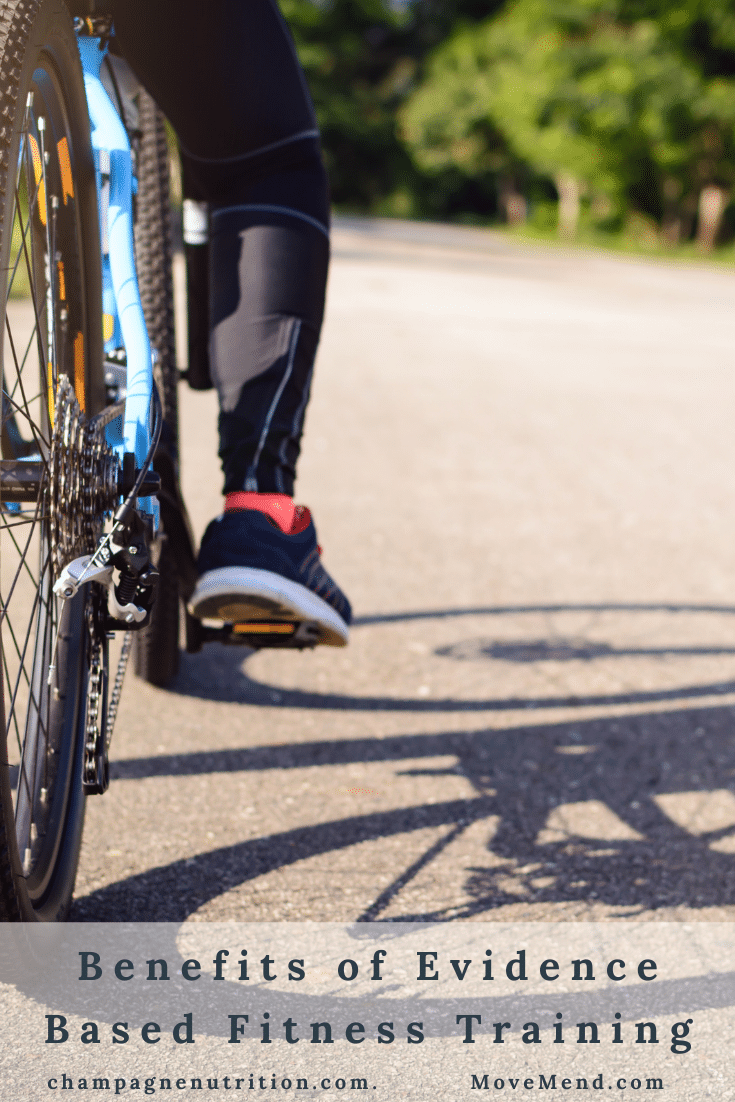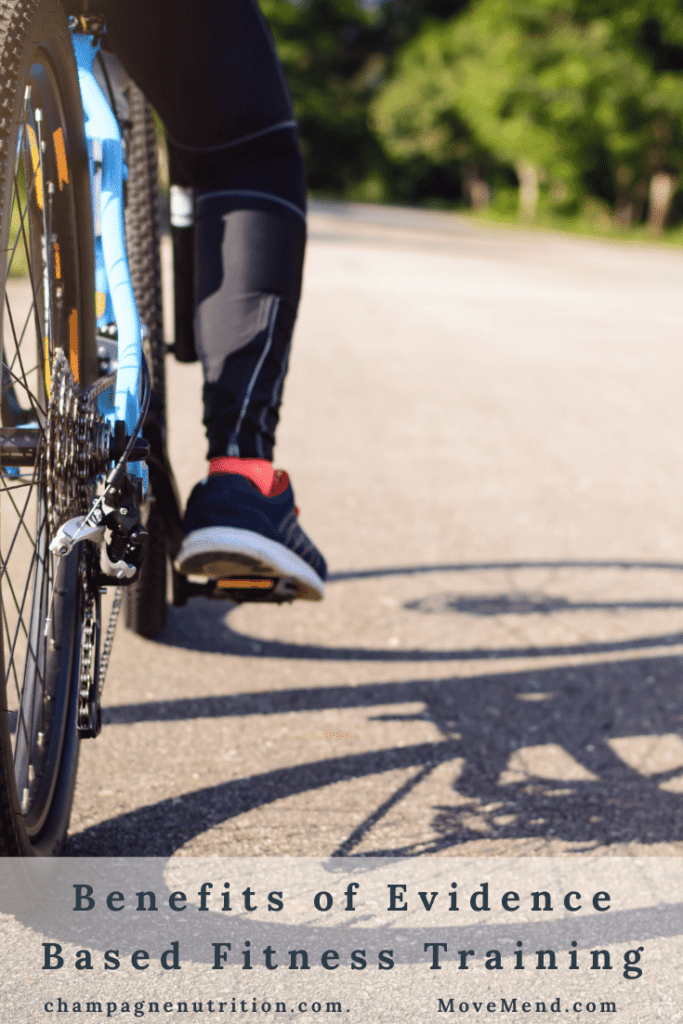 Benefits of Evidence Based Fitness Training…and Trainer
When it comes to starting or changing an exercise routine, the most important first step is to consult with someone who will listen to your goals, understand your lifestyle and injury history, and work with you to create a smart fitness program with results. Unlike the medical industry, the fitness industry (and the nutrition industry) is somewhat unregulated and can be dominated by fads, not science. That means anyone can call themselves a "personal trainer" without any fitness education at all! The same goes with the term 'nutritionist'. Yikes. In order to find someone who is qualified to help you, you can look for certain credentialing agencies and you can absolutely look for someone's education and qualifications. In fact, this should be a top focus for any care provider you're seeking out.
Of the hundreds of organizations and certifications available, the National Strength and Conditioning Association is the most science-based association. To maximize success, it can be advantageous for people with medical conditions or recent injuries to have strength coaching programs designed by a physical therapist. This helps keep you safe and get the results that are going to make a difference.
You know that I love talking about physical activity. I've got a lot of articles from fueling your fitness goals with nutrition to the benefits of a fitness tracker, and how to fuel early morning workouts. These are some general guidelines with a nutrition slant but if you want real, life-changing training and support, get yourself over to my friends at MoveMend.
For more information on how to reach your health and fitness goals, contact MoveMend and ask to speak with Aaron Shaw, Physio Coach, Certified Strength and Conditioning Specialist, by calling 206.641.7733 or emailing at info@movemend.info.
Ginger Hultin,MS, RD, CSO
An award-winning, nationally recognized nutrition expert and media spokesperson.
Thanks for visiting! If you're like me: obsessed with eating, wine, going out and traveling, you're in the right place. Champagne Nutrition® LLC is a Registered Dietitian-run concierge virtual practice helping clients look and feel better. On this blog, you'll find cocktails, mocktails, and plant-based recipes that are easy to make quickly at home and pack for leftovers on your adventures.