Vegetarian Lasagna Casserole with Penne Pasta
A friend of mine was really sick the other day – both parents AND their two kids – so we used an incredible site that you should know about Give InKind to mobilize things they need – home-cooked food, meal delivery and local restaurants, and groceries. If you've ever been there, you know that flowers don't really help…meals and other useable items really do! I get a lot of questions about what to make people who are sick or who you're making food for (could be someone having a surgery, someone who just had a baby, etc) so after I made this Vegetarian Lasagna Casserole with Penne Pasta, I knew that I needed to share it with you. If you need meal prep for yourself, freezer meals for yourself or others, or food to drop off that's healthy and delicious, this is it.
Freezer Friendly Meals
Not all foods freeze well but some freeze amazingly and make your life so much easier. I use this meal prep technique with my nutrition clients – we do freezer breakfast burritos, freezer lentil curry or soup recipes, freezer smoothies, and freezer casseroles. But you don't want an unhealthy meal that's just full of saturated fat and salt but lacking the vitamins, minerals, fiber, and antioxidants that you really need to feel full, fuel your body and heal if that's the focus.
Why Lasagna Casserole and Not Lasagna?
Don't' get me wrong – I love lasagna. In fact, I have a couple recipes on the blog that you need – both for the love of lasagna but also for more ideas on how to make freezer-friendly casserole-style dishes.
If I'm being honest, I wanted to make lasagna for my friends. It was my go-to recipe but they're gluten-free and when I went to the store to get gluten-free noodles, they didn't have the right kind. I grabbed some bean penne instead and figured I could make a lasagna-style dish anyhow since I had the rest of the ingredients. That's how Vegetarian Lasagna Casserole with Penne Pasta was born.
Making the Vegetarian Lasagna Casserole with Penne Pasta
This is a really quick and easy recipe to make. I want to run you through a few modifications you can make including different veggies, pastas, and cheese mixtures. You can prep this in about 20 minutes and bake it in another 20 while you're doing other things. It is an incredibly fast and easy recipe that you'll make over and over.
Remember, make this for yourself and for a friend or neighbor in need. Stick an extra one in your freezer for a rainy day or a busy evening and you're on your way to meal prepping with ease.
The Pasta
I used bean penne pasta for my Vegetarian Lasagna Casserole with Penne Pasta but you have a lot of other options. You can use regular pasta if you prefer but I really want to push you to use the higher fiber and richer in nutrition version of whole wheat or bean/lentil pasta instead. Many people switch over without any trouble at all. You'll get a lot more fiber and protein as well.
You can use other types of pasta rather than penne. Consider bow-tie farfalle, shells, spiral fusilli, macaroni noodles, rigatoni tubes or even cute little orecchiette or conchiglie. I like to mix it up for variety so feel free to experiment with what you and your family enjoy the most.
The Sauce
I love to boost my sauce with a bell pepper, mushrooms and zucchini but you've got options here. Use any color of bell pepper that you want – orange, red or green or even multi-colored or purple are all great options. Think about the color of your pasta and how you want it to look. You can also just choose what looks freshest or is on sale at the store. Feel free to pick a large one to really boost the quantity in your dish.
I used white mushrooms but you can also use absolutely any kind that you see in the store. Get creative and use a new type of mushroom! They all have a wonderful, soft consistency, often have a little 'umami' or savory flavor, and are full of important vitamins, minerals, and antioxidants.
Zucchini is really excellent in this dish but you could also use a yellow squash. I'd suggest choosing a small size as there are a lot of veggies in this dish and the pan will already be really full when you're finished. If you have a really large zucchini, consider using just half of one instead.
The Cheese
Yes, I use low fat ricotta. I really want to cut down on the saturated fat in my cooking and so that's a really easy way to do it but still get the protein and calcium that's found in ricotta cheese. Feel free to use full fat if you want; you'll get a creamier, richer product.
I use just 1 egg because it really helps the cheese bind but if you don't do eggs, feel free to use a store-bought egg replacement instead.
I like to use a simple shredded mozzarella but you could easily do an Italian blend or add a little Parmesan to the mixture separately for that bolder, more umami flavor.
Putting it all Together
The steps for this dish are so incredibly simple. Get the oven heated and your water boiling while you prep your pan. You could even get started on the sauce if you have time.
While your pasta is cooking, you should be able to finish the sauce and the dump the pasta directly in the sauce pot to cover it.
If you have any time in between steps, you can make your ricotta mixture but otherwise, do that at the end while the pasta cools a little and then simply later and pop it in the oven. While it's baking, you can chop veggies for your week or make a side salad. Your Vegetarian Lasagna Casserole with Penne Pasta will be done in 20-30 minutes and then you're ready to go!
Please leave me a comment below if you try this one or have any questions about it. Enjoy!!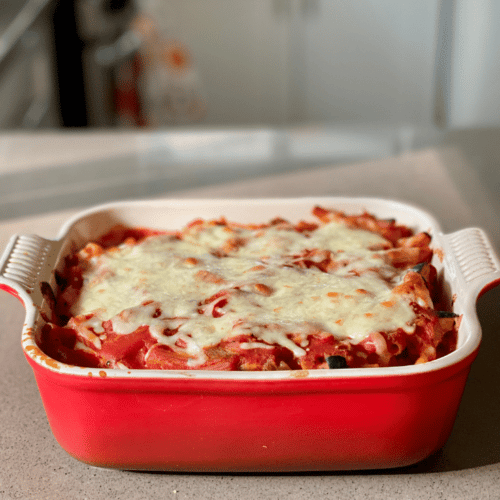 Vegetarian Lasagna Casserole with Penne Pasta
This easy, comforting, yet healthy dish freezes well and makes incredible meal prep. I boosted up the veggies in it a lot so it's full of flavor and fiber, too.
Print
Pin
Rate
Ingredients
12

ounce

package of dry whole wheat, bean or lentil penne pasta

1

teaspoon

olive oil

1/2

large onion, diced

2

cloves

garlic, minced

1

bell pepper (color of your choice!)

1

medium

zucchini, chopped

8

oz

package white mushrooms, chopped

32

oz

jar tomato/pasta sauce

1

cup

part-skim ricotta cheese

feel free to use whole fat if you want

1

egg, beaten

1 /2

teaspoon

dried oregano

1/2

teaspoon

dried basil

1/2

teaspoon

dried parsley

1

cup

shredded mozzarella cheese or Italian cheese blend

divided
Instructions
Preheat the oven to 350 degrees F

Bring a large pot of water to a boil over high heat.

Prepare an 8x8 pan by pouring 1/2 cup of tomato sauce in the bottom and spreading it evenly

Cook the pasta for 6-8 minutes or per the instructions on the box so it's al dente (a little firm). Drain the pasta and set it aside if it finishes before your sauce.
Sauce
While the pasta is cooking, heat the oil in a large skillet over medium heat then add the onion, cooking it for 1-2 minutes or until it starts to slightly soften.

Add the garlic and cook it with the onion, stirring occasionally for another minute.

Add the bell pepper and zucchini and cook, stirring occasionally, for 3-4 minutes until the vegetables have softened and the onion is translucent.

Add the mushrooms and cook, stirring occasionally, for another2-3 minutes until they have softened.

Set aside 3/4 cup of the jarred sauce and pour the remainder of it into the vegetable mixture, blending the vegetables into it completely.

Pour your drained pasta into the sauce and fold to coat the pasta completely.

In a medium-sized mixing bowl, blend the ricotta cheese, egg, oregano, basil and parsley and 1/2 the shredded cheese together.
Assembly
Pour 1/2 the pasta mixture into the bottom of the prepared pan. Then spread the ricotta mixture evenly on top of it in 1 layer.

Top the ricotta mixture with the remaining pasta mixture then top that evenly with your remaining tomato sauce and sprinkle it evenly with the remaining shredded cheese.

Bake the dish in the oven for 20-30 minutes until the cheese on top has started to slightly brown and the sauce bubbles on the sides.
Ginger Hultin,MS, RD, CSO
An award-winning, nationally recognized nutrition expert and media spokesperson.
Thanks for visiting! If you're like me: obsessed with eating, wine, going out and traveling, you're in the right place. Champagne Nutrition® LLC is a Registered Dietitian-run concierge virtual practice helping clients look and feel better. On this blog, you'll find cocktails, mocktails, and plant-based recipes that are easy to make quickly at home and pack for leftovers on your adventures.