Whether you celebrate Christmas or not, you're going to want to try out this really special Christmas Tree Cocktail if you live anywhere in the world where you can pick fresh pine outdoors. When I was writing this post, I was thinking about how lucky we are up here in the Pacific Northwest to be able to just pop outside and pick fresh pine needles whenever we want. If you live in a landscape without evergreens, you may have to make this when you have better access, but if you live in an area that has any type of pine, you'll be able to whip these up. The best thing about this recipe by far is the way it makes your house smell while the cordial is cooking down on the stove, so I highly recommend making this during the winter holiday season for a little extra coziness and cheer in your home.
Up here in Seattle, I can actually just pop out into my yard and get the pine that I need. When you pick your pine, look at the tip of the branches for those fresh, soft, new needles. They'll often be about an inch or two long and be a lighter green color than the rest. These are the most fragrant and bright for recipes like my Christmas Tree Cocktail. The day that we made these, we also took a walk in our local park, hiking up the steep, muddy trails through the woods to find the best new pine.
One note for those of you foraging like we were; please be sure to respect the forest and stay on the marked trails. We saw some of the underbrush deeper in the woods had been trampled, and we even picked up a few pieces of trash along our way. Home to coyotes, eagles, otters, and many more, it's important to protect the forest for them and for us, too, so we can keep enjoying it far into the future. If you do harvest some pine tips, make sure to take just as much as you need and to not damage the tree when you take them.
Making the Christmas Tree Cocktail
This recipe takes a little time but it's very hands-off, so I want to talk you through how to perfect it so that it's really easy. The really fun thing is that once you make the pine cordial, you can store it in your refrigerator for 10-14 days and use it again and again. If you want to serve it for a holiday, it's perfect to make ahead as part of your meal prep. Holidays are busy and I actually have a post about how to make it less stressful here so please be sure to make things easier on yourself so that you can have a fun and relaxing time, too.
Make the Cordial
Once you harvest your pine or fir needles, about 2 cups-worth, you can gently wash them off and make sure there's no bugs or debris on them. You'll be boiling them so there's no need to be meticulous. Simply place them in a pot with the water, powdered sugar, and your lemon zest and juice. I used very large lemons so if you have smaller ones, consider using three instead of two. This drink is very zesty and lemony but sweet and those flavors balance the pine very well so it's not overwhelming.
Bring the mixture to a boil over medium-high heat and use a wooden spoon to gently submerge the needles in the boiling liquid to make sure that any bacteria that may be on there gets destroyed. Don't boil the cordial for too long because you need to simmer it, covered, for 2 hours and you don't want to loose too much of the liquid. If you feel that it's really simmering down after about an hour, you can add another couple tablespoons of water or another 1/2 lemon, juiced. But you do need to keep the pine, lemon, sweet balance so just boil briefly then cover it and simmer it – keeping an eye on it while you do other things – for 90 to 120 minutes.
Consider meal prepping or making holiday cookies while the Christmas Tree Cocktail is cooking! I have some favorites up on the blog including my chocolate haystack cookies or my vegan jam thumbprint cookies.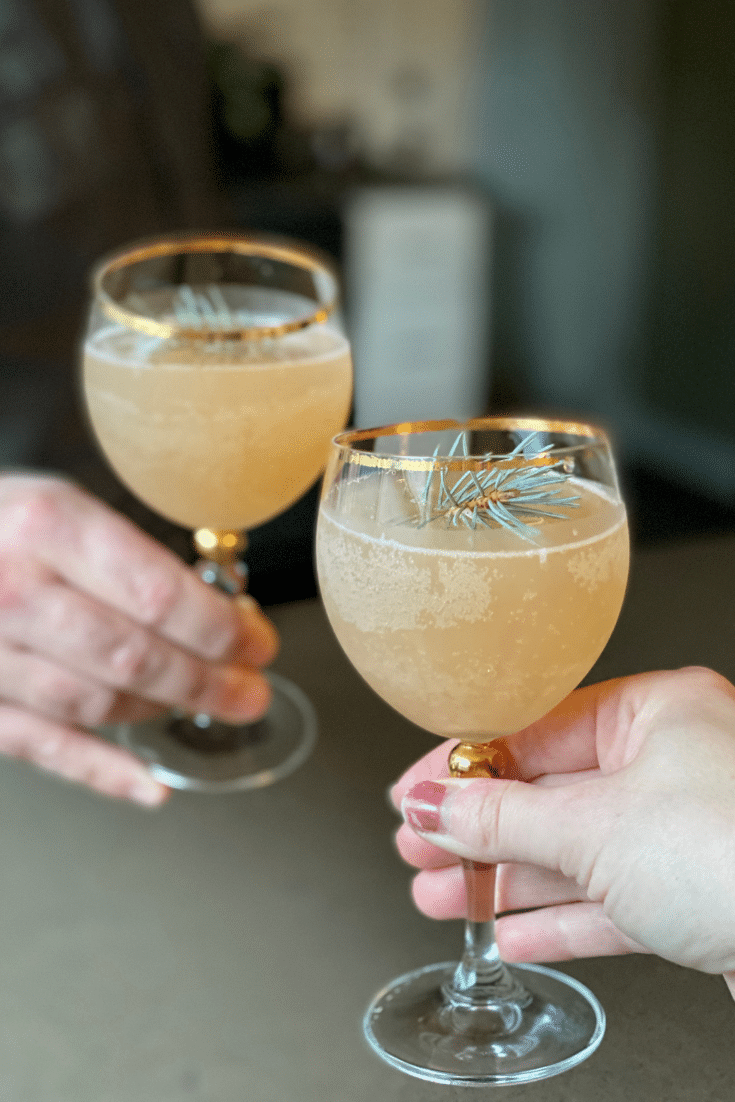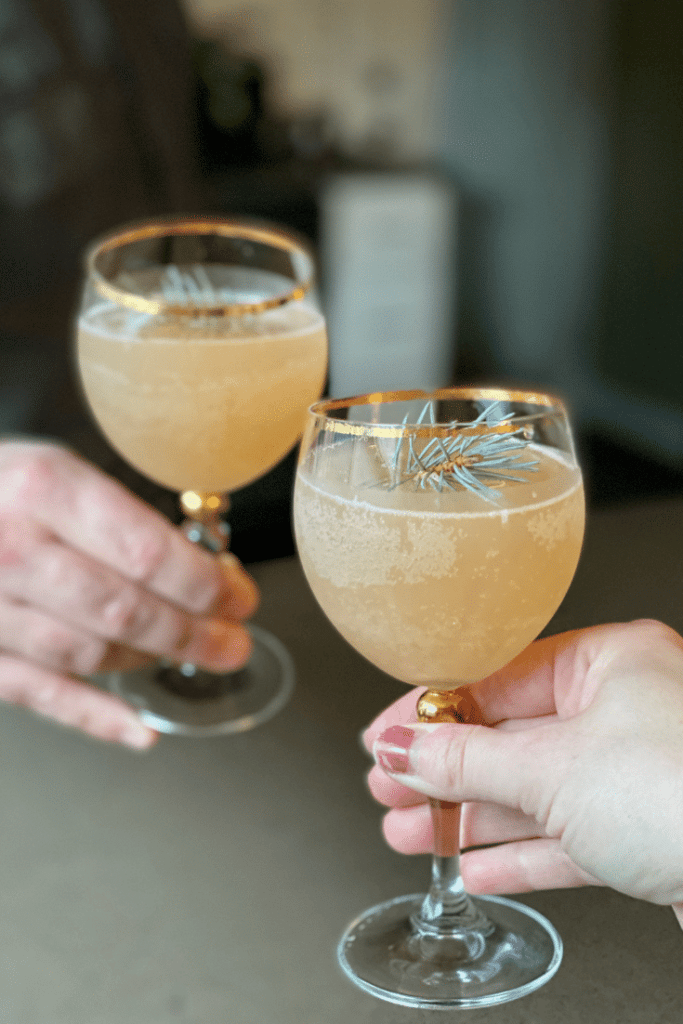 Assemble the Cocktail
Making this cocktail is easy; you just have to decide whether you want it in a wine glass like mine or if you want it on ice in a rocks glass. You'll combine 2 tablespoons of the cordial with bourbon and then top it with plain soda/seltzer water. Stir it up and you're done! Alternatively, you could put the cordial and the bourbon in a shaker with ice to get it more frothy, then pour it in a glass and top it with soda. I like to keep things really simple with my cocktails so I served it all in a wine glass and went straight to enjoying it. Consider serving these with a little piece of pine for more holiday cheer.
If you want to, you can use different alcohol. Consider whiskey, gin, or vodka for different flavor profiles. You can also squeeze a little lime in the cocktail to brighten it up even more at the end and you can add a dash of bitters for even more complexity of flavor if you have it on-hand. And of course, you can make it a mocktail by simply eliminating the alcohol. This Christmas Tree Cocktail is for everyone!
If you need additional holiday cocktail or mocktail recipes, I have a lot up on the blog but I'll point you towards my apple cider wine spritzer and my pomegranate ginger mocktail especially. Let me know when you try these!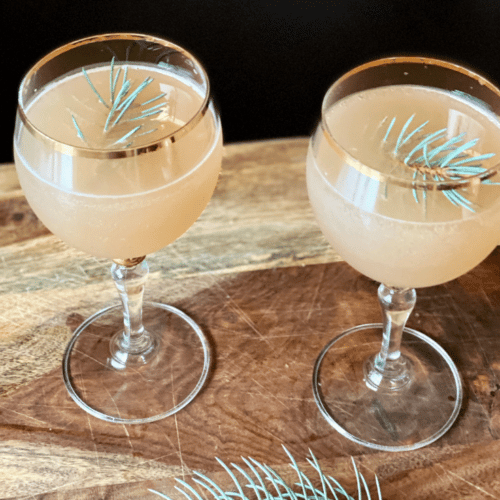 Christmas Tree Cocktail
A fragrant, cozy recipe to make in December, this recipe is versatile and so bright and delicious
Print
Pin
Rate
Ingredients
1 1/2

cup

water

1/2

cup

powdered sugar

1/2

lemon

zested

2

lemons

juiced with seeds removed

2

cups

conifer spruce or fir needles

equals 3.5 ounces

8

ounces

bourbon

16

ounces

plain soda water

4

small

additional pieces of pine for garnish
Instructions
In a saucepan on the stove, combine the water, sugar, lemon zest and juice, and pine needles then bring the liquid to a boil, making sure to submerge the pine needles completely.

Reduce the heat to a simmer, cover, and cook for 1 1/2 to 2 hours, until the liquid has reduced and the needles are soft and have started to darken.

Strain the mixture to remove all pieces of needles and bark and set it aside to cool. You can keep the cordial in your refrigerator for 10-14 days.
Create the Cocktail
In a wine or rocks glass, add 2 tablespoons of cordial and 2 ounces of bourbon.

Top it with 4 ounces of soda water and stir with a spoon to incorporate.

Depending on your glass, you can add ice cubes. Be sure to garnish it with a fresh piece of pine.
Nutrition
Calories:
204
kcal
|
Carbohydrates:
20
g
|
Protein:
0
g
|
Fat:
0
g
|
Saturated Fat:
0
g
|
Polyunsaturated Fat:
0
g
|
Monounsaturated Fat:
0
g
|
Trans Fat:
0
g
|
Cholesterol:
0
mg
|
Fiber:
1
g
|
Sugar:
17
g
Ginger Hultin,MS, RD, CSO
An award-winning, nationally recognized nutrition expert and media spokesperson.
Thanks for visiting! If you're like me: obsessed with eating, wine, going out and traveling, you're in the right place. Champagne Nutrition® LLC is a Registered Dietitian-run concierge virtual practice helping clients look and feel better. On this blog, you'll find cocktails, mocktails, and plant-based recipes that are easy to make quickly at home and pack for leftovers on your adventures.