Chocolate Chia Pudding with Coconut Milk
Chia seeds are so, so healthy and versatile – but do you know how to use them properly? As a registered dietitian nutritionist, I always recommend them because they're rich in fiber and have anti-inflammatory omega-3 fatty acids and are balanced with protein, carbs and fat making them a perfect snack. Best of all? They completely change texture when they're immersed in liquid. I created this perfect, super simple Chocolate Chia Pudding with Coconut Milk to show you how to incorporate them into your diet in a delicious way. I'm going to break down some of the details of swapping ingredients in or out down below but the basis of this recipe is ultra simple: 4 ingredients. It's vegan-friendly and tastes rich and decadent though it's actually light and healthy!
Cooking with Chia
If you're unfamiliar, chia seeds are tiny little brown or black crunchy seeds you can buy packaged or in bulk. I've definitely heard of people snacking on them straight up by the spoonful, but to me that's not the most fun way. They're a perfect snack because of their nutrient balance but you can make them taste wonderful, too. If you want to enjoy them raw, it's best to sprinkle them on something they can stick to. Think granola or on top of salad dressing. They'll add a little crunch to your meal and a lot of nutrition, too.
If you're open to experimenting a little, you can make all sorts of recipes with interesting textures. Chia seeds expand (a lot) in liquid. They are mucilaginous which means they get an outer coating that becomes soft and they stick together. You'll really like chia pudding if you like textures like rice pudding or mousse.
Making Chocolate Chia Pudding with Coconut Milk
I need to break down all the potential substitutions for you here and I also want to walk you through making this recipe. First things first, making this recipe. If you read other cocoa-containing chia seed pudding recipes out there, a lot of them start with an extra step of mixing the cocoa into liquid because it's very powdery and if you put it straight into milk, you need to whisk it for awhile (say, 60 seconds). I need simplicity so I made this by just putting all the ingredients together and it turned out fine. You're looking at about 30-60 seconds of whisking to make sure it gets incorporated.
I just covered the mixing bowl with plastic wrap and stuck it in the refrigerator, leaving the whisk in it, because it's very important that you follow the instructions to whisk it after 30 minutes because the chia seeds at the bottom will be sticking together and you need to break them up and coat all the seeds. Whisk them once more after an additional 30 minutes and by then you'll really see it start to thicken. You'll be good to go after about 3-4 hours but alternatively, you can just leave this overnight and it will be ready to go in the morning.
Chocolate Chia Pudding with Coconut Milk Recipe Subs
Next up, the substitutions so that you have plenty of options. Here are some easy swaps that you can use to make this recipe your own:
the milk
the sweeteners
the flavors
Milk subs
I chose to use coconut milk because I wanted that flavor in this recipe. You'll see from the picture that I also garnished with coconut flakes. Chocolate and coconut is such a classic combination and it's one of my favorites. However, you'll notice that this recipe calls for carton coconut milk which is the kind that you can find in the refrigerated section (or shelf-stable non-dairy milk) section of the grocery store. The difference between this and the canned coconut milk is that it's less concentrated (has a lot more water added) and so it's lower in fat but it still has that unique flavor. You're welcome to use a can of full fat or lite coconut milk instead if you prefer. The issue with coconut milk is that it doesn't have much protein at all. Similar to almond or rice milk, that's a missing piece of nutrition.
You can absolutely use dairy milk in this recipe. Because I try to keep this blog mostly vegan-friendly or supportive of those with food allergies, I often use non-dairy milks. My two go-to's for this would be soy or oat. Both have a higher fat content so they have that creamy texture and they both – but especially soy – have that increased protein. Though chia seeds contain protein, you can bump it up a lot in this recipe with a higher protein milk.
Sweetener Subs
I use maple syrup in this recipe because it's a nice, subtle flavor and it's vegan-friendly. Alternatively, you could use agave syrup or maple syrup. I like how easily a liquid product absorbs into this recipe, so that's my suggestion to you. If you want to, you could use honey but because it comes from bees, it's not considered vegan.
I try to keep my sweetener content low in these recipes so you could adjust it to be more or even less. That's up to you! I haven't tried it but I'm sure you could do monk fruit or stevia in this recipe as well. Let me know if you try that.
Flavor Additions and Subs 
I top this recipe with coconut flakes but you've got SO many options for added flavors. You could either whisk in or simply garnish these Chocolate Chia Pudding with Coconut Milks with chopped fresh or dried fruit. Berries would be especially delicious and add even more antioxidants. You could chop up nuts for more heart-healthy fat and more protein, plus that added crunch. Try pistachios, almonds, or walnuts. Finally, you could do some colorful sprinkles or even garnish with some whipped cream. It's totally up to you how you add variety. You could also keep it simple and just stick with coconut or even serve it plain.
Other Anti-inflammatory Recipes for You!
Oh I've got more for you! This recipe reminds me a lot of my vegan chocolate mousse recipe – also in mason jars. If you're into serving dessert this way, I've also got a vegan strawberry rhubarb cheesecake that is a complete winner. Also, I've got another chia pudding recipe on the blog that features vanilla and almond flavors so stop over and check that out as well, especially if you want to mix up the flavors and have a non-chocolate variety. You can see how I do chia in granola with my cranberry almond chia granola recipe. So many options!
Let me know if you try this one! Be sure to drop a message down below.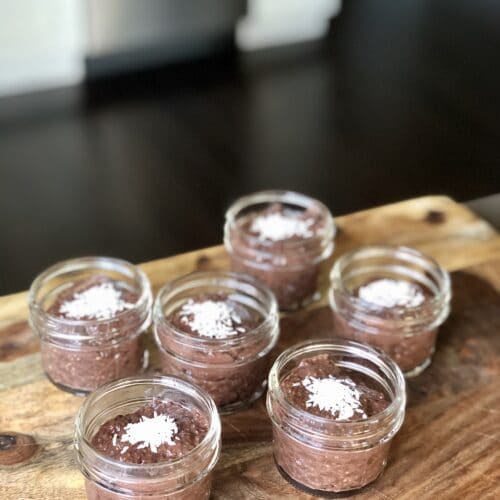 Chocolate Chia Pudding with Coconut Milk
This is a flavorful and decadent 4-ingredient recipe that you can make in minutes.
Print
Pin
Rate
Ingredients
2

tablespoons

cocoa powder

2

tablespoons

maple syrup

1 1/2

cups

unsweetened carton coconut milk

1/2

cup

chia seeds
Instructions
Add the cocoa powder, maple syrup, coconut milk, and chia seeds to a medium-sized mixing bowl and whisk it to combine. Whisk continuously until the mixture is completely combined without any cocoa lumps.

Cover the bowl with plastic wrap and refrigerate it for at least 3 hours, until the mixture is a thick, pudding-consistency. Stir the mixture after the first 30 minutes in the refrigerator to make sure the pudding will set correctly. Stir it again at 60 minutes. Divide it into separate containers or mason jars before serving.
Nutrition
Serving:
102
g
|
Calories:
152
kcal
|
Carbohydrates:
17
g
|
Protein:
5
g
|
Fat:
8
g
|
Saturated Fat:
1.4
g
|
Polyunsaturated Fat:
4.6
g
|
Monounsaturated Fat:
0.5
g
|
Trans Fat:
0
g
|
Cholesterol:
0
mg
|
Sodium:
14
mg
|
Potassium:
48
mg
|
Fiber:
11
g
Ginger Hultin,MS, RD, CSO
An award-winning, nationally recognized nutrition expert and media spokesperson.
Thanks for visiting! If you're like me: obsessed with eating, wine, going out and traveling, you're in the right place. Champagne Nutrition® LLC is a Registered Dietitian-run concierge virtual practice helping clients look and feel better. On this blog, you'll find cocktails, mocktails, and plant-based recipes that are easy to make quickly at home and pack for leftovers on your adventures.