Are you a corner-piece person or a middle-piece person? I stumbled upon a debate about this on facebook over the weekend and I realized: I am a solid middle piece person. However, I don't discriminate and I'd take a corner piece any day because I love brownies a lot. I hardly make them and so I wanted to whip up a quick batch on Saturday. When I was reviewing some of the most popular recipes out there, I found them to be overly complicated. Blending, pulsing, separating ingredients, melting 1/2 the chocolate chips…I really don't have time for that. I created the most simple, Easy Black Bean Brownies for you instead.
I have another black bean brownie recipe up on the blog, actually – one with peanut butter and jelly and it's delicious but again, a bit more complicated than what I wanted to get into this weekend. If you follow along with me, you know that I like to keep it super, super simple because I'm always on the go and I need to a) multitask in the kitchen and b) use on-hand ingredients.
I used to grocery shop every now and then (it was challenging because I commute within the city of Seattle and with public transportation, etc, it was really hard to get tot the store after work) but now I go once a week to stock up. I made these brownies at the very end of my week so I hardly had any ingredients in the house, but I had the staples to make this recipe. I love being able to whip up a really simple recipe like these brownies or my vegan chocolate haystack cookies with what I've got in the cupboard.
Why Black Beans?
I know that putting black beans in brownies may seem like a crazy dietitian thing to do (it is, actually) or just a crunchy Seattle thing to do (yup – that, too) but it's actually a really great move when making brownies. First of all, they don't taste savory or like beans. However, they do get a boost of fiber, vitamins, minerals and antioxidants and an improved, moist and chewy texture that's perfect for brownies. Because of their dark color, black beans blend perfectly into the batter and you'll never know they're there if you don't tell.
Making Easy Black Bean Brownies
Like I mentioned, I needed these brownies to be simple and I actually made them in just a few minutes with minimal equipment and ingredients. I found everything I needed in the cupboard and just pulled out my Ninja blender, my mixer, a small bowl, and the pan. I was ready to go in seconds. I wanted to break down how you can make these easily at home right now if you want and include all the substitutions and tips you'll need for a perfect batch of Easy Black Bean Brownies.
The Bean Base
I kept it simple with the bean base and simple blended the oil and beans together. You only use 3/4 cup of black beans so open up a can, rinse them well and then save the rest for other recipes. There are so many ways to use black beans and most of them are savory. If you need ideas, I've got some amazing sheet pan nachos on the blog and a simple vegetarian chili that I make like, once a week year-round.
Pour that bean mixture into the bowl of a stand mixer and add the eggs, cocoa, sugar, and vanilla. Blend it up and you're ready to add the dry ingredients next! Make sure that your oven is preheating and your pan is prepped with a little coconut oil or butter because you'll be moving quickly in this recipe.
The Dry Ingredients
In a separate small bowl, you can simply blend together the flour, baking powder and salt. I just used a fork to blend it and it's a very small amount so you can keep it very basic here. If you want a gluten-free product, that's so easy if you just use a simple gluten-free flour blend. I love Bob's Red Mill and use it even for flour-based recipes like these chocolate chip pumpkin muffins which turned out absolutely incredibly. I also make these year-round because….pumpkin is so healthy, delicious and easy to use because it comes in a can, too!
The Details
Finally, you'll just add the dry to the wet, blend it up for a few minutes, add in those chocolate chips and you're ready to bake the brownies. I used 1/2 cup of chocolate chips but you have options. Add less – a 1/4 cup instead – or more, even up to 3/4 or 1 whole cup. You could also eliminate them completely. It's up to you! I will say that these brownies are very chocolatey and decadent so I felt that 1/2 cup was about perfect. If anything, I may go with 1/3 cup in the future.
I'm so proud of this recipe. If you try it, please leave a comment – it's so good!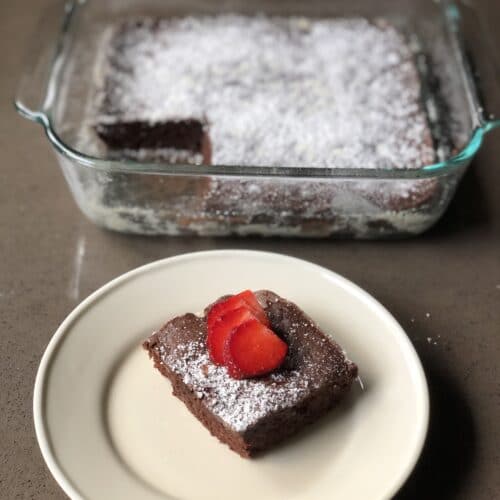 Easy Black Bean Brownies
You'll never know there are beans in this recipe but they help make it delicous
Print
Pin
Rate
Ingredients
1

teaspoon

coconut oil

for greasing the pan

3/4

cup

canned beans

rinsed and drained

1/2

cup

vegetable oil

try avocado or grapeseed oil

2

eggs

1/2

cup

unsweetened cocoa powder

1/2

cup

sugar

1

teaspoon

vanilla extract

1/3

cup

flour

1/2

teaspoon

baking powder

1/2

teaspoon

salt

1/2

cup

chocolate chips

1/4

cup

powdered sugar

for dusting as a garnish
Instructions
Preheat the oven to 350 degrees F. Grease a 9 by 9-inch square baking pan.

In a blender, puree the beans with the oil until it's smooth.

In the bowl of a mixer, add the bean mix, eggs, cocoa, sugar, and vanilla. Mix on medium-high until smooth or about 15-30 seconds.

In a small bowl, whisk together the flour, baking powder, salt, and chocolate chips.Add it to the mixer and mix until incorporated or another 15-30 seconds.

Pour the batter into the prepared pan and bake until the surface is matte around the edges and still shiny in the middle, about 30 minutes. Let cool at least 15 minutes before cutting and removing from the pan. Dust with powdered sugar and serve.
Ginger Hultin,MS, RD, CSO
An award-winning, nationally recognized nutrition expert and media spokesperson.
Thanks for visiting! If you're like me: obsessed with eating, wine, going out and traveling, you're in the right place. Champagne Nutrition® LLC is a Registered Dietitian-run concierge virtual practice helping clients look and feel better. On this blog, you'll find cocktails, mocktails, and plant-based recipes that are easy to make quickly at home and pack for leftovers on your adventures.