I have a food obsession: fare from the Middle East. Bring on the hummus, falafel, fresh flatbread, lentil soup, tomatoes, cucumbers, mint and dill. Every time I visit my favorite region of the world, I enjoy my eating experiences to the fullest. I'll admit that I do try to recreate it at home sometimes and I don't quite have the flair. I was making falafel at home the other day and I realized that I needed a perfect yogurt dill sauce. I had some simple ingredients on hand and it turned out amazingly so I thought I'd share it with you today!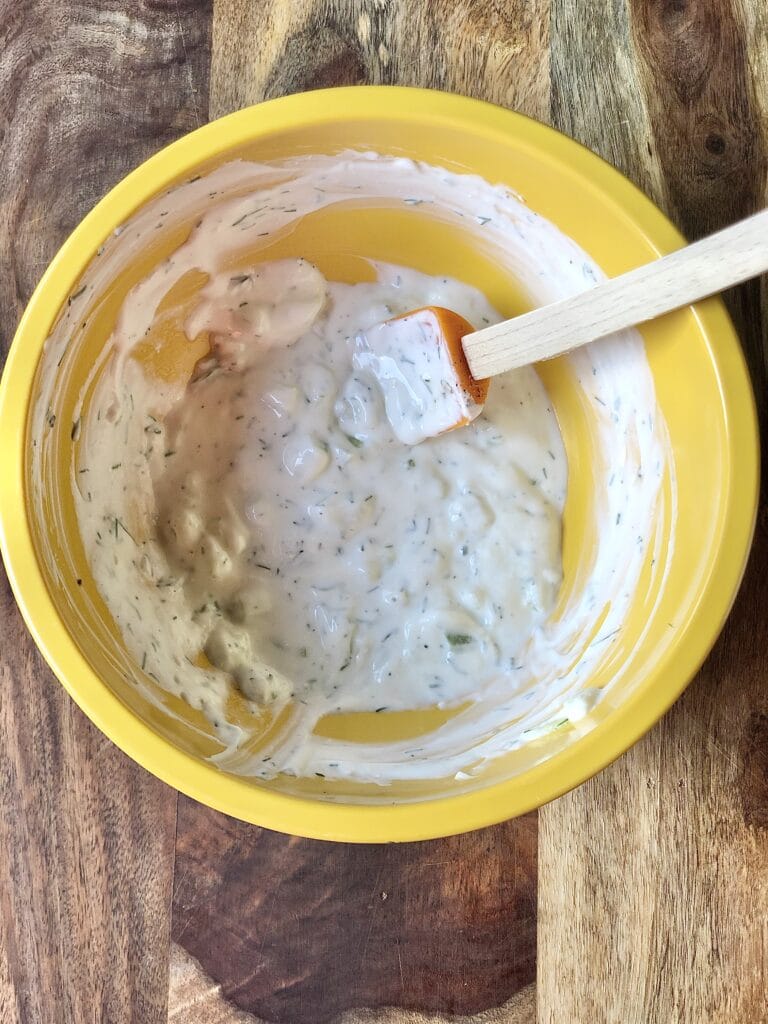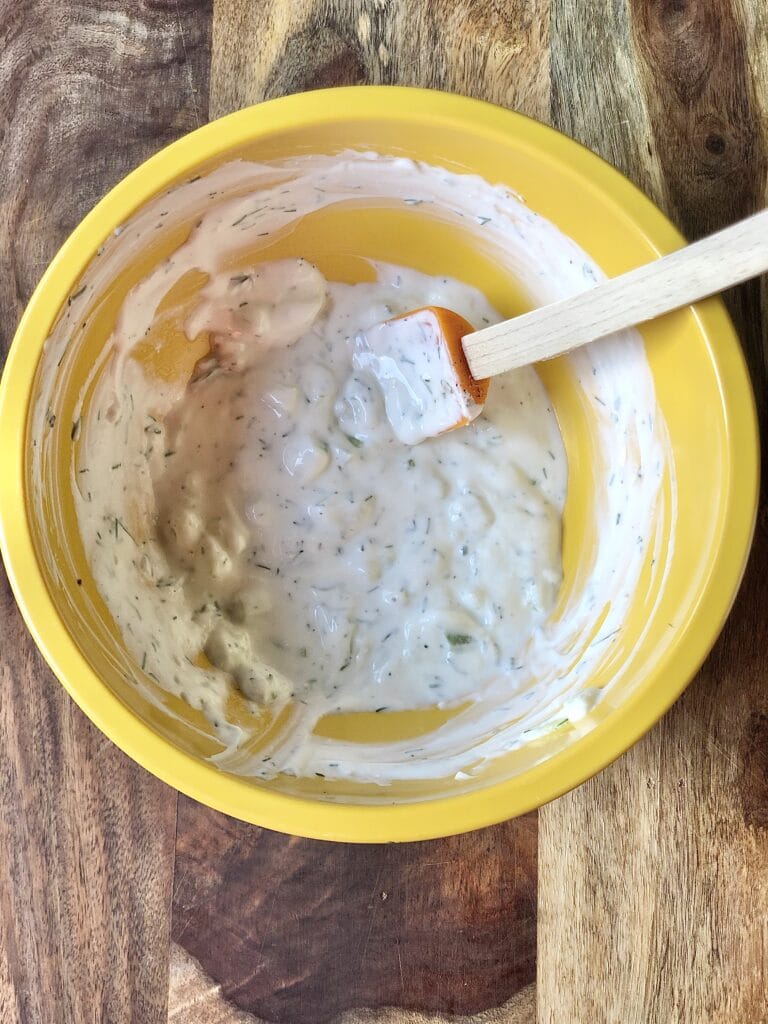 The Perfect Dip
A simple yogurt dill sauce is something that you really should have in your culinary arsenal because it serves as a delicious dip for veggies, a spread for sandwiches, a perfect appetizer or a healthy condiment. It's not just for Middle Eastern Cuisine and can go on so many kinds of foods. Making dips instead of buying them is a really important skill to have because, when you read the ingredients on the labels. you'll know right away that there are a lot of preservatives and fillers.
If you follow my blog you know that I want easy, easy, simple, simple but healthy and delicious. I love cutting back on sugar and fat and bumping up herbs and spices that you've got on hand in your pantry right now. This dip is no different. If you've got some fresh or dried herbs, a little vinegar, a cucumber and some garlic, you can make in under 5 minutes.
The day that I made this dip, I was creating falafel sandwiches. Hummus is a perfect spread for a sandwich of course but a yogurt dip is really light and refreshing and makes such a perfect addition and flavor pop. Though I do try to recreate my favorite authentic foods at home, I'll admit that when I really need something authentic, I order from a restaurant in my South Seattle neighborhood, Mawadda Cafe. Do you have any favorite Middle Eastern restaurants in your neighborhood that you frequent?
Visiting the Middle East
I've been so lucky to get to visit several Middle Eastern countries and I can't wait to go back and see more. This is a picture of me in Jordan at Petra on a very hot day. Did you know that Petra isn't just that one carved column building seen in Indiana Jones? That's actually only the entrance and there's miles and miles of those carved caverns and buildings all over the region. You could spend days there and I highly recommend it if you get the chance.
When I got Lebanon, Jordan, Kuwait or Dubai, I'm headed over to do some education for the incredible dietitians and other medical providers there. I travel alone – but I meet up with my colleagues there – and I've never had one problem or negative experience ever. People always ask me about safety and about how I feel, as a woman and honestly, I feel safer everywhere I've been in the Middle East than I do in many parts of the US. Bonus: the food is incredible and there are so many amazing sights to see! I'd say the main downside is that, especially from the West Coast, the flight is very, very long. It's a far journey!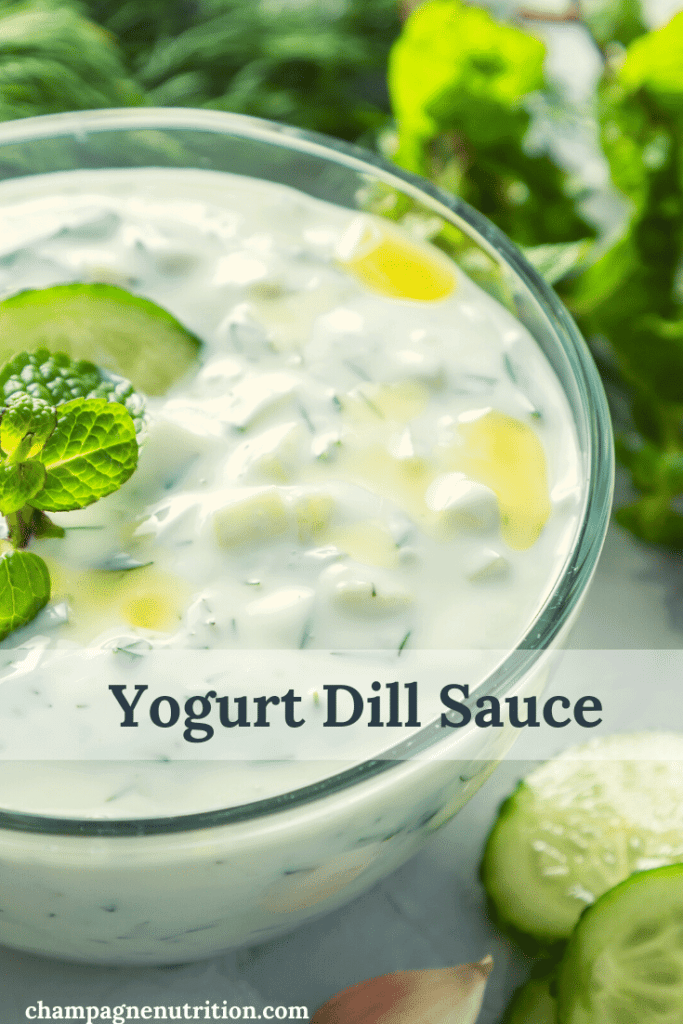 Making the Yogurt Dill Sauce
Like I mentioned, this sauce is really easy to make. First, get out a small bowl and set your ingredients out with a cutting board, knife, and a spatula. Grab your measuring spoons and you've basically done most of the work.
The Yogurt
I used a container of fat-free, plain Greek yogurt. There are options here but it definitely has to be plain. The strained Greek variety – you can also get Icelandic style Skyr – is thicker than European yogurt and so it creates a better consistency.
The main thing you'll need to decide is what fat level you want to use. I find that the American diet is generally very high in fat, salt and sugar so in my recipes, I'm constantly trying to cut back on those ingredients. Choosing a low or no-fat yogurt is a really easy substitution. If you're a person who is trying to get more calories or fat in the diet then definitely use a higher fat option. If you're a person who really prefers the texture or flavor of a higher fat yogurt, go for it! You could use a 2% option or go for whole yogurt.
There are some really great plant-based yogurts on the market now. I love Nancy's plain soy yogurt (it's got a thinner texture), or you could use a plain almond or coconut variety. Whatever you do, make sure there's no added sugar in there by reading the label.
The Seasoning
The good news is, that yogurt dill sauce is so easy to whip up. Chop up that small cucumber and don't even worry about peeling it. The green rind will add a nice, fresh color to the dip. Scrape out the seeds with a small, metal spoon then dice it up and toss it in.
Mince your garlic clove and toss that in as well. You get to choose how garlicky you make the recipe. I used just a small clove but if you want more, go for it with a large clove or two small ones instead.
You just need a touch of olive oil and red wine vinegar to balance the yogurt dill dip out and then you add the most important ingredient: fresh dill. Of course you can use dry if that's what you've got on hand but the fresh really makes it stand out. If you don't have dill or you don't care for it, feel free to swap it out for basil or mint instead. Or, you could cut back on the dill and add in one of the other herbs.
You just need a sprinkle of salt for that flavor balance and you're ready to serve it however you want to. Use the yogurt dill sauce as a veggie dip, as a sandwich spread, or as a garnish on a meat or vegetable dish.
If you need more easy dip ideas, don't forget to check out my, Vegan Black Eyed Pea Dip with Avocadoor my Kalamata Olive and Basil Tapenade Dip.
Yogurt Dill Sauce
A perfect sauce for dipping, spreading, or to use as a garnish
Print
Pin
Rate
Ingredients
6

ounces

plain Greek yogurt

I used 0% fat

1/2

small cucumber

seeds removed then diced

1

clove garlic

minced

1

teaspoon

olive oil

1/2

teaspoon

red wine vinegar

1

tablespoon

chopped fresh dill

1/8

teaspoon

salt
Instructions
Mix all ingredients together and serve cold. This dip will hold in the refrigerator for up to 5 days.
Ginger Hultin,MS, RD, CSO
An award-winning, nationally recognized nutrition expert and media spokesperson.
Thanks for visiting! If you're like me: obsessed with eating, wine, going out and traveling, you're in the right place. Champagne Nutrition® LLC is a Registered Dietitian-run concierge virtual practice helping clients look and feel better. On this blog, you'll find cocktails, mocktails, and plant-based recipes that are easy to make quickly at home and pack for leftovers on your adventures.