Easy, Healthy Bloody Mary Cocktails
When I posted the healthy Bloody Mary cocktails I made on Instagram (make sure you're following me here!), they made quite a splash and got a lot of attention right away. Bloody Marys are such a classic cocktail and often we associate them with brunches out with friends, celebrations, and special outings. I'm making more drinks at home these days and, while I so often focus on champagne cocktails,  realized that I needed something more savory. Drink your vegetables with these Easy, Healthy Bloody Mary Cocktails.
The Bloody Mary likely originated at the St. Regis hotel bar in NYC back in the 1930's. A famous bartender there made a savory drink based on vodka and tomato juice with a hint of Worcestershire, black pepper, celery salt, hot sauce and lemon juice.
You'll find different versions of Bloody Marys all over the place. A Bloody Mary made with tequila is called a Bloody Maria. When made with Gin, people will call it a Gin Mary or a Red Snapper. The Caesar is a Bloody Mary made with Clamato juice rather than straight tomato juice. And you'll find garnishes ranging from the classic olives and celery to full on sausages, cheese, eggs and even shrimp, bacon, or burger sliders, depending on the creativity involved.
You can get as wild as you want with your spices and garnish but I wanted to create something relatively simple so that, if you don't have a full bar at home, you could pick up a couple staple ingredients and whip up a couple easy, healthy Bloody Mary cocktails in minutes. Best of all, you can so easily make these non-alcoholic by simply leaving out the booze. You'll still have a savory, flavorful beverage to enjoy.
Before my life as a dietitian, I was a bartender for years. I made a lot of Bloody Marys for brunch…a lot. We'd whip up these huge batches of 'Mary' mix and then fill the pint glasses with ice, pour the alcohol over it then top it with the mix, garnishing with a simple olive and lime and stirring it lightly with a straw. When you make hundreds per day, you need it to be quick and simple. If you're making it at home, you can be a little more creative and you can play around with the spices you prefer and make beautiful garnishes. I see Bloody Mary cocktails as a way to
If Bloody Marys aren't for you, I've got many other options up on the blog. Check out my carrot ginger turmeric mimosas, strawberry basil kombucha cocktail, and fresh grapefruit paloma.
Making Easy, Healthy, Bloody Mary Cocktails
There are a lot of adaptations and changes you can make with these drinks so I want to break it down for you and offer some advice and pro tips. My favorite way to make these is with a large shaker but if you don't have one, you can have a lot of success with a large water bottle with a lid and otherwise, just use a large glass pitcher and stir it thoroughly.
The Juice
My best suggestion is to buy those little individual serving cans of tomato/vegetable juice. I got mine in a 6-pack and then I used 2 (with a little leftover to sip on) so we have some for later. If you're just making 2 drinks, you probably don't want a giant bottle of tomato juice unless you drink it regularly or you're making more drinks to serve a larger party or gathering.
Even healthy bloody mary cocktails can be really high in sodium. They're also high in potassium which helps balance it out a bit, but you can easily exceed the sodium recommendations with 1-2 of these drinks depending on how you make it. Definitely consider low-sodium if that works for you. And alternatively, you can use clamato (clam + tomato juice), if you like a bolder flavor. There are also some tomato/vegetable juices that combine the veggies with a little fruit juice so if that speaks to you, feel free.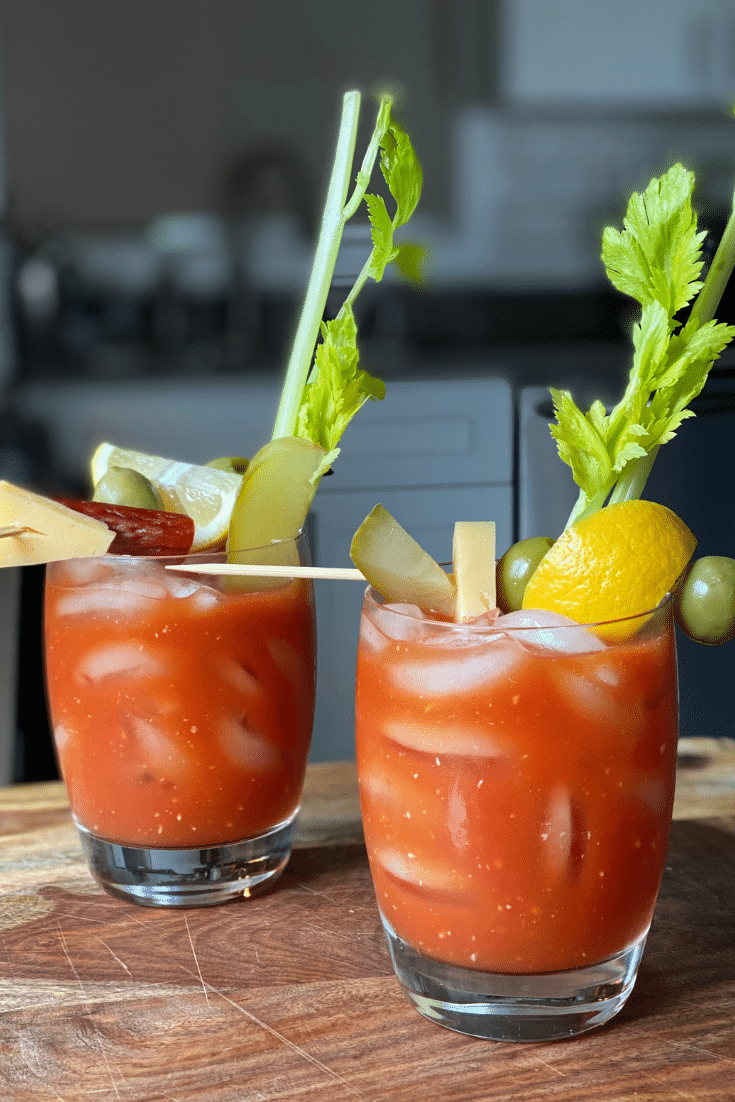 The Alcohol
Like I mentioned, feel free to mix it up and use something other than vodka. You can use gin or tequila and it's really tasty. I wouldn't suggest using rum or whiskey…you'll want to go in an entirely different drink direction if that's what you're craving.
The Spices
I keep it simple here with a dash of pickle juice, a little squeeze of fresh lemon, some hot sauce (you pick the heat and flavor!), a touch of horseradish (spicy!), the Worcestershire and a grind of black pepper. However, the sky is the limit here and you can also use lime instead of lemon, add celery salt or garlic salt, paprika, or even Old Bay seasoning. Start with very small portions (like a dash or 1/8 teaspoon) and work up from there.
Keep in mind that Worcestershire isn't' considered a vegan product because it can contain anchovies or fish sauce so read your label carefully and consider making your own or buying one without if that's important to you.
The Garnish
People go crazy for a good garnish so you can really have fun with this piece. I like to skewer together a celery stalk with a pickle, add a little citrus and throw an olive on there, too. I mostly do vegan/vegetarian recipes and drinks but if you want to, you can use strips of bacon or jerky, seafood like shrimp, cheese cubes or sticks or even burger sliders. For the best plant-based options, consider using cucumber, pickled beans, asparagus or okra, fresh or pickled jalapeno, artichoke hearts, pearl onions, radishes, a sprig of fresh parsley or even baby corn spears.
If you try these, you must let me know!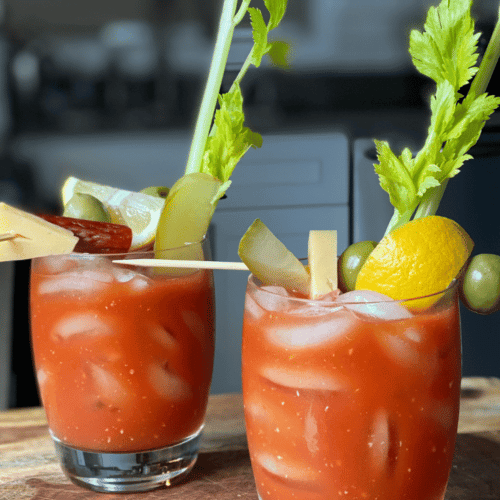 Easy, Healthy Blood Mary Cocktails
I'm giving away all my secrets for the best garnish, the right alcohol, and the perfect spice blend.
Print
Pin
Rate
Ingredients
8

ounces

tomato or vegetable juice

low sodium if you desire

4

ounces

vodka

can sub gin or tequila

1

tablespoon

pickle juice

1/2

teaspoon

hot sauce

1/2

teaspoon

fresh lemon juice

1/8

teaspoon

horseradish

1/8

teaspoon

Worcestershire sauce

pinch

freshly ground black pepper

2

stalks

celery

2

pickle spears

2

slices or wedges of fresh lemon

2

large green olives
Instructions
Pour the tomato juice, vodka, pickle juice, hot sauce, lemon juice, horseradish, Worcestershire, and pepper in a large shaker or pitcher. Stir or shake over ice until all the ingredients are thoroughly combined.

Pour the mixture evenly into two rocks or pint glasses filled with ice. You can salt the rim if desired. Using 2 toothpicks or drink spears, thread 1 celery stalk, pickle spear, slide of lemon and green olive on each, in any order that you prefer. Serve the Bloody Marys immediately.
Ginger Hultin,MS, RD, CSO
An award-winning, nationally recognized nutrition expert and media spokesperson.
Thanks for visiting! If you're like me: obsessed with eating, wine, going out and traveling, you're in the right place. Champagne Nutrition® LLC is a Registered Dietitian-run concierge virtual practice helping clients look and feel better. On this blog, you'll find cocktails, mocktails, and plant-based recipes that are easy to make quickly at home and pack for leftovers on your adventures.