Farro Risotto with Butternut Squash and Sage
If you need a side dish any time of year, this filling, healthy, tasty farro risotto with butternut squash and sage is IT. I'm making it here in the fall with some Thanksgiving-inspired flavors but honestly, it would be a wonderful dish to make year-round. I love how hearty the texture is because it makes perfect leftovers. You can turn it into a one-pot dish by adding your favorite protein source. What's not to love?
I'm totally not into classic Thanksgiving side-dishes. Mushy sweet potatoes with marshmallows? Gravy? Stuffing? Green bean casserole? Not for me. I'll do some potatoes, cranberry, rolls and green salad. Because of my finicky nature around Thanksgiving, I definitely create recipes that I (and others) will enjoy each year on the blog. I always focus on healthier alternatives, often vegan, always vegetarian, that are still savory and comforting. Last year I made my vegan potatoes au gratin and I also have a favorite lower sugar cranberry sauce recipe as well (it's spicy!).
If you're like me, you also pay close attention to Thanksgiving or other holiday dinner cocktails. Red and white wine are the obvious pairings but I think it's really fun to serve a colorful cocktail or punch at the start or end of the meal. Try my very recent (and super fun) carrot ginger turmeric mimosas or my spiced apple cider bourbon punch. Last time I made this, it was gone in like 5 minutes.
This risotto is really quick and easy to make. Many recipes have several steps with roasting the squash, etc but honestly, I need my recipes to be 1-pot and quick to create and clean up. I use frozen butter nut squash because….I'm just not going to butcher a whole squash but if you are able to do that, feel free! You can also buy squash pre-cut fresh. I just really enjoy the convenience of having it frozen in the freezer whenever I need it.
Farro is very hearty and so it makes good leftovers. I packed it for lunch for a couple days actually, as it makes a large batch. It's versatile and delicious. The large portion that it makes – about 5-6 servings – creates a nice side-dish to serve at a dinner party or bring to a potluck. I did use Parmesan cheese in it but if you wanted to adapt it to be vegan, you could try nutritional yeast instead.
This Farro Risotto with Butternut Squash and Sage is really tasty and it's healthy as well. Farro and squash take the main stage with tons of fiber, vitamins, minerals and antioxidants but there are other healthy ingredients in here as well. Garlic, onion, sage, olive oil and vegetable broth also contribute flavor and healthy compounds. The best thing about this recipe? It's really hands-off and most of the time you'll just be keeping an eye on it. If you have extra farro, feel free to use it as a breakfast. I love making whole grains aside from oats in a breakfasty way like this breakfast quinoa.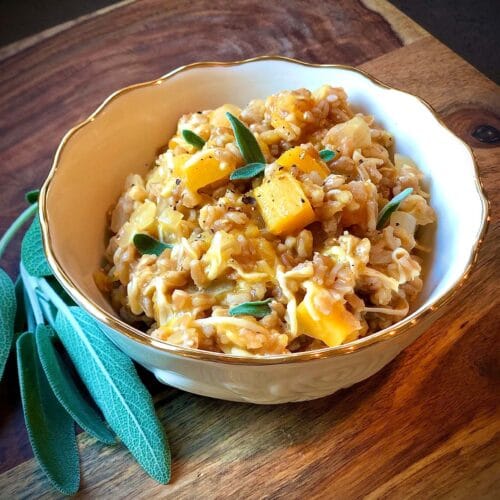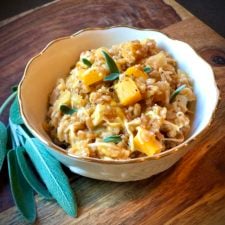 Ingredients
2/3

cups

farro,

rinsed and soaked for 30 minutes in 2 cups water

1

Tablespoon

olive oil

1

small yellow onion,

chopped

2

cups

chopped butternut squash

(fresh or frozen)

3/4

teaspoon

Kosher salt,

divided

1/2

teaspoon

freshly ground black pepper,

divided

3

cloves

garlic

1/2

cup

dry white wine

1

large bay leaf

1.5

cups

low-sodium vegetable broth

1/3

cup

grated Parmesan cheese

1/4

cup

fresh sage,

sliced thinly
Instructions
Add rinsed farro to a bowl of water and soak, fully submerged for 30 minutes. While soaking, prep other ingredients. When farro has soaked, heat olive oil in a large saucepan over medium heat then add onion and squash. Season with a pinch of salt and pepper and cook, stirring occasionally, for 4-6 minutes. Add garlic and farro; sauté for another 2 minutes. Add wine and continue to cook and stir occasionally until most of the liquid has evaporated, about 3 minutes.

Add bayleaf then add broth 1/2 cup at a time, stirring it in as you add. Add remaining salt and pepper then bring liquid to a boil. Reduce heat to low and simmer, uncovered, stirring occasionally, until farro is tender yet remains chewy, about 25 minutes. When farro is cooked, gently stir in Parmesan, serve and top with fresh sage leaves.
Nutrition
Ginger Hultin,MS, RD, CSO
An award-winning, nationally recognized nutrition expert and media spokesperson.
Thanks for visiting! If you're like me: obsessed with eating, wine, going out and traveling, you're in the right place. Champagne Nutrition® LLC is a Registered Dietitian-run concierge virtual practice helping clients look and feel better. On this blog, you'll find cocktails, mocktails, and plant-based recipes that are easy to make quickly at home and pack for leftovers on your adventures.