Reminiscing about sparkling apple cider conjures up fond memories of lively Jr. high-school New Year's parties and festive holiday gatherings from my childhood. While this beloved beverage holds a special place in my heart, I wanted to create a more sophisticated version to commemorate the holiday season. Introducing the Apple Cider Spritz, a delightful concoction crafted to strike the perfect balance between refinement and merriment, ensuring your celebrations are elevated without overwhelming your senses.
The idea for this enticing libation came to life when I found myself with a bottle of white wine left over from my delicious farro risotto recipe. Not wanting to let it go to waste, I set out to create a beverage that captures the essence of the holiday season and offers an alternative to the classic sparkling apple cider. If you find yourself with leftover red wine, I also have a sangria recipe that's specifically geared toward reducing food waste.
Finding a balance during the holiday season 
Holiday cocktails can present two challenges. First, they seem to be at every event during the festive season, making it difficult for my clients to maintain a sense of balance. Second, they often pack a strong punch, leading to a risk of exceeding recommended alcohol intake and feeling a bit tipsy or worse – poorly the next day. This can disrupt sleep, affect energy levels, trigger food cravings (my article on alcohol and the munchies here!), and ultimately leave you feeling less than your best during this joyful time.
As a former bartender, I enjoy crafting cocktail recipes and like to put my own spin on things. I do not use added sugar or syrup. Instead, I opt for natural sweeteners like maple syrup or honey, and I make use of naturally sweet or flavorful ingredients such as beets and apples to enhance the taste. While I do incorporate alcohol, I dilute it thoughtfully with other ingredients, allowing you to savor the flavors without the risk of overindulging. This way, you can still enjoy a couple of cocktails while sticking to your health goals.
I'm especially proud of my carrot turmeric ginger mimosa and my gin ginger beet cocktails, and they're so perfect for this time of year. I also have a couple of punch recipes, including this spiced apple cider bourbon punch, which is always a crowd-pleaser, and my orange cran-pom sparkling punch, which is also really refreshing and celebratory. Punch is undoubtedly a nostalgic and fun cocktail choice for the holidays. It becomes a centerpiece of merriment at gatherings, encouraging guests to gather around the punch bowl and partake in the joy of the season.. 
Making the Apple Cider Spritz
The perfect base
To create this Apple Cider Spritz, you will need two simple yet essential ingredients: white wine and apple cider. When selecting the wine, it's best to opt for a dry variety over a sweet one, as it complements the flavors of the apple cider. Don't feel pressured to buy fancy wine for this cocktail; an affordable and straightforward Vihno Verde works wonderfully in this mix. 
Choose between sparkling or regular apple cider, depending on how fizzy you would like your cocktail—extra fizz may enhance the spritzy holiday feel. For those seeking a unique twist, consider using apple cider infused with cinnamon, adding a cozy and comforting element to the mix. The beauty of this recipe lies in its versatility, allowing you to adjust the proportions and flavors to suit your preferences and create a personalized holiday spritz that will undoubtedly delight you and your guests.
Adding a splash of fizz
To ensure this Apple Cider Spritz is light on alcohol, I add plain soda water, providing a boost of fizz that invigorates the drink without overpowering the other flavors. Avoid using tonic water, flavored soda water, or sweetened soda. Tonic water has a distinct bitter flavor due to the presence of quinine, which can clash with the delicate apple notes and alter the overall taste of the cocktail. Flavored soda waters may introduce additional tastes and sweetness that could mask the subtle apple flavor we want to highlight in the spritz. Keeping it plain ensures that the natural apple cider taste remains the star of the show. 
Avoid using 7-Up or any sweetened soda options, which can overpower the delicate balance of the spritz and make it excessively sweet. You want to maintain a perfect blend of crisp apple cider, refreshing white wine, and the gentle fizz of plain soda water, resulting in a harmonious holiday spritz that celebrates the flavors of the season. 
Naturally flavored perfection
For this recipe, I rely on the inherent sweetness of apples to enhance the flavor of the Apple Cider Spritz. Locally-sourced apples from the Pacific Northwest are bursting with flavor, adding a touch of nature's sweetness to this cocktail. I like to keep it simple, and I'm hoping that you have high-quality apples or cider in your area to choose from, too, this season. 
Garnishing the Apple Cider Spritz 
To elevate the presentation and honor local ingredients, I love to garnish the Apple Cider Spritz with a crisp slice of apple, a sprinkle of cinnamon, and a sprig of thyme. These add a touch of visual appeal but also enhance the overall taste and aroma of the cocktail, celebrating the essence of the holidays in the Pacific Northwest. The fresh slice of apple complements the apple cider's natural sweetness, providing a burst of juicy flavor. 
A pinch of cinnamon on top adds a warm and comforting note, perfectly harmonizing with the cozy undertones of the cider and creating a truly festive experience. The addition of a fragrant thyme sprig infuses the drink with a subtle herbal essence.
Embrace the spirit of the holiday season with this beautifully adorned Apple Cider Spritz—full of vibrant local flavors, visually appealing garnishes, and the joy of celebrating the holidays in style. Raise your glass and indulge in this cocktail, that's a bit lightened up and quite refreshing. Cheers to a wonderful and memorable holiday season ahead!
If you enjoyed this Apple Cider Spritz and are looking for more holiday cocktail recipes, check out my:
Healthier Creme Champagne Cocktail
Hazelnut Coffee Champagne Cocktail
Christmas Tree Pine Cordial Cocktail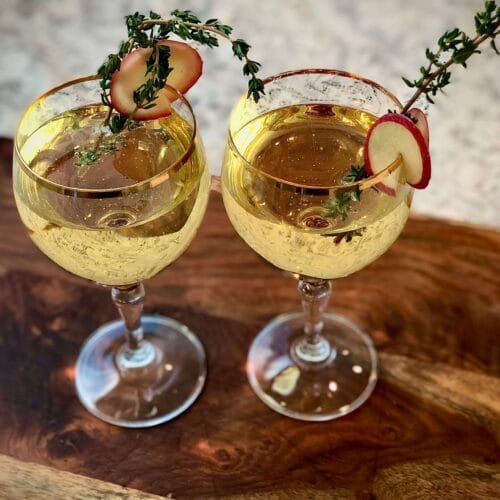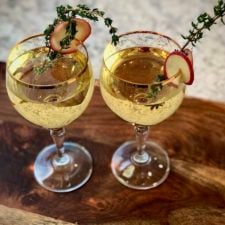 Ingredients
6

ounces

of white wine - try vihno verde

3

ounces

apple cider - sparkling or regular

3

ounces

plain soda water
Instructions
Combine the white wine and apple cider, pouring 3 ounces of each into 2 wine glasses. Stir gently to ensure the flavors are well mixed.

Top each wine glass with 1.5 ounces of soda.

Garnish with a slice of apple, a sprinkle of cinnamon, and a sprig of thyme for a touch of holiday charm. Sip and savor the delightful Apple Cider Spritz!
Notes
Feel free to use different types of wine or cider based on what you have and what is easy!
Nutrition
Serving:
6
ounces
|
Calories:
92
kcal
|
Carbohydrates:
8
g
|
Fat:
0
g
|
Sugar:
6
g
Ginger Hultin,MS, RD, CSO
An award-winning, nationally recognized nutrition expert and media spokesperson.
Thanks for visiting! If you're like me: obsessed with eating, wine, going out and traveling, you're in the right place. Champagne Nutrition® LLC is a Registered Dietitian-run concierge virtual practice helping clients look and feel better. On this blog, you'll find cocktails, mocktails, and plant-based recipes that are easy to make quickly at home and pack for leftovers on your adventures.