Apple Cider Wine Spritzer
Sparkling apple cider brings back memories of Jr. high-school New Year's parties or Christmas Eve growing up as kids. I love it, of course, (who doesn't?!) but I wanted a more grown-up version for this holiday season that's more adult but won't turn you up too much. I had some simple items on hand so I made you this Apple Cider Wine Spritzer. This was a fun day because my intern and I got to enjoy a little afternoon cocktail with our photoshoot.
I actually had a bottle of white wine open from making my farro risotto recipe and I wasn't sure what to do with the rest of it. This is a common issue, I know, and often the go-to is either tossing it after a few days (SAD!) or making a cocktail like sangria. I DO have a sangria recipe that's specifically geared towards reducing food waste because of all the odds-and-ends it uses but I wanted to think beyond sangria for this recipe.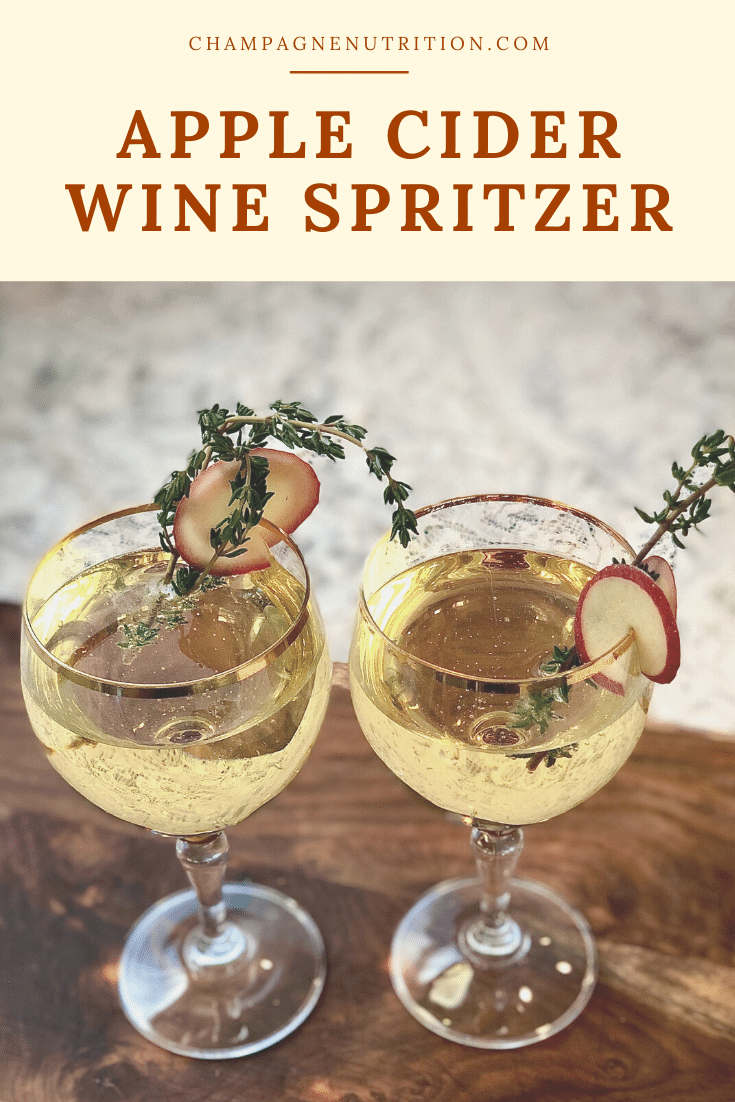 The problem with holiday cocktails is that 1. they're everywhere – like every, single event is full of booze. I talk to my clients about achieving balance during 'party' season and it's a struggle! and 2. they can be potent. Too much wine or a couple martinis and you're over the recommended intake of alcohol as well as feeling a bit tipsy. This can interrupt your sleep, affect your energy, create food cravings and leave you not feeling your best this holiday season.
I create a lot of cocktail recipes – I used to be a bartender! But you'll notice that I always have a few elements in what I make for you. I never use added sugar or syrup. I like to use natural sweeteners if needed like maple syrup or honey and I like to utilize naturally sweet or flavorful foods such as beets and apples to naturally sweeten. I also will definitely have alcohol but I'll dilute it a bit with other ingredients so that you can enjoy mindfully without overindulging. I like to have a couple cocktails when I'm out so if they're not as strong, that works much better.
I'm especially proud of my new carrot turmeric ginger mimosa and my gin ginger beet cocktails and they're so perfect for this time of year. I also have a couple punches because I got really into the punch idea when I lived in Chicago. They have several 'punch' themed speakeasies there and then I got my own punch bowl and the rest is history. If you want a simple, fun drink to serve at a party, punch is it. This spiced gingerhultinnutrition.com/spiced-apple-cider-bourbon-punch/ is always a crowd-pleaser and then my orange cran-pom sparkling punch is also really refreshing and celebratory.
For my simple little Apple Cider Wine Spritzer, I just combined an effervescent white wine, vinho verde, with some sparkling apple cider and topped it with plain soda water. Easy! And alcohol-light so you can sip a couple and feel like you're participating all evening long without any ill-effects. Feel free to mix it up and use a different type of white wine or non-sparkling apple cider. I always like to use whatever is on hand to keep it simple. Garnish with a little slice of apple and a sprig of thyme and you're ready to party. Enjoy!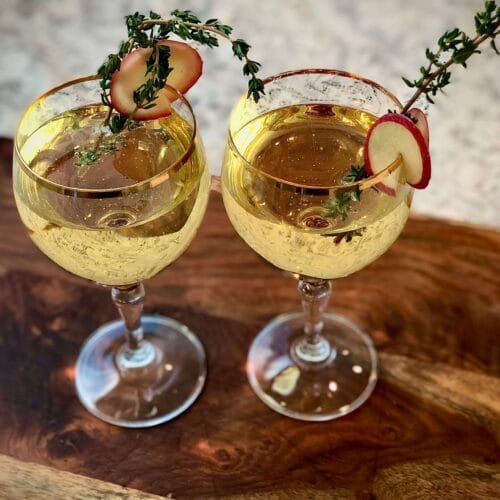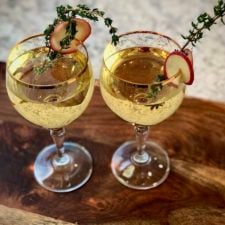 Ingredients
6

ounces

of white wine - try vihno verde

3

ounces

apple cider - sparkling or regular

3

ounces

plain soda water
Instructions
Pour 3 ounces each into 2 wine glasses. Top with 1.5 ounces each of cider then 1.5 ounces each of soda and garnish with a slice of apple and sprig of thyme.
Notes
Feel free to use different types of wine or cider based on what you have and what is easy!
Nutrition
Ginger Hultin,MS, RD, CSO
An award-winning, nationally recognized nutrition expert and media spokesperson.
Thanks for visiting! If you're like me: obsessed with eating, wine, going out and traveling, you're in the right place. Champagne Nutrition® LLC is a Registered Dietitian-run concierge virtual practice helping clients look and feel better. On this blog, you'll find cocktails, mocktails, and plant-based recipes that are easy to make quickly at home and pack for leftovers on your adventures.