My neighbor dropped off some gorgeous fresh citrus in the form of 6 medium-sized yellow grapefruits she picked off her friend's tree on a trip in Arizona this week. They were sitting on my counter here in the kitchen and every time I walked by, I'd get a whiff of that delicious, fresh grapefruit scent. I wasn't sure we'd eat that many over the next few days and so I decided to pop into the liquor cabinet to see if we had an ingredient that would make all the difference. Tequila. And so I made you a Fresh Grapefruit Paloma.
This will become your new refreshing beverage. You can whip it up in minutes and it uses all on-hand ingredients….if you've got grapefruit at home. I often keep a bottle of tequila lying around. We hardly drink it but it's just really convenient to have to whip up a drink like this one. I also have a bottle of grand mariner that I've had for like a year. It's so perfect to keep these liqueurs around because they last forever and you only use a little at a time. It's so easy to put together a small and orderly liquor cabinet or shelf so you've got versatile ingredients in your home. As the seasons change and fruits and veggies come into season, you can use your collection to create new beverages to enjoy like this one!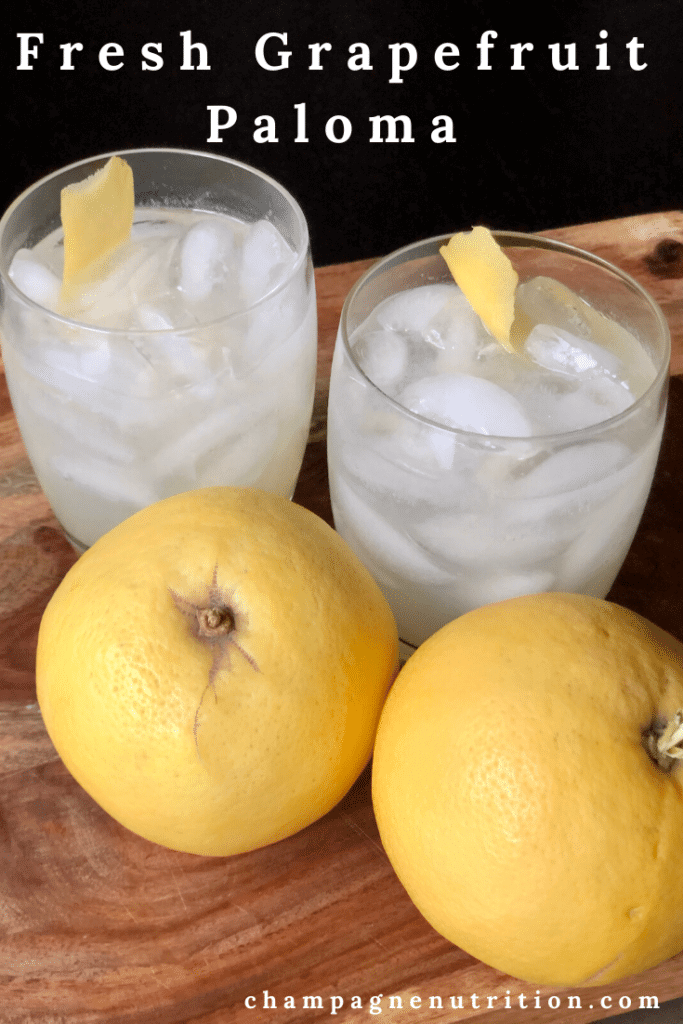 Why Grapefruit?
It's important to know that grapefruits are super healthy. They go very well in beverages and I actually use them pretty often. I recently updated one of my favorite champagne cocktails – the "Fresh Citrus Champagne Fizz" that features a little limoncello and fresh grapefruit juice in sparkling wine. I also have my all-time favorite up on the blog – the "Healthier Margarita" with fresh lemon and lime juice mixed with tequila and grand mariner liqueur.
You can use juice that you buy at the store; that's always fine and my recipes are absolutely made to be flexible to your needs and speed of making them. Bottled, canned, dried and frozen foods absolutely have a place in our repertoire but why not use fresh if you've got it?
Unlike lemons and limes, I love using fresh grapefruits because you actually get a good amount of juice out of each one. Depending on the size, what I do is I halve them and gently press the juice out of them just to get started. Then I cut the halves in half so you've got a quarter.  From there, I'll stick it in my favorite kitchen tool of all time – a citrus squeezer. It's a connected, round head with 2 handles that you press down on to mash the fruit. It catches the seeds and all you get is juice. Flip your piece inside and outside a couple times as you press it to get all the juice and this way, you also get some of those delicious oils from the skin, too.
Grapefruits actually have a lot of nutrition. It's a citrus so of course you've got the potassium and vitamin C that everyone talks about. It's also a great source of fiber if you eat the fruit. That gets removed if you juice it but that's still ok for a recipe like this one. Most people don't realize that grapefruits contain pantothenic acid, copper, vitamin A, and biotin, too.
Beyond vitamins and minerals, they have a lot of antioxidants. The pink and red grapefruits contain lycopene – the antioxidant you'll hear about in tomatoes and other red foods. Grapefruits also contain limonoids – as do other citrus fruits – which get incorporated into the body and could even have anti-cancer effects. Specifically, antioxidant naringenin has been shown to repaid DNA and also fight cancer cells.
Fresh Grapefruit Paloma
The reason I made palomas is because I wanted something different to mix up than tequila. Whenever I think of citrus, my mind goes immediately to tequila because the flavors go so perfectly together. However, there's just something about margaritas that make me feel…really tired and a little icky later on? I think it could be the sweetness. I'm interested if this ever happens to you – let me know in the comments.
Whenever I see a paloma on the menu; that's my go-to. This cocktail is also tequila based but is mixed with lime juice and a grapefruit-flavored soda such as Fresca, Squirt, or Jarritos. I'm not really into soda so I created this Fresh Grapefruit Paloma using fresh grapefruit juice, squeezed from 2 large grapefruits and then mixed in with soda water.
Soda water is just: awesome. I get interviewed about it all the time – is it safe? Is it hydrating? Yes and yes. Here are a couple articles if you're interested on the hydrating aspect and the safety of these uber-popular beverages. I used regular soda water but if you wanted to get more creative and add in different flavors, you could absolutely use a lemon, lime, or even grapefruit/pamplemousse (French for grapefruit).
Making these is very easy. Just squeeze all your grapefruit juice and set it aside. I hope you get about a cup but it very much depends on the grapefruit. If you're buying some for the recipe, just get an extra one or two. You can eat them if you don't use the juice! This recipe also only makes 2 drinks so if you want more, just double it.
I served these on the rocks so I fill the glasses with ice cubes first so I can pour all the liquid over the ice to chill it more. After that, mix the tequila in with the grapefruit juice. If you want to get fancy, you could shake the combination with ice in a shaker to get it frothy but I just mixed mine with a spoon. Pour it over the ice and then top it off with either plain or flavored soda water. Make sure you don't have a sweetened variety because you don't need that extra. Make sure to steal a piece of your grapefruit rind by peeling a slice with a vegetable peeler for a beautiful garnish. Enjoy!
Fresh Grapefruit Paloma
This fresh grapefruit paloma features yellow grapefruit, tequila and sparkling water for a refreshing cocktail.
Print
Pin
Rate
Ingredients
2

medium-sized yellow grapefruits

juiced with seeds removed

3

ounces

tequila

2

cups

ice cubes

6

ounces

seltzer water
Instructions
Mix the grapefruit juice (it should be about 8 ounces) and the tequila. Split it into 2 glasses then fill each glass with ice, about a cup each. Top each glass with about 3 ounces each of soda water, stir and enjoy! Garnish each with a slice of grapefruit rind.
Ginger Hultin,MS, RD, CSO
An award-winning, nationally recognized nutrition expert and media spokesperson.
Thanks for visiting! If you're like me: obsessed with eating, wine, going out and traveling, you're in the right place. Champagne Nutrition® LLC is a Registered Dietitian-run concierge virtual practice helping clients look and feel better. On this blog, you'll find cocktails, mocktails, and plant-based recipes that are easy to make quickly at home and pack for leftovers on your adventures.