Hamantaschen with Berry Jam
I'll start this post with a few disclaimers: I know that it's not Purim and hamantaschen are specifically used to celebrate that Jewish holiday. I'm also not Jewish though I love Jewish culture and cuisine and I live in an Orthodox Jewish neighborhood here in Seattle. Ever since I was walking around my neighborhood when I first moved here years ago and was delighted to see neighbors walking around in costumes and people were calling out to me, asking me if I wanted a cookie to help celebrate, I was hooked on hamantaschen.
I've always wanted to make my own so when I saw a recipe in Food Network magazine, I knew it was time. Honestly, this recipe makes a LOT – about 36 cookies – so I ended up dividing the dough into 3 balls and freezing two for later. Lucky me! I get hamantaschen whenever I want them now.
About Hamantaschen with Berry Jam
Hamantaschen are traditional Jewish cookies associated with the holiday Purim. In brief (very brief), Purim is the story of the Jewish people being saved by a man named Haman, an advisor to King Ahasuerus, who had an evil plot to kill the Jewish people living in Persia, out of his hatred for a Jewish man, Mordechai. Mordechai's cousin, Esther, was married to the King and they both saved the Jewish people by telling the King about how evil Haman really was. The triangle shape of these cookies may represent Haman's hat, pockets and/or ears and, importantly, Jewish victory over his plot.
Hamantaschen can be filled with a variety of sweets including fruit preserves, prune or poppyseeds and sometimes even savory ingredients. These cookies are a German pastry that may date back to the 1400-1500's called Mohntaschen – meaning "poppy pocket" because they were filled with a sweet poppyseed mixture.
Making Hamantaschen with Berry Jam
I don't have a mom or grandma that can help me know the traditional family way to make these special cookies (if you have tips, make sure to drop them in the comments!) but I gave it a shot anyhow and had a fun time making them. I thought they'd be more challenging to make than they were. Once you chill the dough, it's easy to roll out on the counter, cut with a round glass, fill with jam and shape into triangles.
When they bake, they are still soft and with the berry jam filling, remind me of a scone. They pair extremely well with coffee and, though I know they're a traditional food created specifically for one holiday, I can see myself enjoying them throughout the year. They're so good!
If you're into making cookies like I am, I've got a bunch of recipes on the blog that you should check out. I often give adaptations for vegan options so you can easily make your cookies suit any dietary need. Make sure to check out my vegan haystack cookies, vegan thumbprint cookies, coconut chocolate chip cookies.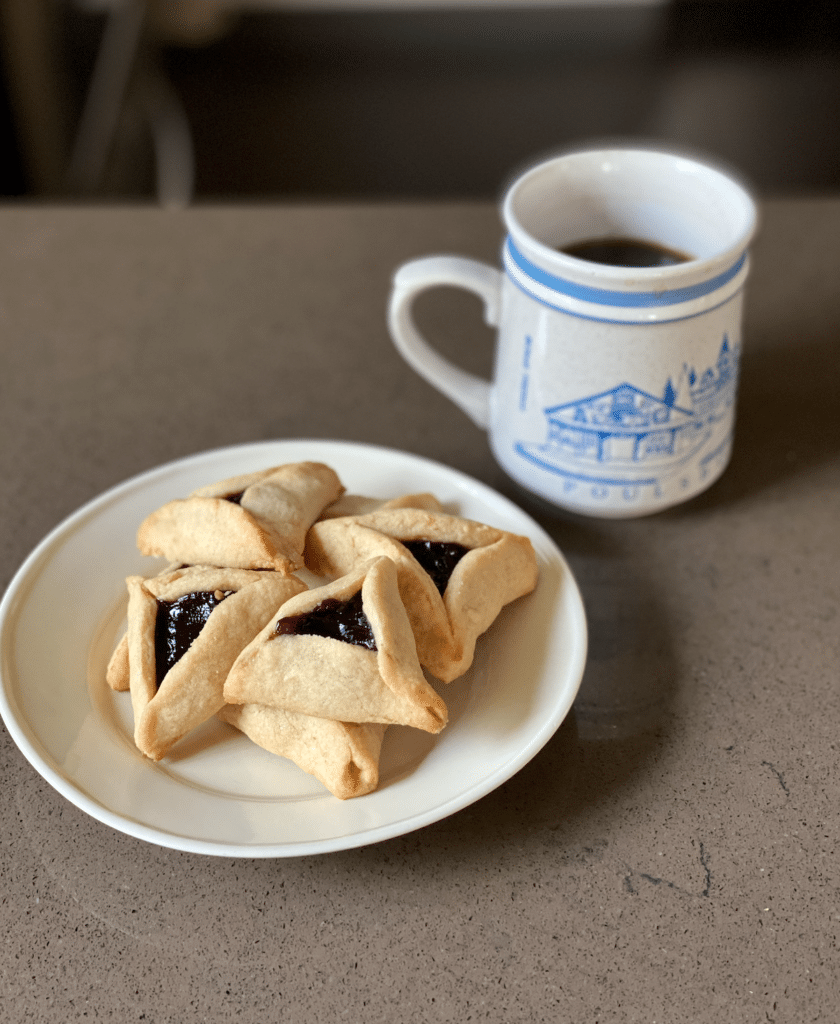 Make the Dough
The first step in making hamantaschen is making the dough. Start by using a mixer to beat the butter and sugars, then add in the egg, milk, and vanilla, mixing on medium-high speed. Next, add in the flour, baking powder and salt and mix until all the ingredients are fully incorporated. Divide the dough into thirds and wrap each portion tightly in plastic wrap. It is important to refrigerate for at least 4 hours, or you can refrigerate it overnight.
Alternatively, you can freeze 1-2 of the dough balls so that you can make more in the future. Unless you're sharing with others (which is the traditional way during Purim), having 36 cookies in your house all at once is a lot. I really like the option of making more when I want to and having the dough ready in the freezer.
Form the Hamantaschen
Once the dough has been chilled, it is time to form the hamantaschen. Preheat the oven to 375 F to get ready to bake them once they are formed. With a rolling pin, roll out one of the dough pieces on a floured surface until it is approximately ⅛-inch thick.
Invert a glass and use its rim to cut out 3-inch circles in the dough. Repeat this process with the remaining dough, stopping to re-ball the dough and roll it out again to use as much as possible.
Next, spoon the fruit preserves into the center of each circle of dough and carefully fold the edges over to form a triangle. I love using berry jam – it's so common here in the Pacific Northwest. I used strawberry, raspberry and blueberry for variation.
Pinch at the corners into 3 to form a triangle and keep the filling from spilling out. The center filling will still remain slightly exposed and the jam will be very hot when it first comes out of the oven so be careful,  letting them cool.
Bake the Hamantaschen
Finally, it's time to bake. Arrange the hamantaschen on 2 baking sheets and your life will be easier if you use parchment paper or a non-stick silicone liner. Bake the cookies until lightly browned, about 8 to 10 minutes. Let them cool a few minutes on the baking sheets, then transfer them to a wire rack and let cool completely.
Feel free to make these vegan by using non-dairy butter, non-dairy milk and egg replacement. If you DO want the egg and dairy, that works, too! It's up to you.
You can store these in your fridge or on the counter for up to 5 days….if they last that long.
Hamantaschen with Berry Jam
Whether you're making them for Purim (the most common thing to do!) or another time of year (like me), these traditional cookies are full of history and symbolism AND they're super tasty.
Print
Pin
Rate
Ingredients
2

stick

dairy or non-dairy butter (room temperature

1/2

cup

granulated sugar

1/2

cup

brown sugar

1

egg

*or equivalent egg replacement

3

tablespoons

unsweetened soy or oat milk

1

tablespoon

vanilla extract

3

cups

all purpose flour

1 1/2

tablespoons

baking powder

1/2

teaspoon

salt

1

12-oz

jar of berry jam or preserves

try blueberry, raspberry or strawberry
Instructions
Make the Dough

In a large mixer, beat the butter and both sugars together then add the egg, milk, and vanilla, blending on medium-high speed for about 20-30 seconds.

Add the flour, baking powder, and salt, mixing for another 20-30 seconds beat until a dough forms.

Divide the dough into thirds, form it into a ball with your hands and then wrap each with plastic wrap, chilling in the refrigerator at least 4 hours or 8 hours/overnight.
Form and Bake the Hamantaschen
Preheat the oven to 375 F.

Roll out one piece of dough on a floured surface so it's about ⅛-inch thick. Use the rim of a juice/rocks glass to cut out 3-inch circles. Repeat with the remaining dough; you may need to form it into a ball again and then roll it out to use as much dough as possible.

Spoon a teaspoon of jam into the center of each dough circle.

With your fingers, gently fold the edges of each dough circle to form a triangle, pinching each one at three corners to keep the filling in but leaving the center slightly exposed.

Arrange the cookies on 2 large baking sheets and bake them for 8-10 minutes until the stat to lightly brown.

Cool them on a baking sheet for a couple minutes before moving them to a wire rack to cool completely. Store them in an airtight container for up to 5 days.
Ginger Hultin,MS, RD, CSO
An award-winning, nationally recognized nutrition expert and media spokesperson.
Thanks for visiting! If you're like me: obsessed with eating, wine, going out and traveling, you're in the right place. Champagne Nutrition® LLC is a Registered Dietitian-run concierge virtual practice helping clients look and feel better. On this blog, you'll find cocktails, mocktails, and plant-based recipes that are easy to make quickly at home and pack for leftovers on your adventures.