Healthy Vegetarian Nachos Sheet Pan Recipe
Sheet pan meals are the best, hands-off, types of meals for quick lunches or dinners making clean-up easy and eating fun. I've got 3 sheet pans in my possession and I use them every single day. These Healthy Vegetarian Nachos on a sheet pan in particular are in rotation for lunch or hearty snacks these days in a major way. The best thing about this recipe is that it's completely versatile and you can really maximize flavors and nutrients so easily. You can make this to serve 4-6 people like the one I wrote or you can make it much smaller, even whipping up a little treat for yourself in minutes. I just made this for lunch today, actually, and I kept it simple with what I had on-hand: chips, cheese, beans and salsa. The best thing here is that you can really adapt this to be your own. I'm really into the vegetarian aspect but hey, you can even use meat if you want to! Up to you.
I make these year-round but one way you could really benefit from a good vegetarian nachos on game day. Game day could be football season, tailgating, Super Bowl or even a Jr high or high school team practice or celebration. So often, these events are just….wow – so filled with super unhealthy foods. Fried foods, packaged foods, sweets, beer and high fat cheese dominate the game food scene. Cheese dips, meaty chili, sweets, candy, chips, soda, beer, pizza, fries and chicken wings seem to be on every menu. Loaded with that much salt and fat, you may end up feeling terrible after your event. Eating this way can be really hard on some people's blood pressure or cholesterol levels. It doesn't need to be that way! There are so many delicious ways to put a little spin on classic meals that are way, way healthier but still taste delicious. What you want to do is make some simple swaps. I kept the chips here – hey, they're nachos – but I eliminated any meat and added in high fiber beans. I use cheese but just a bit to get the stickiness that you need for nachos. I pack them with flavor by using salsa, avocado and fresh cilantro. The opportunities are endless here. You could do jalapeños or peppers, black beans, chipotle, fresh tomato, or even a dollop or two of sour cream. Get creative to make this what you want to for your team.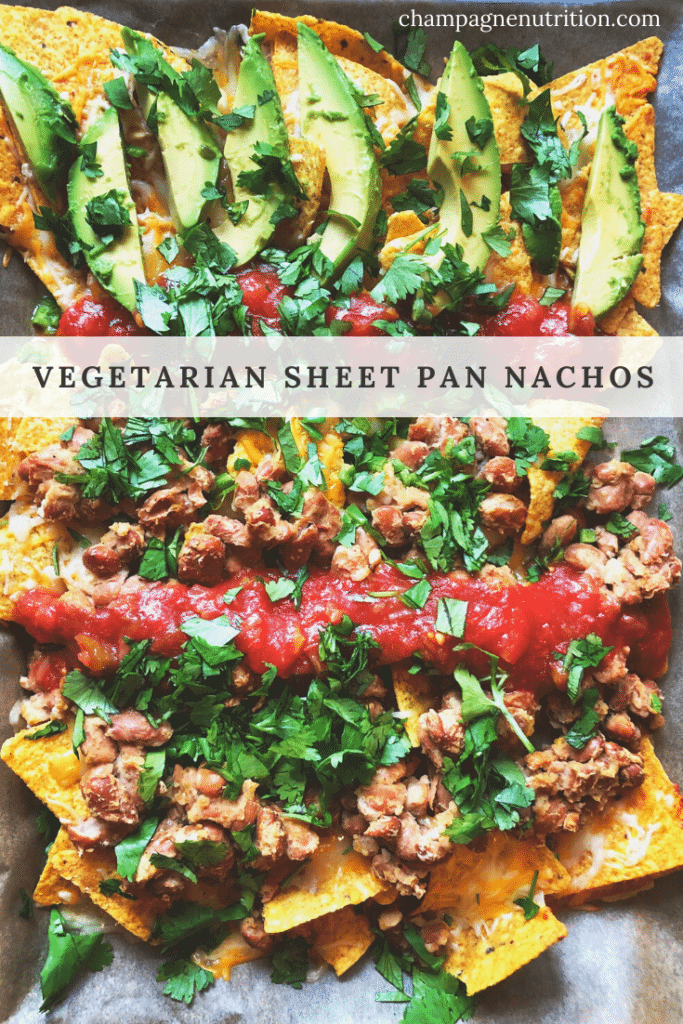 Making Healthy Vegetarian Nachos (Sheet Pan recipe!) 
I'm thrilled that I found a way to lighten up nachos but retain their amazing texture and flavor. Plus (most important to me) they only take about 10 minutes to whip up and have hardly any clean up.  All you need is a baking sheet – and the size can depend on how much you want to make – lined with parchment paper. I do this because the cleanup is so much easier. You can absolutely forego any liner or, if you want to get a little fancy, order one of those silicone liners. The day I got mine, I wondered how I'd every baked without them. I also got myself some silicone muffin tin liners…just do it. They're so awesome.
First you're going to make the beans. I have this whole part below where you heat some oil in a pan, cook the garlic, and then add in some pinto beans with lime juice, salt, chili powder, and cumin. This is an awesome recipe to know because you can make it to use in so many recipes or as a side dish (I make this every single week). But if you want to keep things more simple, you can literally open a can of black beans, rinse them thoroughly, and just use those on the nachos. They taste great!
Next you'll lay all your chips out. Make sure that you are really working with just 1 thin layer so that they get coated. I like to use as little cheese as possible so I need to maximize my 1 layer. All you need to do is cook the beans and cheese on the chips for 5 minutes until it's melted and then you get to to do the fun part – garnish! I like to make layers on the chips because it makes it more beautiful and fun to eat but you could also spread everything out evenly. I love using big slices of avocado for that healthy fat, cilantro for zesty flavor and salsa for the kick.
If you need more ideas for a lighter sports season or appetizers, check out my Simple Spicy Vegetarian Chili or Kalamata Olive and Basil Tapenade Dip.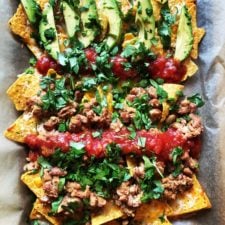 Healthy Vegetarian Nachos
An easy, hands-off recipe for lunch or a snack you can make in minutes.
Print
Pin
Rate
Ingredients
1

teaspoon

olive oil

1 15-

oz

can unsalted pinto beans

(rinsed and drained)

1

clove

garlic

(minced)

4

Tablespoons

fresh lime juice

(divided)

1/2

teaspoon

sea salt

(divided)

1

teaspoon

chili powder

1

teaspoon

ground cumin

1 16-

ounce

bag of tortilla chips

2

ounces

sharp cheddar cheese

(shredded (about 1/2 cup), or vegan)

1

cup

green salsa

1

cup

red salsa or pico de gallo

1

whole ripe avocado

(sliced thinly)

1/2

cup

fresh cilantro leaves
Instructions
Preheat the oven to 350 degrees F.

Heat oil in a saucepan then add garlic and cook until fragrant and slightly browned. Add beans, 2 Tablespoons of lime juice, salt, chili powder, and cumin. Stir and cook for 3-4 minutes then set aside.

Line a large baking pan with parchment paper or a silicon liner. Spread chips evenly across the entire pan in a thin layer.

Spoon bean mixture evenly over tortilla wedges on baking sheet. If you want to make separate sections, feel free to spread it just over 1/2 or alternate sections of chips. Sprinkle cheese over the top of all chips.

Bake in the oven for about 5 minutes, until the cheese is meltd.

Spoon pico de gallo and green salsa alternately in sections over melted cheese. Place avocado slices evenly across nachos. Sprinkle the entire pan with cilantro and serve immediately.
Ginger Hultin,MS, RD, CSO
An award-winning, nationally recognized nutrition expert and media spokesperson.
Thanks for visiting! If you're like me: obsessed with eating, wine, going out and traveling, you're in the right place. Champagne Nutrition® LLC is a Registered Dietitian-run concierge virtual practice helping clients look and feel better. On this blog, you'll find cocktails, mocktails, and plant-based recipes that are easy to make quickly at home and pack for leftovers on your adventures.