Spicy Vegetarian Zucchini Boats
Need a healthy party appetizer or a simple and quick evening dinner? Here's my Spicy Vegetarian Zucchini Boats to the rescue! Zucchini squash, like other veggie carbohydrate substitutes such as cauliflower, has been trending for a while now. When you use ingredients like this, you get all of the fiber and nutrients but a lot less of the carbohydrate count if that's your thing. (Article on carbs here for more info!). This recipe can be made in minutes and makes incredible meal prep, too.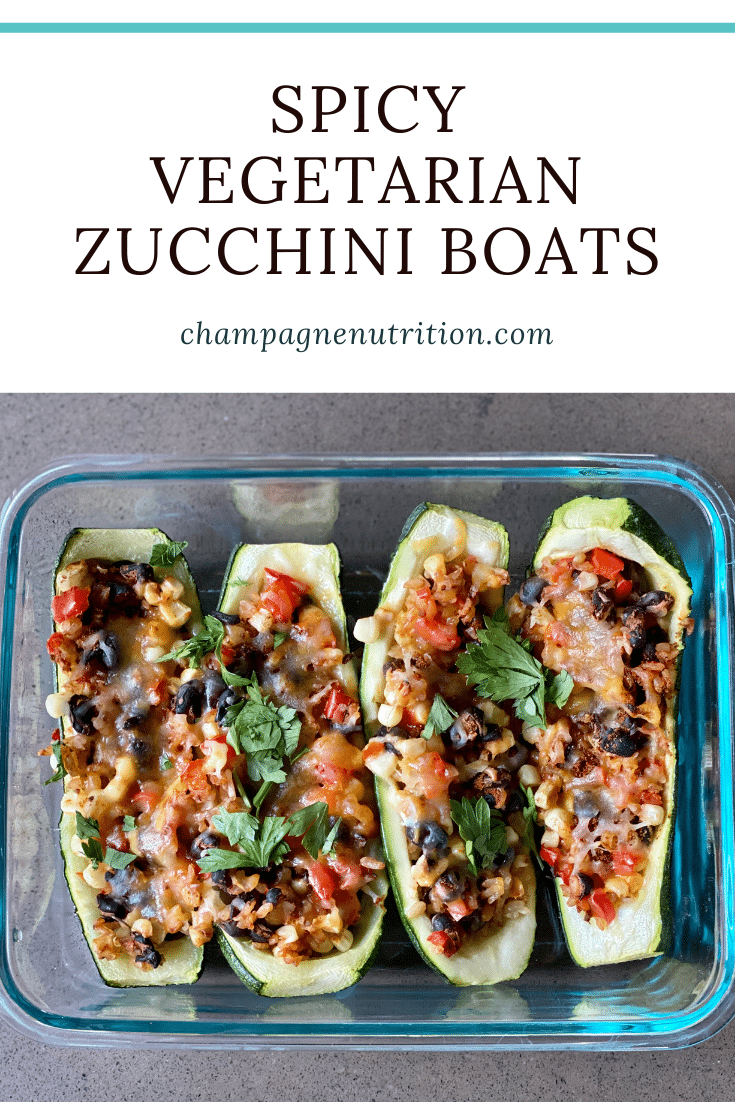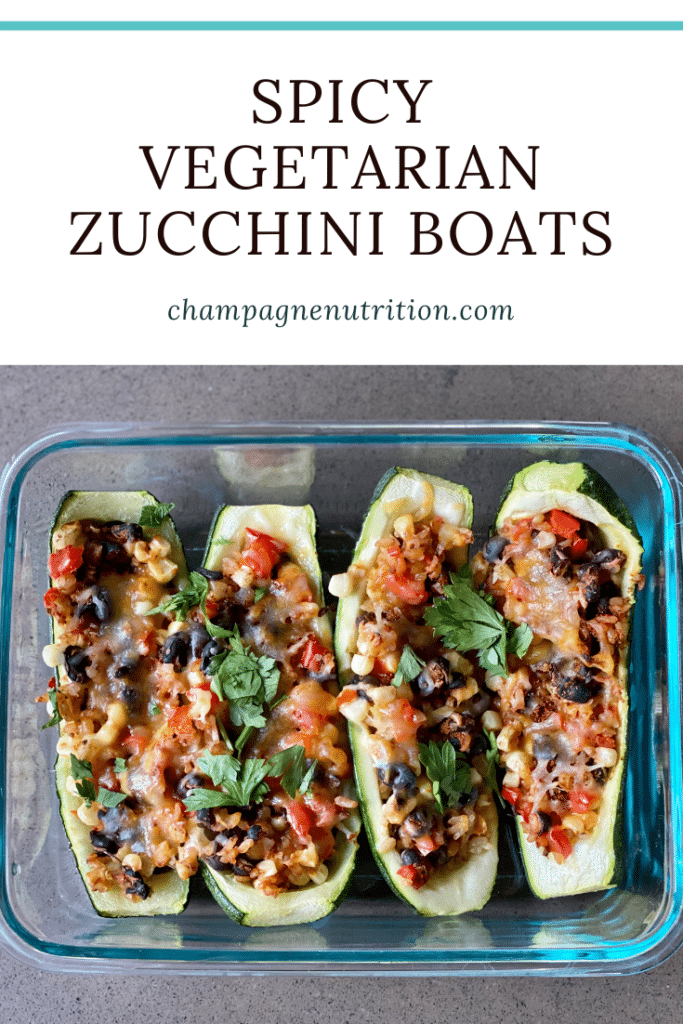 Protein Combining is OUT

Did you know that protein combining is totally OUT? There was information circulating in the 1970s based on one book about eating foods together to make up for the lack of an 'essential' amino acid in a given food. For example, rice is missing (or very limited in) lysine and beans are missing methionine so the incorrect belief was that you must eat them together to create a 'complete protein. This is totally incorrect and has been debunked BUT questions and confusion still abound. 
The truth is, the body is smart and primed for survival. You'll have all the building blocks you need to get access to amino acids if you eat a combination of foods. Dishes like my spicy vegan zucchini boats are great for vegetarians and vegans because you can easily meet their protein needs. Think tofu, tempeh, edamame, quinoa, lentils, nuts, and beyond to get more protein in your diet. There are so many delicious options for those who do not eat meat. If you have more questions about protein for veggies and vegans there are some excellent, trustworthy resources out there such as the Vegetarian Resource Group and the Vegetarian Nutrition dietetic practice group. I've also got some great blog posts such as vegetarianism for kids and why eating a plant-based diet is so strongly linked to health. 
Health Benefits of Zucchini
I love zucchinis for their versatility in the kitchen. You can create a variety of meals with them. You can bake them, make some 'zoodles' (zucchini noodles) with them, or have your own tacos spin-off for dinner by using them as the main ingredient with them.
Yes, zucchini is trending for being a low-carb substitute, and it is certainly living up to the hype nutritionally. It is low in carbohydrates, full of water, and contains fiber which aids digestion. Fiber helps you feel full longer, helping you feel more satisfied after eating. Zucchinis are rich in antioxidants and contain anti-inflammatory compounds like vitamins A and C. They also contain b-vitamins vitamins and vitamin K.  Zucchinis have minerals like copper, manganese, phosphorus, and magnesium, many of which are bone builders. 
They've got a nice, subtle flavor that goes well with other ingredients in recipes. Unlike stronger flavored foods like broccoli or cauliflower or even bell peppers, zucchini pairs well with both savory and sweet recipes. That's one reason I love getting creative with the filling and using bolder flavors there. 
Making the Spicy Vegetarian Zucchini Boats
What you're going to do here for the Spicy Vegetarian Zucchini Boats is to scoop out the zucchini (and use it for muffins or other recipes!), then assemble the filling, stuff the zucchinis and bake them. These also make fantastic leftovers and transport well for lunch, parties, or picnics. The combination of beans, zucchini, and brown rice makes this high in fiber so they're filling and satisfying.
Before you start making these,  make sure you have all the ingredients you need for this dish. Prepping all your ingredients beforehand shortens the time spent cooking the meal. Start off by prepping the zucchinis for the oven – and get it preheated, too. Grease your 9 x 13' casserole dish and set it aside. 
Choose relatively straight zucchinis (curved ones are harder to work with) and cut them in half lengthwise. Hollow out the center using a melon baller or metal teaspoon then lightly brush the tops with one teaspoon of olive oil before placing them skin side down in the prepared casserole dish. Set that aside while the oven is heating and work on the filling 
To prepare the cilantro filling, pour one tablespoon of olive oil in a large skillet over medium heat then add the garlic and peppers and cook for 2-3 minutes until the veggies start to soften. Make sure to season the dish with chili powder and cumin so you get those anti-inflammatory benefits from the herbs and spices you're using. 
Finally, add the beans, rice, and salsa to the skillet and let it cook for 5 minutes before removing it from the heat. You've got an amazing filling now for your zucchinis but you could also serve any extra as a burrito bowl or pack it for a very delicious lunch later in the week. 
Assemble the zucchinis right in the pan you're going to cook them in.  Fill each zucchini until they are full,  then bake them for 25 minutes, and check them to see if they're soft and the topping is lightly brown. 
 Add the cheese (vegan or regular – you choose!) and them for 5 more minutes until the cheese is bubbly and golden brown. When the dish is done, let it cool for 5-10 minutes, top it with more fresh cilantro if desired, and serve them hot. If you want a really complete meal, add a green salad or coleslaw on the side.  
Tell me if you have any more questions about getting protein as a vegan or vegetarian.  Let me know in the comments!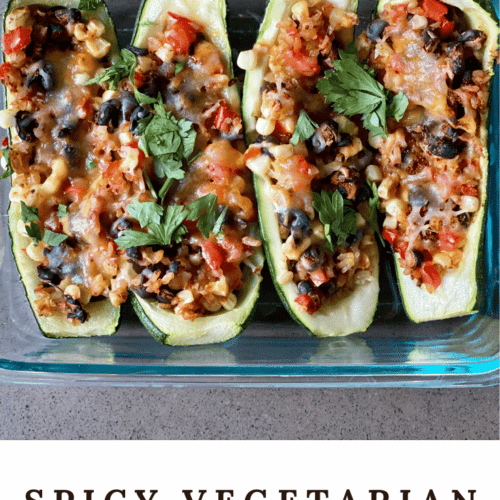 Vegan Zucchini Boats
You'll be making these all year 'round but especially in summer when you need a quick, easy and balanced meal
Print
Pin
Rate
Ingredients
4

large zucchini

2

teaspoon s

olive oil, divided

1

clove

garlic, minced

1

red bell pepper, diced

2

teaspoons

ground cumin

1

teaspoon

chili powder

1 15

oz

can black beans, drained and rinsed

1

cup

cooked brown rice

1

cup

salsa

1/2

cup

fresh , canned or froze orn kernels

1/2

cup

fresh cilantro, divided and chopped

1

cup

shredded regular or vegan cheese
Instructions
Greasing a glass 9 x 13" casserole dish and set aside. Slice each zucchini in half lengthwise and hollow out the center using a melon baller or metal teaspoon. Lightly brush the tops with one teaspoon of olive oil then place them skin side down in the prepared casserole dish.

Warm one teaspoon of olive oil in a large skillet over medium heat than the garlic and peppers and cook for 2-3 minutes. Add the chili powder and cumin and stir to combine flavors for 1 minute.

Add the beans, rice, and salsa and stir everything together and continue to cook for about 5 minutes then remove the skillet from the heat and set aside.

Preheat the oven to 400°F and then stir in 1/4 cup of the cilantro to the filling. Spoon the filling inside of each zucchini until they are all full then bake them in the oven for 25 minutes until the zucchini are soft and the filling has started to lightly brown.

 Add the cheese to the top of the zucchinis and set the oven to broil. Cook them for 5 more minutes, until the cheese is bubbly and golden brown.

Allow them to cool for 5-10 minutes then top with the remaining fresh cilantro and serve warm. Store leftovers in an airtight container for up to 3 days.
Ginger Hultin,MS, RD, CSO
An award-winning, nationally recognized nutrition expert and media spokesperson.
Thanks for visiting! If you're like me: obsessed with eating, wine, going out and traveling, you're in the right place. Champagne Nutrition® LLC is a Registered Dietitian-run concierge virtual practice helping clients look and feel better. On this blog, you'll find cocktails, mocktails, and plant-based recipes that are easy to make quickly at home and pack for leftovers on your adventures.