Everything Tahini Citrus Sauce
I am constantly looking for great staples that I can make huge batches of and be able to use with a variety of recipes and meals. One of my favorites recently has been this Everything Tahini Citrus Sauce. I use it as a salad dressing, add it to a protein bowl or cooked grains, as a dip for veggies, and even marinade for poultry or tofu. What's even better is that this sauce is SO simple and easy to make. It incorporates a variety of flavors, healthy fat, and an amazing texture to just about any dish I add it to. This sauce has become a staple in my weekly meal prep and I cannot wait to share it with you today!
What's so amazing about this Everything Tahini Citrus Sauce is that once you make the base sauce, it can be transformed into any type of sauce you'd like! Sometimes I switch it up and add some extra garlic and lemon juice or adobo chipotles and some lime juice. It can be enjoyed so many different ways and that's what makes it such an ideal addition to your meals!
The Benefits of Tahini
I LOVE tahini! It is so versatile and a lot of times I feel like people don't completely understand its full potential. Tahini is actually a paste made from toasted, ground sesame seeds. This paste is most widely known for being a prominent ingredient in hummus, a staple dish in the Middle East and Mediterranean diets. However, it is present in many different recipes such as salad dressings, soups, and just as itself. I love to make my own tahini dressing because it is fairly simple to make but there are so many amazing store-bought tahini options as well.
Tahini is packed with healthy fats, specifically monounsaturated fats, that have anti-inflammatory properties, help reduce the risk for chronic disease, and help reduce the risk for heart disease. They also help to reduce the cholesterol and triglyceride levels in the blood. Additionally, tahini is a great source of numerous vitamins and minerals such as thiamin, vitamin B6, phosphorus, and manganese. Thiamin and vitamin B6 are important for energy production while phosphorus and manganese play essential roles when it comes to bone health.
Tahini is also super rich in antioxidants, specifically the antioxidant lignan. Antioxidants are extremely important for the body because they help reduce the amount of free radicals and free radical damage in the body. Being rich in antioxidants allows for tahini to help reduce the risk of certain chronic diseases. Some include one's risk for type 2 diabetes, heart disease, osteoarthritis, and many others. 
Overall, tahini is such a beneficial addition to your weekly meals. Its versatility allows for the incorporation of tahini in so many different and unique ways. If you are looking for some new ways to enjoy tahini and incorporate it into your meals, check out my Simple Pumpkin Hummus!
Making the Everything Tahini Citrus Sauce
The Base
Once the base for this Everything Tahini Citrus Sauce is made, it can be enjoyed just as it is or you can add some additional ingredients to spice it up. For the base recipe, I combined some tahini, citrus juice (I switch off between lime juice and lemon juice), a small clove of garlic, and a couple tablespoons of either filtered water or raw, unpasteurized apple cider vinegar. I typically prefer to use filtered water over raw, unpasteurized apple cider vinegar because it doesn't affect the taste as much. Once these ingredients are all combined, I then go ahead and add some flavorings to match whatever dish I'm in the mood for.
The Flavorings
Every time I make this Everything Tahini Citrus Sauce I feel like I never add the same flavorings as I did that last time! I add these flavorings with the ingredients for the base sauce and mix everything together. Some of my go-to flavor combinations are:
Some nutritional yeast, lemon zest and juice, and black pepper kernels for a vegan lemon pepper sauce

Nutritional yeast, sun-dried tomatoes (soaked), and cherry tomatoes for a vegan, Italian-inspired sauce

Basil (or any fresh herb), citrus juice (lemon, lime, or orange), and Himalayan sea salt for a pesto-inspired sauce

Nutritional yeast, canned adobo chipotle, cayenne pepper, and lime for a twist on chipotle ranch

Honey, lemon juice, orange zest, and Himalayan sea salt for a sweet dipping sauce
I love all of these flavor combinations and I typically look ahead for my weekly meals to see what types of meals I will be making and whip up this sauce to complement them. 
Miso-Inspired Everything Tahini Citrus Sauce
While I enjoy practically every flavor combination I create for this Everything Tahini Citrus Sauce, my all-time favorite has got to be my miso-inspired version. For this version, I combined a few tablespoons of tahini, lime juice, white miso, unseasoned white rice vinegar, Sriracha sauce, tamari, peeled ginger root, Himalayan sea salt, and some filtered water in a food processor and blend together, adding more water if needed. This version brings such unique flavors together and is perfect for salad dressing, veggie dip, and everything in between.
Looking for some more unique sauces to spice up your meals? Be sure to check out my Firecracker Garlic Sauce, Savory Sweet Cilantro Dip, or Naturally Sweetened Cranberry Sauce.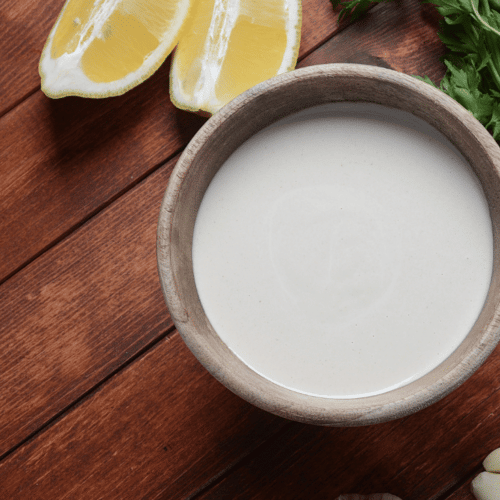 Everything Tahini Citrus Sauce
The sauce that goes on everything...you'll use this as a dip, dressing, and garnish!
Print
Pin
Rate
Ingredients
3

Tablespoons

tahini

2

Tablespoons

lime juice

1

Tablespoon

white miso

1

Tablespoons

rice wine vinegar

2

teaspoons

Sriracha sauce

1

teaspoons

tamari

1/3

inch

ginger root, grated

1/4

teaspoon

salt

2-4

Tablespoons

filtered water
Instructions
Combine all ingredients in a food processor or high speed blender. Blend starting with 2 Tablespoons of water, adding more until desired consistency is met. (Note: the dressing will thicken as it is refrigerated).

Enjoy as a dipper for your favorite vegetables or veggie sushi or as a sauce for zucchini noodles, a grain and bean bowl, or a collard green wrap!
Notes
One of my favorite variations? Using the sauce as a dipper.. and sauce.. and drink? (yes it's that good) for a nourishing Asian bowl made up of raw veggies, zucchini noodles, edamame or lentils, pickled ginger, raw and toasted nori, black rice, and toasted sesame seeds.
Give a few of these other flavor combinations a try for more variation!
Basic formula + apple cider vinegar+ nutritional yeast, lemon (zest and juice), and black pepper kernels.
Basic formula + apple cider vinegar+ nutritional yeast + sundried tomato (soaked) + cherry tomatoes.
Basic formula + basil (or your favorite fresh herb) + orange, lemon or lime juice, Himalayan sea salt.
Basic formula + apple cider vinegar+ nutritional yeast, chipotle canned in adobo, cayenne pepper, and lime.
Basic formula (without garlic) + honey +lemon juice + orange zest + Himalayan sea salt.
I hope you enjoy the many opportunities to experience the nourishing power and enjoy the versatile velvety goodness of Everything Sauce!
Ginger Hultin,MS, RD, CSO
An award-winning, nationally recognized nutrition expert and media spokesperson.
Thanks for visiting! If you're like me: obsessed with eating, wine, going out and traveling, you're in the right place. Champagne Nutrition® LLC is a Registered Dietitian-run concierge virtual practice helping clients look and feel better. On this blog, you'll find cocktails, mocktails, and plant-based recipes that are easy to make quickly at home and pack for leftovers on your adventures.