Ah the quesadilla, a favorite of kids and a staple of bar menus. A quesadilla can be a high calorie, greasy and unhealthy menu choice at many restaurants but some folks do not realize that a traditional quesadilla can become a creative vehicle for veggies, fiber and protein. I'm going to show you how to take this delicious snack and transform it into a nutritious meal perfect for a quick lunch-to pack or eat at home, make as a wholesome snack or create a dinner for your family that can be fun for kids to make if they get to pick out their own favorite veggies and toppings. You're going to need my Savory Veggie Quesadilla as a staple in your rotation.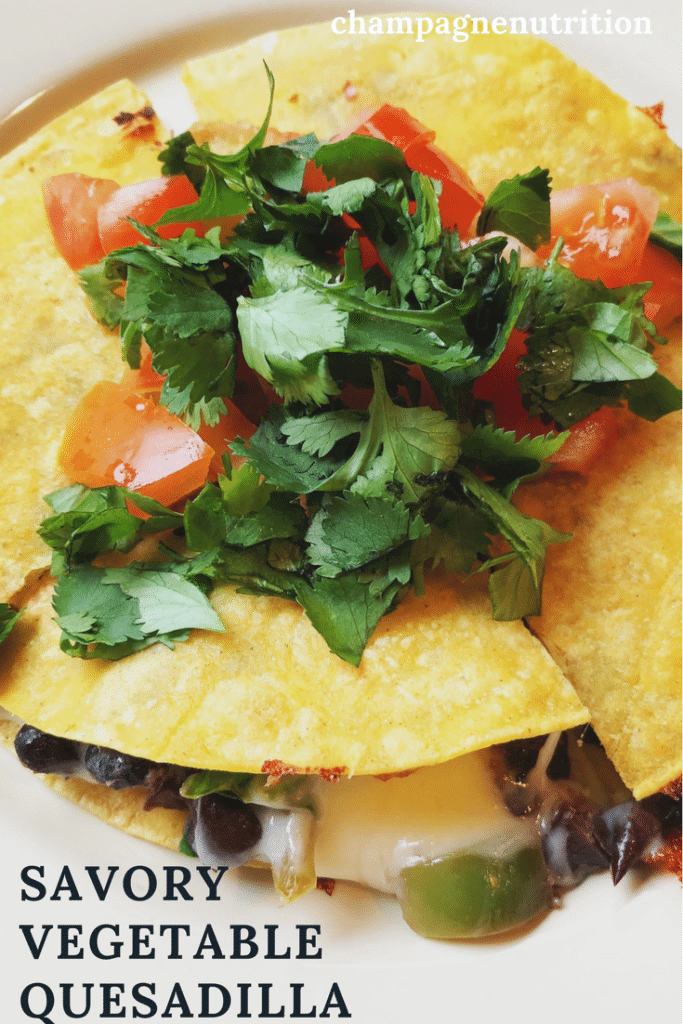 The Quesadilla Strategy
As a dietitian, my goal is to help find creative ways to add in fiber and all the benefits of vegetables in ways that are easy and delicious. The trick to boosting the nutrition in a quesadilla is to add in some protein, fiber and veggies. Adding in a variety of vegetables and spices will provide antioxidants, vitamins and minerals, and even more fiber.  There are ways to play around with each part of a quesadilla to change up the taste and nutrition based on what sounds good to you and to what you have on hand when you're hungry.
I'm here to tell you that yes, quesadillas can fit into your life and they can absolutely be a vehicle for healthy ingredients
Making the Savory Veggie Quesadilla
The tortilla
There are so many tortillas to choose from. To add additional fiber choose whole wheat, or ground corn, there are also many specialty tortillas that you can find: quinoa and flax, spinach herb, or even cauliflower tortillas can be delicious, gluten free or fit any special nutritional needs you have.  
I used corn in this recipe but please choose which ones look the best to you! 
The cheese
For cheese eaters, there are many delicious cheeses you can add to make your quesadilla exactly what you want; cheddar, jack, mexican blend, mozzarella. 
If you aren't into cheese, there are more options than ever for a vegan quesadilla. You can pick up a plant-based cheese from the store for a great non-dairy cheese feel or just use avocado instead for a heart-healthy alternative to help stick it together. Vegan cheeses have come a really long way and so if it's been awhile since you tried them, it's time to check it out again! 
The beans
Beans are a great base to start with since they are full of fiber, protein and a wonderful source of folate which is such an important way to support energy production in the body
Specific beans can add other great benefits:
Black beans are a great vegetarian source of iron which is essential for energy production and oxygen transport in the body.

Pinto beans are full of copper for supporting red blood cells, and thiamine, another b-vitamin that helps convert carbs to energy.

Great White beans aka navy beans are another source of iron as well as magnesium, which is helpful for heart health and healthy muscles.  
The vegetables

The filling for these quesadillas is also a place to be creative, depending on what you're in the mood for or what you have in your kitchen some great replacements or add ins are: 
Hot peppers, Serrano, jalapeno and beyond

Zucchini or yellow squash

Winter squash or sweet potato

Any color bell pepper

Tomatoes 

Corn (fresh or frozen)

Eggplant

Asparagus

Chard or arugula

Any kind of mushrooms you like!
Quesadilla toppings 
Another way to amp up the nutrition and the flavor is to top your quesadillas with all the condiments you can fit on the plate. Some tasty options include:
Avocado slices

Salsa 

Lime crema

Lettuce, chard or arugula

Pumpkin seeds

Fresh herbs, for example: cilantro, parsley 

Sour cream or plain greek yogurt
When you are looking for a quick and healthy meal here's how to make my Savory Veggie Quesadillas. Another option for a delicious Mexican inspired veggie dish is my Green Chile Butternut Squash Enchiladas 
Other Meatless Monday  appropriate veggie-filled options include: Double Tomato, Basil and Ricotta Homemade Pizza, Spicy Vegan Zucchini Boats, Vegetarian Stuffed Mushrooms. Let me know in the comments if you try any of these! 
Savory Veggie Quesadilla
A simple vegetarian healthy comfort food recipe, this plant-based protein-packed quesadilla will become a staple in your cooking.
Print
Pin
Rate
Ingredients
1

Tablespoon

olive oil

1

clove

garlic, minced

1

medium green bell pepper, diced

1/2

medium sweet onion, peeled and diced

1

cup

sliced mushrooms

1 15-

ounce

can black beans, drained and rinsed

1/4

teaspoon

salt

1

cup

baby spinach, chopped

1

teaspoon

coconut oil

1

cup

shredded cheddar or non-dairy cheese

4

small

whole-wheat or corn tortillas

1/2

fresh tomato, chopped

1/4

cup

cilantro for garnish
Instructions
Heat a large heavy skillet over medium heat. Add the olive oil, garlic, bell pepper, onion, and mushrooms. Cover to steam, stirring on occasion. Cook until the veggies are soft, about 4-6 minutes.

Add the black beans and salt and cook for an additional 4 minutes, then add the spinach, remove from heat and set aside.

Wipe the pan clean and heat over medium heat. Add the coconut oil and melt. Place a tortilla in the pan and layer on top with ⅛ cup cheese, ½ cup vegetable/bean mixture, ⅛ cup cheese then top with the second tortilla and press down with a spatula to press ingredients together.

Cook for 2-4 minutes until the tortilla is golden brown and flip to cook the other side. Quesadilla is done when both sides are lightly browned.

Cut into quarters and serve warm with freshly chopped tomato and cilantro as garnish.
Notes
Serve with fresh salad on the side for a complete and balanced meal!
Ginger Hultin,MS, RD, CSO
An award-winning, nationally recognized nutrition expert and media spokesperson.
Thanks for visiting! If you're like me: obsessed with eating, wine, going out and traveling, you're in the right place. Champagne Nutrition® LLC is a Registered Dietitian-run concierge virtual practice helping clients look and feel better. On this blog, you'll find cocktails, mocktails, and plant-based recipes that are easy to make quickly at home and pack for leftovers on your adventures.