Spicy Garlic Everything Sauce
When you've got a busy week, you need a simple sauce that is easy to make and goes on everything. Well, look no further, that's Spicy Garlic Everything Sauce…so long as you can take the heat. I'm really into spicy food and if you are, too, the raw garlic, the Sriracha and hot pepper flakes in here will make your day.
The best part of the Spicy Garlic Everything Sauce is that it is quick and easy to make with household ingredients that you probably already have on-hand. It has a bold, spicy and potent flavor so I suggest drizzling it on top of tofu, veggies, rice or noodle dishes for a powerful punch of garlic and spice. Feel free to change up the ingredients slightly to fit your unique preferences on heat. I love spicy food and I find it just perfect.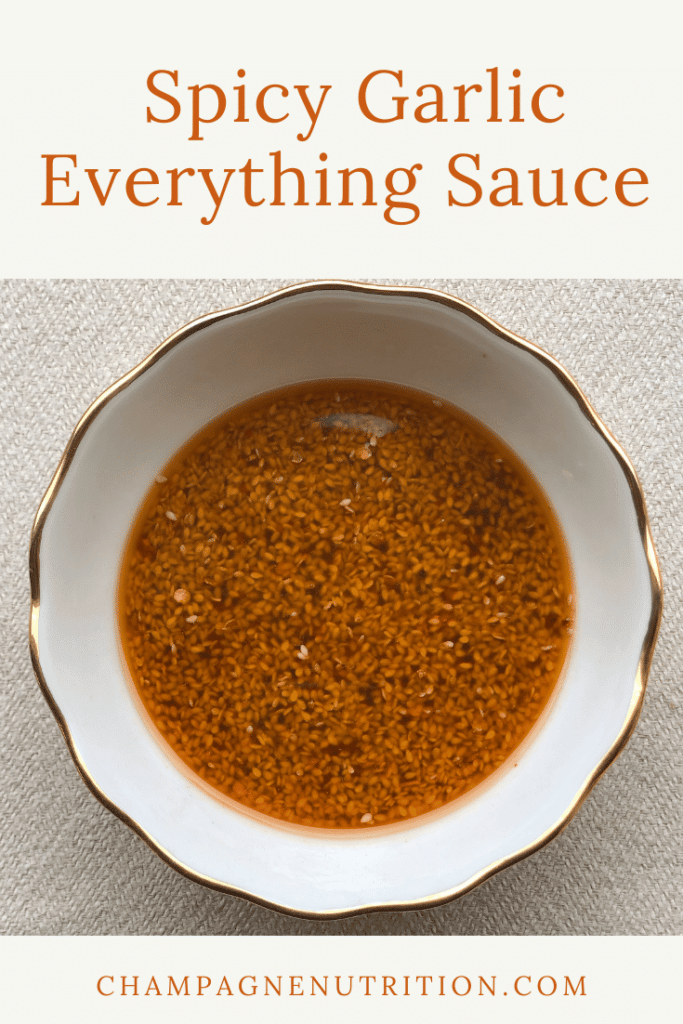 Health Benefits of Making Your Own Sauce
Not only is this sauce quick, easy, and exploding with flavor, but it actually is healthier than most store bought options. This is the problem with sauces – they're all packed full of sugar and additives. When I read the labels at the store, as a dietitian I get so frustrated. Why would I want a sauce with the first ingredient: sugar or corn syrup? When you make your own, you have a lot more control and you can adjust as needed to suit your taste. 
Sesame Seeds
may be small but they offer a strong, nutritious punch.
They are high in fiber, have adequate amounts of B vitamins, antioxidants, and may help lower cholesterol and triglycerides. They offer a mild, nutty flavor to this sauce that pairs nicely with the spice from the sriracha and the strong flavor from the garlic. 
High sodium diets have been linked to an increased risk of developing hypertension (high blood pressure). Traditional soy sauce is extremely high in sodium, so choosing a low sodium soy sauce rather than regular soy sauce can help you reduce overall sodium intake while not compromising the flavor of the Spicy Garlic Everything Sauce.
Like mentioned above, store bought options of the
Firecracker Garlic Sauce
are loaded with sugar. In contrast, this recipe utilizes
honey.
While honey is known for its sweetness and naturally contains sugar, it also contains small amounts of vitamins and minerals which regular "table" sugar lacks.
Garlic
contains nutrients like vitamin C, vitamin B6, manganese, and antioxidants that help reduce the risk of certain diseases. High intake of garlic has also been found to have a positive effect on improving blood pressure and lowering cholesterol. 
Making the Firecracker Garlic Sauce
The best part about this recipe is that it is so quick and easy! Five minutes of prep time followed by 5 minutes of cook time and voilà, you've got a versatile sauce to put on whatever you need it for. 
Toasting the Sesame Seeds
The first step in this recipe is to toast the sesame seeds in a dry pan on medium-high heat for 4-5 minutes. You want to make sure to stir the sesame seeds occasionally to avoid burning them. Toasting the sesame seeds helps to bring out their natural, nutty flavor.
Combining the Ingredients
The next step is easy; you simply mix the minced garlic, low sodium soy sauce, sesame oil, sunflower or grapeseed oil, Sriracha sauce, crushes red-pepper flakes, honey, rice vinegar, and water together in a medium bowl. Stir in the toasted sesame seeds and you are ready to serve the Spicy Garlic Everything Sauce over your favorite dish.
Low sodium soy sauce is a great option if you are looking for something lower in sodium. If you are in need of a gluten-free option, you can substitute tamari, but just make sure to check the label that it is gluten free. Coconut aminos are a great alternative if you are looking for something that is a gluten free and soy free substitute.
While this recipe calls for honey, you can substitute sugar to make this a vegan friendly sauce. Other honey substitutes you could try include agave nectar, maple syrup, or coconut nectar.
I'm into making my own sauces, but they have to be super easy. Once you have a couple favorite recipes, they're easy to make ahead of time for the week or create as you make dinner on a busy evening. Some of my favorites are my 7-Ingredient Tomato Sauce, my Simple Peanut Sauce, and my homemade enchilada sauce.
If you struggle like I do to figure out what to eat on a given night after work, you need simple ideas. I made this sauce specifically for tofu, veggies and rice. One bowl meals are perfect for dinner on a weeknight and also make wonderful leftovers for lunch the next day. This is my 'meal planning'. I don't spend hours on a Sunday but rather I plan ahead for the week, shop for that plan and make enough for lunch leftovers and that works for me!
If you need specific ideas on how to incorporate this easy Spicy Garlic Everything Sauce  into your life, make sure to check out my new simple baked tofu recipe because it will also improve your dinner quality-of-life.
What do you think? Anyone else out there love spicy food?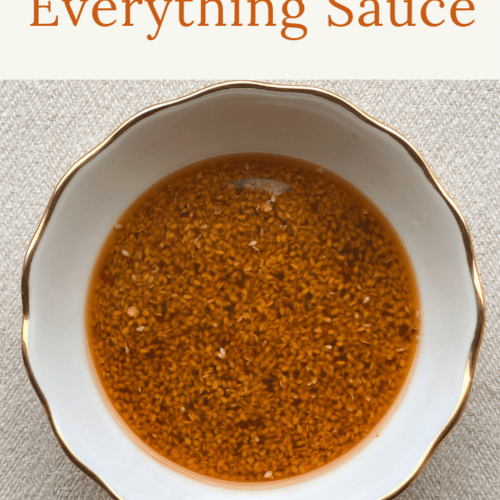 Spicy Garlic Everything Sauce
A healthful, spicy sauce perfect for drizzling over noodles, tofu, rice or veggies.
Print
Pin
Rate
Ingredients
2

teaspoons

sesame seeds

2

cloves

garlic, minced

1

teaspoon

freshly grated ginger

3

Tablespoons

low sodium soy sauce, tamari or shoyu

2

teaspoons

toasted sesame oil

1

teaspoon

sunflower or grapeseed oil

1

teaspoon

Sriracha sauce

1

teaspoon

crushed red-pepper flakes

1

teaspoon

honey

sugar if making a vegan recipe

1

teaspoon

rice vinegar

2

Tablespoons

water
Instructions
Place the sesame seeds in a dry pan and toast them over medium-high heat, stirring occasionally for 4-5 minutes or until slightly browned. Be careful not to burn the seeds.

Meanwhile, combine all the other ingredients in a medium bowl and whisk to combine.

Pour the sesame seeds into the sauce and stir to combine.
Notes
Adjust heat by adding or subtracting Sriracha and/or crushed red peppers to suit your taste.
Ginger Hultin,MS, RD, CSO
An award-winning, nationally recognized nutrition expert and media spokesperson.
Thanks for visiting! If you're like me: obsessed with eating, wine, going out and traveling, you're in the right place. Champagne Nutrition® LLC is a Registered Dietitian-run concierge virtual practice helping clients look and feel better. On this blog, you'll find cocktails, mocktails, and plant-based recipes that are easy to make quickly at home and pack for leftovers on your adventures.