If you follow a vegan diet, it can be hard to find simple vinaigrettes without the addition of honey for sweetness, so I created this tasty Vegan Lemon Vinaigrette that everyone can enjoy. Since honey is not part of a vegan diet, I swapped it out for agave nectar (equally as delicious) so this salad dressing can be enjoyed by everyone at parties, family gatherings and more. And, nothing beats a homemade dressing without the added stabilizers and random ingredients. Just 7 real ingredients to make this zesty vinaigrette!
I added this dressing to a bed of arugula and spinach and topped it with some parmesan cheese and it was excellent. Of course, if you add cheese, it's not vegan so keep that in mind for yourself and your guests. The sweetness of the agave and the refreshing citrus flavor balanced out the bitterness of the arugula and spinach to make the perfect, nutritious salad. Try pairing this salad with a bean or lentil dish like my Creamy Vegan White Bean Soup or Instant Pot Lentil Cauliflower Curry to make a healthy, balanced meal full of protein, carbohydrates, healthy fats, and tons of nutrients.
This salad packs a punch as far as nutritional value and contains other important factors that are just as important as its nutrient content. Arugula a very bitter leaf that helps promote healthy digestion through prompting the digestive system to create the necessary digestive enzymes and juices to break down the foods you eat. Arugula is also packed with calcium, folate, vitamin K, vitamin A, and vitamin C. Spinach is also rich in vitamin C, vitamin A, vitamin K, folate and calcium, but has the addition of iron. These nutrients are super important to our overall health. Together, these leafy greens provide fiber and other plant compounds such as antioxidants that fight against inflammation. Both of which are very important to our health. Citrus is also a great source of vitamin C, which is important for immune function and skin health, vitamin B6, which is important for converting our food into energy, and potassium, which is important for blood pressure regulation and heart health.
There is really no downside to this amazing dressing atop a bed of greens. In fact, there is one more important benefit, especially in the months where the cold and flu wreak havoc – nutrients for immunity! You may have noticed how often I mentioned vitamin C and vitamin A previously. Well, these nutrients are GREAT for boosting your immunity and keeping your immune system on the ready for invading pathogens and viruses. Another nutrient in the vinaigrette that helps build up the immune system is vitamin E. Vitamin E is usually found in healthy fats such as olive oil and acts as an antioxidant and improves immune function. 
In the cold winter months, many of us like to eat a lot of comfort food (that often don't have veggie additions), so I wanted to share this Vegan Lemon Vinaigrette to offer a delicious dressing that you can pair with mixed greens, put into a healthy wrap, or use as a zesty marinade. It can be tough to eat vegetables, especially salads, in the winter when foods like macaroni and cheese are so comforting and warming. But have you tried to incorporate or add any winter vegetables to your meals? I did just that in my farro risotto with butternut squash and sage and my spicy green butternut squash chickpea enchiladas. Winter veggies can be equally as comforting as some of the traditional comfort foods depending on how you make them. I love roasting winter squash, sweet potatoes, and cruciferous veggies such as Brussels sprouts with flavorful herbs and spices to pair with my winter meals. You could even add butternut squash to a healthyish version of mac-and-cheese, or savory roasted delicata or acorn squash to the salad I made with my Vegan Lemon Vinaigrette for a healthy addition to your meal. So, get creative and explore the use of winter veggies as a part of your main dish or as a tasty side dish. You might be surprised with how comforting they can taste!
Making the Vegan Lemon Vinaigrette
To start, you will need a liquid measuring cup, a set of measuring spoons, and a large mason jar with a lid. Measure each ingredient and add all ingredients to a mason jar, put the lid on and shake until well combined. Store the dressing in the same mason jar in the refrigerator with the cap sealed tightly. Solidification of the olive oil is natural even though it is not a saturated fat, so before using the dressing again set it out on the counter and allow it to warm a bit at room temperature. You may also notice separation of the olive oil from the rest of the ingredients. This is also natural and all the dressing needs is a little shake to mix again. I love making dressings this way because if you've ever made homemade dressing you know that you have to add the oil in while you whisk in order for the dressing to be combined and not separate –  that can be tough! Putting everything into a mason jar takes the extra work of whisking out of it, AND you have less dishes to do afterward! 
This recipe only makes about a half-cup of dressing, so to save time later you can double the recipe and use the dressing in other salads or wraps throughout the week. I always try to plan ahead whenever I take the time to cook and prepare my meals, and by making more of something you can have leftovers for the next day, or for the next week and reuse it in many other recipes. This is such a huge time saver if you have a busy life like I do, and the recipe takes only minutes to make. You can store the dressing in the refrigerator with the cap sealed tightly for one week to 10 days. 
Let me know if you try this one!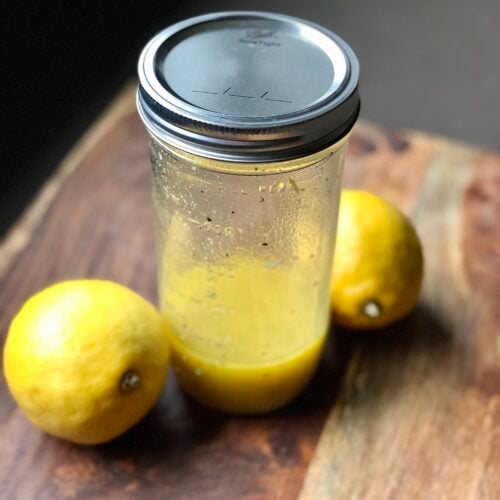 Vegan Lemon Vinaigrette
This is the most simple, delicious dressing perfect for your weekly meal prep.
Print
Pin
Rate
Ingredients
1/4

cup

olive oil

1 1/2

Tablespoons

agave nectar

2

Tablespoons

lemon juice

2

teaspoons

freshly grated lemon zest

1

teaspoon

Dijon mustard

1/4

teaspoon

Kosher salt

1/4

teaspoon

freshly ground black pepper
Instructions
Add ingredients to mason jar. Tightly secure lid on the mason jar and shake until well combined.
Nutrition
Ginger Hultin,MS, RD, CSO
An award-winning, nationally recognized nutrition expert and media spokesperson.
Thanks for visiting! If you're like me: obsessed with eating, wine, going out and traveling, you're in the right place. Champagne Nutrition® LLC is a Registered Dietitian-run concierge virtual practice helping clients look and feel better. On this blog, you'll find cocktails, mocktails, and plant-based recipes that are easy to make quickly at home and pack for leftovers on your adventures.