Healthier Feta and Cherry Tomato Pasta Bake
There hasn't been a bigger culinary trend this year than the feta tomato pasta bake (well, maybe aside from cottage cheese). I decided to try it but I wanted to make a lighter version and a smaller portion (for 1-2 people). Enter my Healthier Feta and Cherry Tomato Pasta Bake! Let's talk about how to make these healthy swaps, how you can still keep pasta AND cheese in your diet, even if you're being health conscious (hey, I specialize in oncology/cancer nutrition after all), and I'll walk you through the step-by-step process of creating this pasta bake that combines the creaminess of feta cheese with the freshness of cherry tomatoes. If you've got them in your garden, this is exactly how to use them. Let's get started on this delicious journey for your health.
Embracing healthy swaps to support your health
Yes you can have comfort foods and also eat 'healthy'. This recipe takes the classic comfort of a pasta bake and infuses it with a nutritional edge, making it a perfect addition to any balanced diet. I made a few easy changes like choosing whole wheat pasta rather than regular, cutting the feta in half to reduce the saturated fat but still keep the flavor, and boosting the amount of veggies (tomatoes) and herbs (basil). The result is that you increase protein and fiber naturally and maintain the comfort and savory aspect of this classic dish.
Health benefits of a Healthier Feta and Cherry Tomato Pasta Bake
This simple pasta dish offers numerous health benefits. The use of whole-grain/whole wheat pasta provides extra fiber, vitamins, and minerals, promoting better digestion and gut health. That's right my friends – high fiber carbs are critical for gut health and the microbiome which is the foundation for your immune system, detoxification processes, and even mood and cognitive health.
Feta cheese is a flavorful, high protein cheese that's also packed with calcium for bone health. There's 740mg in a cup of feta….and your needs for the day are about 1000mg depending on your age. Foods like feta, yogurt, tofu, or fortified products like almond or soy milk can help you meet those needs very easily.
Cherry tomatoes contribute antioxidants and vitamin C and are also packed with fiber. They provide a beautiful color and the balanced acidity and umami flavor that make pasta so savory and delicious.
I went "extra basil" in this dish because we need to be thinking "more herbs" when trying to lower inflammation in the body. Oregano or thyme would be another nice addition if you have them growing in the garden.
Using meal prep for dinners and leftovers
If you've been following along, you know that a lot of my nutrition work is founded in meal prep in order to make your life easier and healthier. With support for you like the Meal Prep for Weight Loss 101 or Anti-Inflammatory Diet Meal Prep, my clients tell me that ideas, strategy, and recipes can make a huge difference. Striking a balance between work, family, and personal commitments – and also balancing health or a chronic condition – can be an arduous task. So many of my clients struggle to keep healthy lunches and dinners easy and accessible. Finding the time and energy to prepare daily meals can become a daunting challenge.
A powerful solution lies in simply planning ahead and being sure you meal prep. A strategic approach to meal planning that can revolutionize the way you manage your time, finances, and stress levels. By dedicating a few focused hours each week to plan and prepare meals in advance, we can reduce or eliminate last-minute grocery store dashes and costly takeout orders. The beauty of meal prep lies not only in its time-saving capabilities but also in its potential to optimize grocery shopping habits, reducing food waste, and saving money, too. The mental relief that comes with knowing a wholesome, balanced meal is available at any moment can alleviate the stress associated with making impromptu meal decisions.
I made this dinner in a true "multi-tasking" way (I'll sketch it out below for you). By doing many steps at once, you're often freed up to do other tasks on the side (chop veggies, empty the dishwasher, etc). I made extra so that I could have lunches for a few days or serve the pasta over greens, etc as well.
Preparing the Healthier Feta and Cherry Tomato Pasta Bake
Preheat your oven and while it's heating up, get your water boiling. By the time you're ready to cook the pasta according to the package instructions until al dente (usually 8-10 minutes), your tomatoes and feta will already be cooking in the oven. I used whole wheat pasta but you could easily use a higher protein and fiber gluten-free version with chickpea or bean pasta.
In order to prep the baking dish, place the ½ block of feta cheese in the center and surround it with cherry tomatoes. In a small bowl, I mixed the minced garlic, and olive oil, and drizzled it over the feta and tomatoes. Then be sure to sprinkle on the salt and pepper. The cheese is already a bit salty so feel free to cut back on the added salt as much as you want. You can use cherry or grape tomatoes and just be sure that they're whole.
Bake the feta and tomato mixture in the preheated oven for 30 minutes or until the feta has softened and turned a little brown on the edges and the tomatoes have burst, releasing their juices.
While everything was cooking – or perhaps the pasta is cooling – grab a cutting board and tear or chop your washed basil. I made extra so that I could keep some for later and I also chopped up some greens so I could have a salad on the side of this meal.
Consider if you want to add more protein. Some baked chicken or sauteed shrimp are a good fit for this dish. You could also serve a piece of salmon on top or add some plant-based 'meat' crumbles. You could also consider making some of these proteins and having them on the side for different versions of leftovers.
If you love the idea of this adaptable pasta recipe, consider some of my others, perfect for meal prep or taking over to someone who recently had a surgery or is in treatment. These are some of my favorites:

One Pot Vegetarian Enchilada Pasta
Creamy Pasta Salad with Dill and Basil
Vegetarian Lasagna Casserole
Gluten-Free Minestrone Soup
Penne with Cauliflower Curried Cream Sauce (vegan!)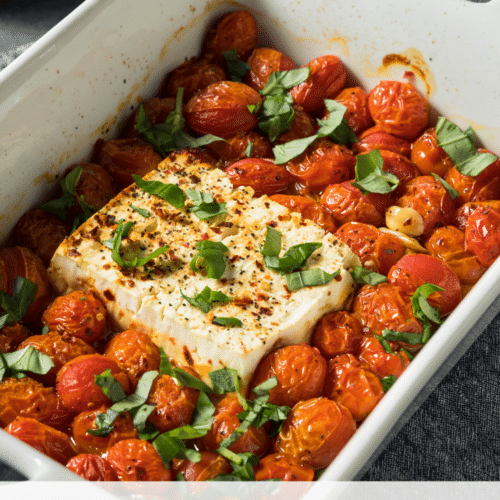 Ingredients
4

cups

(or 8 ounces) dry whole-grain penne or rotini pasta- feel free to use bean/chickpea for gf)

2

cups

fresh cherry tomatoes

1/2

block

feta cheese

2

tablespoons

extra-virgin olive oil

4

cloves

garlic

minced

1/4

cup

fresh basil leaves

chopped

1/8

teaspoon

salt

1/4

teaspoon

black pepper
Instructions
Preheat the oven to 400 degrees F and place the feta cheese in the center of a 9x13-inch baking dish.

Start heating a large pot of water over high heat, aiming to bring it to a boil.

Pour the cherry tomatoes around the cheese and drizzle the olive oil over the tomatoes and cheese, ensuring the tomatoes have been tossed with a little bit of oil.

Sprinkle the top of the mixture with minced garlic, fresh basil, salt and pepper. Bake uncovered in the preheated oven for 30 minutes.

While the pasta is cooking, add the pasta to the boiling water and cook it to al dente per the package directions. Reserve 1/3  cup of the pasta cooking water to add into the feta tomato mixture pasta at the end.

Once your pasta is cooked, drain it and set it aside.

While the cheese is baking and the noodles are cooking, rip or chop the basil so it's ready to garnish.

Once the feta is done, use a large fork to mash the cheese and tomatoes, turning it into a sauce.

Add the cooked pasta and the pasta water 1 tablespoon at a time until all the noodles are coated. Stir the ingredients until they are well combined. Garnish with fresh basil
Nutrition
Calories:
340
kcal
|
Carbohydrates:
45
g
|
Protein:
15
g
|
Fat:
13.5
g
|
Saturated Fat:
4
g
|
Polyunsaturated Fat:
1.5
g
|
Monounsaturated Fat:
5.3
g
|
Sodium:
419
mg
|
Potassium:
342
mg
|
Fiber:
5.8
g
Ginger Hultin,MS, RD, CSO
An award-winning, nationally recognized nutrition expert and media spokesperson.
Thanks for visiting! If you're like me: obsessed with eating, wine, going out and traveling, you're in the right place. Champagne Nutrition® LLC is a Registered Dietitian-run concierge virtual practice helping clients look and feel better. On this blog, you'll find cocktails, mocktails, and plant-based recipes that are easy to make quickly at home and pack for leftovers on your adventures.