Red Wine Chocolate Cake with Cabernet Frosting
I took my Red Wine Chocolate Cake with Cabernet Frosting to work because I knew that having a whole cake in my house would lead to….me eating a whole cake over time. I put it in our shared kitchen and it was gone in 5 minutes. My little label: "contains dairy, alcohol, gluten and tree nuts" didn't deter a single person in search of a chocolaty afternoon treat. Though this cake does include a whole cup of wine in the batter, the alcohol is cooked out  completely. However, I made the frosting specifically with uncooked wine for that bright flavor though there's only 2 tablespoons. This isn't a cake that can make you tipsy but it is incredibly tasty.
Combining Chocolate with Red Wine
This simple chocolate cake recipe is pretty standard…except the addition of a cup of red wine which adds nicely to the moisture of the crumb. Made in a spring-form pan, it's easy to cool and remove without sticking at all. While many recipes for red wine chocolate cake call for ganache, made from baking chocolate, I really didn't want to boil out the alcohol so I opted for a simple powdered sugar, a bit of butter and again: red wine. 
Without cocoa in the frosting, it would be a purple color so I wanted to do a chocolate on chocolate but just with the hint of red wine flavor. Adding in chopped nuts offers not only a beautiful garnish but also some additional nutrition and texture. People proclaimed "you can taste the wine" when enjoying this cake – it certainly has an interesting flavor combination.
Did you know that red wine and chocolate don't even really pair together well in the traditional sense? Forget old romantic ideas of Valentine's Days filled with truffles and Cabernet because big, dry red wine can actually taste bitter or even sour with a sweet chocolate. If you're pairing actual dark chocolate treats with wine, you may want to go with a port or dessert wine instead of a dry red. But for baking, a simple dry Cabernet like I used will blend subtly into the batter because of the complexity of the sugar, fat, and chocolate flavor. 
This Red Wine Chocolate Cake with Cabernet Frosting would be perfect for entertaining at home at the end of a delicious meal or even as a special birthday cake for someone you love…and who loves wine, too. It's super fun for a date night, for a romantic Valentine's Day or for a birthday.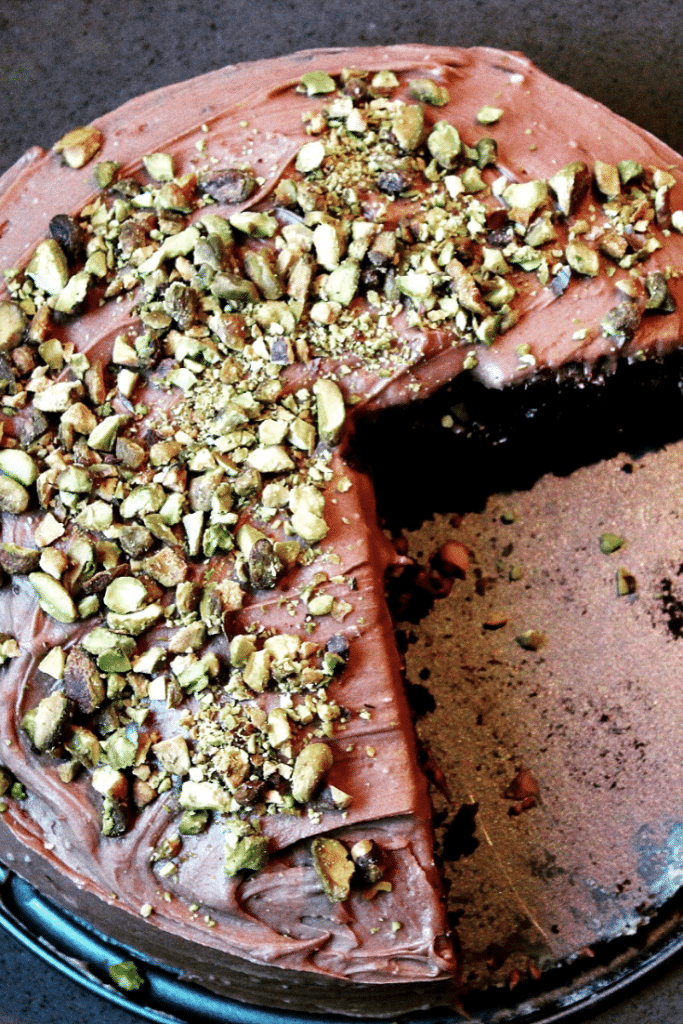 Make Red Wine Chocolate Cake with Cabernet Frosting
Cocoa Powder
Cocoa powder is the leftover from extracted cocoa butter (the fat components) from cocoa beans. Cocoa powder is a great source of polyphenols, which are antioxidants in fruit, vegetables, green tea, and wine. Because of that, cocoa powder is potentially effective to protect against heart disease. Clinical research has found that consuming 19-54 grams cocoa powder per day might improve blood flow which is beneficial to your blood vessels and organs. Researchers also found that in the long term, there are significant decreases in different cardiovascular diseases with regular cocoa powder for dark chocolate consumers. Go chocolate! 
Cocoa powder contains fiber and minerals. In this recipe, I used cocoa powder to help you meet your daily magnesium, iron, and potassium intake.
Red Wine
Red wine is a fermented beverage made from grape juice – that's right – fermented for a healthy gut microbiome. Wine also contains polyphenols (antioxidants). The amount of polyphenols in the wine depends on the type of grapes, the location and soil they were grown in, and the processes used to create the wine. Generally, red wine contains much higher levels of polyphenols compared with white wine. That being said, red wine has higher anti-inflammatory effects than the white wine though both have shown some potential benefit. Studies show that regularly drinking red wine up to one glass per day might be beneficial to preventing cardiovascular diseases. But remember, if you don't drink in the first place, don't start for your health. Not drinking at all also has many benefits.   
Pistachios
Pistachios are tree nuts and are loaded with unsaturated fats, protein, fiber, B vitamins, and many different minerals. Because pistachios are high in fats and protein, they are considered a healthy snack that satisfies hunger. Additionally, pistachios contain more antioxidants than many other nuts. Two significant antioxidants in pistachios are lutein and zeaxanthin; both of which are beneficial to eye health. 
If you like the idea of this dessert, check out my Cucumber Gin Gimlet Cake or Vegan Strawberry Rhubarb Mini Mason Jar Cheesecakes. Let me know if you try this one!
Red Wine Chocolate Cake with Cabernet Frosting
Red wine and chocolate combine in this beautiful, decadent, and easy to make cake.
Print
Pin
Rate
Ingredients
1/2

cup

unsalted butter, melted

1 1/4

cups

all-purpose flour

1/3

cup

unsweetened cocoa powder

1

teaspoon

baking soda

1/2

teaspoon

salt

1

cup

sugar

1

large egg

1

cup

Cabernet Sauvignon red wine

1

teaspoon

pure vanilla extract
Frosting
2 1/2

cups

powdered sugar

1/3

cup

very soft butter

1

teaspoon

vanilla extract

1

Tablespoon

cocoa powder

2

Tablespoons

Cabernet Sauvignon red wine

1/2

cup

shelled pistachios, roughly chopped
Instructions
Preheat oven to 350°F then grease a 9-inch spring-form pan with butter.

Whisk together the flour, cocoa powder, baking soda, and salt in a medium bowl.

In the bowl of an electric mixer, whisk together the granulated sugar, egg, and melted butter.

Add in 1 cup red wine and vanilla extract.

Add the flour mixture to the wet mixture and whisk to combine.

Scrape the batter into the prepared pan and bake until a toothpick inserted in center comes out clean, 45-50 minutes.

Let the cake cool completely.

Make the frosting by mixing powdered sugar, butter, vanilla, cocoa, and red wine together until blended completely and spread-ably thick. Place it in the refrigerator for 5-10 minutes if it needs to thicken.

Spread the frosting on top, then garnish with chopped pistachios. Cut into wedges and serve.
Ginger Hultin,MS, RD, CSO
An award-winning, nationally recognized nutrition expert and media spokesperson.
Thanks for visiting! If you're like me: obsessed with eating, wine, going out and traveling, you're in the right place. Champagne Nutrition® LLC is a Registered Dietitian-run concierge virtual practice helping clients look and feel better. On this blog, you'll find cocktails, mocktails, and plant-based recipes that are easy to make quickly at home and pack for leftovers on your adventures.