You don't need syrup on your pancakes…you need lemon curd! When I was making my vegan lemon curd for my Coconut Lemon Overnight Oats recipe recently, I needed something else to put it on because it made so much and it is incredibly delicious. So we made pancakes! We doctored up a simple, classic Betty Crocker recipe to add in some bonus nutrition and it was marvelous! You're going to need this Lemon Curd Pancakes recipe for the coming weekend for sure.
You can make simple pancakes a little healthier by adding in whole wheat flour, grating in some apple, folding in fresh blueberries and serving with a homemade zesty lemon curd. By making these simple changes, you can drastically boost the fiber, vitamins, minerals and antioxidants in this recipe. Whipping up Lemon Curd Pancakes definitely makes breakfast more interesting.
How to make Lemon Curd Pancakes
Lemon Curd
Lemon curd is traditionally made with egg yolks, lemon, sugar and butter, so I wanted to make an equally delicious vegan version to please those who don't eat eggs and/or dairy, and also to challenge my culinary skills.
I found that lemon curd is actually very easy to make vegan and vegetarian, and it turned out amazing!
Lemon, both juice and zest, balance the creaminess of the coconut milk with a delightful lemon kick. The curd is thickened with cornstarch and sweetened with just a touch of maple syrup, also an ode to using it as a pancake topping. The flavors work well together, and you get the same creamy texture in this vegan lemon curd version as the original. 
I'd suggest making a double batch of this and using it on other foods over your week. It's an amazing meal prep option that kids and adults alike will absolutely love.
Pancakes
If you look at the word "pancake" it's really just a cake made in a pan. This allows you to add flavors and switch around ingredients in the same way as a cake. Some changes may affect the texture or fluffiness, but it's definitely worth trying out some new options.
I think that people have a negative connotation with pancakes being unhealthy…they don't have to be! I've got lots of options here for you to add nutrients so that a classic comfort food becomes an actual health food. See the flour, healthy add-ins, and toppings ideas below.
Flour Options
In this recipe I added in half whole wheat flour to add fiber and protein, and half all-purpose flour, but you could mix that up, here are some options:
oat flour: oats are gluten free when labelled that way, gluten can sneak in during processing, so be sure to check the label if eating GF. Oat flour has the same nutritional value of oatmeal, which is great, lots of fiber and good mineral content. 

buckwheat flour: buckwheat is actually not a grain, but is like quinoa or amaranth. It has a good fiber content, with high quality protein and good mineral content. 

almond flour: almond flour is a gluten free, low-carb flour option. It is a great source of fiber, vitamin E and magnesium. Almond flour tends to make more dense pancakes, but can be substituted 1:1 for wheat flour. 
Add-ins and toppings
I love adding fruit to my  Lemon Curd Pancakes and this time, I put in apples and blueberries. You could certainly change it up! Try grated pears with some ginger, or pumpkin puree with pumpkin seeds sprinkled on top. You could also dice up some cherries and add in some chocolate chips if that strikes your fancy. This is a great way to keep your pancakes seasonal and to celebrate local flavors.
Feel free to try new mix-ins or add whatever toppings sound good to this version. I like to add some crunch, so chopped nuts are a favorite topping; something creamy like yogurt or whipped cream would work well, as would jams or more fresh fruit. Be creative and you can make pancakes a thousand ways. You can put this delicious lemon curd on waffles or scones but it's just so light and fluffy yet sweet and tangy to serve on pancakes. Especially when they're doctored up with some other fruit for balance and flavor.
For a waffle alternative try these Pumpkin Spice Homemade Waffles.
For more breakfast ideas try:
Easiest Blueberry Coconut Oatmeal Bake
Coconut Lemon Curd Overnight Oats

5 Minute Cinnamon Apple Overnight Oats
Healthy Pumpkin Pie Breakfast Bake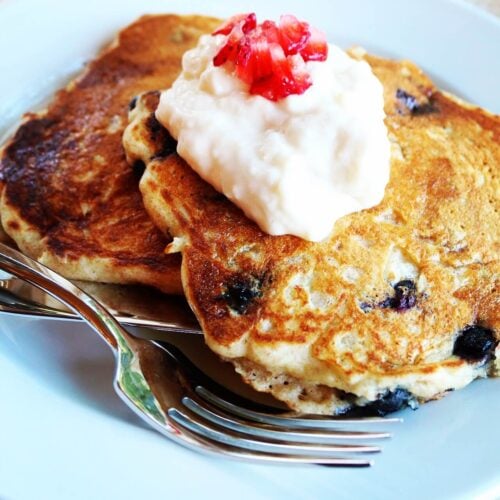 Lemon Curd Pancakes
Whole wheat flour, fresh fruit, and a lemon curd topping make these pancakes irresistible and super unique.
Print
Pin
Rate
Ingredients
Lemon Curd
14

ounce

can full-fat coconut milk

3

tablespoons

lemon zest

1/2

cup + 1 tablespoon

freshly squeezed lemon juice

3

tablespoons

cornstarch

3

tablespoons

maple syrup
Pancakes
1

egg

3/4

cup

almond milk

2

tablespoons

vegetable oil

1/2

cup

all-purpose flour

1/2

cup

whole wheat flour

1

tablespoon

sugar

3

teaspoons

baking powder

1/4

teaspoon

salt

1

cup

fresh or frozen blueberries

1

apple, peeled and shredded
Instructions
Lemon Curd
Combine the coconut milk and the lemon zest in a small saucepan and whisk together.

In a small mixing bowl, add the lemon juice and the cornstarch and whisk to thoroughly dissolve.

Use a spatula to add the lemon juice mixture to the coconut cream mixture and stir. Add the maple syrup and whisk again until the mixture is well combined.

Place the saucepan over medium heat and bring the mixture to a low bubble, whisking often. It will start getting thick after 4-8 minutes. Use a rubber spatula for stirring to ensure the curd isn't sticking to the bottom or sides of the pan.

Once the mixture thickens and is more of a 'sauce' texture, remove the saucepan from the heat to taste and adjust the flavors as needed – adding more lemon zest or maple syrup. I like the lemon curd to be tart.

Let it rest for 15 minutes, then whisk the mixture once more and transfer to a glass bowl and cover.

Refrigerate the lemon curd for 5-6 hours (or overnight) until it is completely chilled and set.
Pancakes
In a medium bowl, beat the egg with a wire whisk until fluffy. Add the milk and oil, whisking it together until it's combined and frothy.

In a separate bowl, mix the dry ingredients (flours, sugar, baking powder, and salt) together. With a wooden spoon, mix the dry four mixture into the wet until a batter forms.

Heat the griddle or skillet over medium-high heat (375°F). (To test the griddle, sprinkle it with a few drops of water, if bubbles jump around, the heat is just right.) Brush the griddle with vegetable oil if necessary (or spray with cooking spray before heating).
Notes
Serve with pure maple syrup, fruit preserves, peanut butter or my vegan lemon curd!
Nutrition
Serving:
1
g
|
Calories:
250
kcal
|
Carbohydrates:
29
g
|
Protein:
4
g
|
Fat:
14
g
Ginger Hultin,MS, RD, CSO
An award-winning, nationally recognized nutrition expert and media spokesperson.
Thanks for visiting! If you're like me: obsessed with eating, wine, going out and traveling, you're in the right place. Champagne Nutrition® LLC is a Registered Dietitian-run concierge virtual practice helping clients look and feel better. On this blog, you'll find cocktails, mocktails, and plant-based recipes that are easy to make quickly at home and pack for leftovers on your adventures.