Weekly Meal Prep for Weight Loss
What's the connection between weight loss goals and meal prep? More than you might even imagine. So much stress, time, energy, and so much of your health actually balances on a few simple skills surrounding organizing, planning, and creating nourishing (and delicious) food. When we introduce weekly meal prep for weight loss to your overall plan, you'll be amazed at what a difference it makes to your life. It can make a difference in your weight but more importantly, it can create more time and space for the things you want to do and people you want to spend time with. It can lower stress, create more 'calm' in your life, and help you tackle health goals like reducing cholesterol or lowering blood sugar.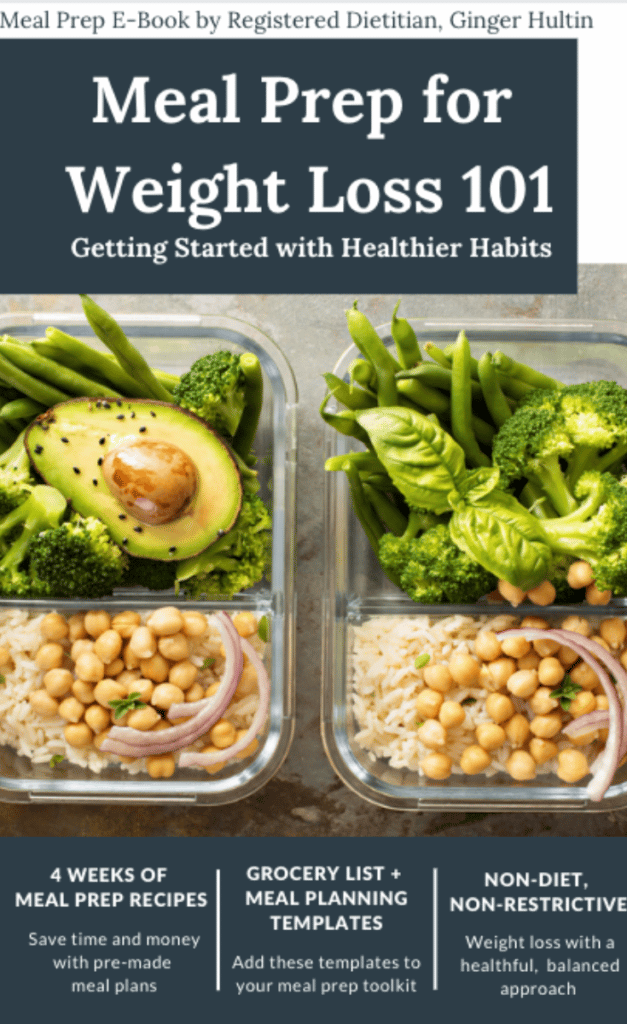 As an integrative and clinical dietitian, my practice meets each client where they are, taking a deeply personalized approach. Some of my clients are struggling with health conditions like cancer, diabetes, or autoimmune conditions. Others are working on optimizing their health, taking it to the next level through understanding more about their genetic blueprint or streamlining healthy habits. Some are working on healing their relationship to food or to their bodies. Others come to us with weight loss goals.
While we actually don't take on clients that have a goal only of weight loss, if they have health goals like reducing cholesterol or blood sugar, increasing energy, or developing better habits like eating more plant-based or healthier snacking, we'll take them on. Many times, when we tackle these health targets, weight loss occurs as a side-effect. It's such a refreshing approach to all our clients. We get people OFF the low calorie, restrictive diet rollercoaster and into a more stable, effective, and long-term plan. Remember, your health is about so much more than just body weight!!
Weekly Meal Prep for Weight Loss – resources for you!
Enter the Meal Prep for Weight Loss 101 e-book that just launched. It came out of pure necessity and amazing client feedback after my Anti-Inflammatory Diet Meal Prep and How to Eat to Beat Disease cookbooks came out in 2020 and 2021. I've gotten pretty incredible stories from people around the country about how following these plans equalled lower cholesterol, lower blood sugar, weight loss, and reduced pain and inflammation.
However, I also heard helpful feedback like: "more pictures please!", wanting more guidance on storage container size, needing more variety but also simplicity. I run a couple live meal prep courses yearly and feedback from those programs also asked for easier, more streamlined recipes. I love, love, love your feedback so always keep it coming. It helps my team serve your needs more specifically in very meaningful ways!
So, given all this great feedback – what you love and what you want to be different – my team and I created a new resource for you that I know you're going to love. It's our first e-book: Meal Prep for Weight Loss 101.
What's Inside the Weekly Meal Prep for Weight Loss 101 E-book?
You'll get: 
meal prep essentials 101
meal prep templates (grocery list and weekly planner)
balanced, non-restrictive and evidence-based information about weight loss strategy for long term success
lifestyle factors that need to be in place in order to lose weight
4 full weeks (7 days with breakfast, lunch, dinner, and snacks) of meal plans and recipes
Meal plans are based on original recipes from both of my books as well as my long-time Champagne Nutrition blog
My top, easy recommendations for quick, healthy meals and snacks like yogurt, bars, crackers, and frozen meals
Step by step prep details for each week, with timing, so you can plan your prep
Nutritionals on every recipe for guidance on nutrients
Weekly recipe adaptation suggestions for gluten-free, vegan, and flavor needs
If you need more information about our weight loss philosophy…
I've got you covered! I talk about these topics a lot both on the blog and in the media so I wanted to share some recent links that I thought you'd find interesting:
And if you need some meal prep motivation…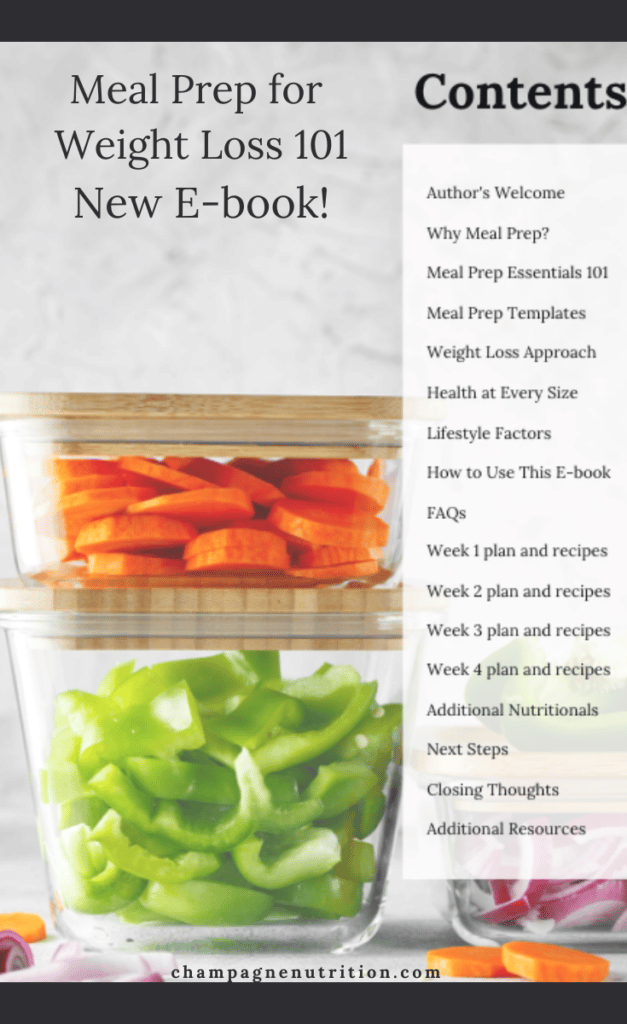 As my team and I continue to strive to support your health goals in every way possible, we'll continue to take your feedback and use it to create more programs and resources. The Meal Prep for Weight Loss 101 e-book is a huge first step and I hope that you'll grab it today to start using! Remember – you'll always get what you've always got if you always do what you've always done. If it's time for a change, if you want to get serious about meal prep and your health, if you want to start saving time, money, and energy and finally get organized and DO THIS – grab your book here and let me know how it goes for you!
Ginger Hultin,MS, RD, CSO
An award-winning, nationally recognized nutrition expert and media spokesperson.
Thanks for visiting! If you're like me: obsessed with eating, wine, going out and traveling, you're in the right place. Champagne Nutrition® LLC is a Registered Dietitian-run concierge virtual practice helping clients look and feel better. On this blog, you'll find cocktails, mocktails, and plant-based recipes that are easy to make quickly at home and pack for leftovers on your adventures.