Wild Blueberry Oatmeal Smoothie
I just got back from a magical weekend in Bar Harbor, Maine visiting the wild blueberry fields and processing facilities and learning all about this amazing fruit. Part of our tour was to take part in a wild blueberry smoothie competition so I thought I'd share my Wild Blueberry Oatmeal Smoothie recipe with you! This trip was sponsored but the post isn't – I just wanted to share it with you because its delicious.
Wild blueberries are absolutely fascinating. Did you know that they're completely different from the tall bush cultivated berries that we commonly see fresh in the grocery store? Wild blueberries are the tiny berries that you often find frozen. The reason for that is because they only grow in rural Maine and so they're hard to ship out fresh to the rest of the country. The good news is that frozen fruits and veggies retain their nutrients incredibly well. They're often more affordable and last longer than fresh so it's a big win and an easy way to eat wild blueberries – especially if you don't live anywhere near Maine!
Why Wild Blueberries are Super Healthy
These tiny berries are really unique and have special health benefits. Since they're smaller than the big, cultivated blueberries, there's more skin and seeds which means more anti-inflammatory antioxidants and health benefits.
Wild blueberries are rich in b-vitamins, vitamin C, and manganese.
They contain anti-inflammatory antioxidants called anthocyanins found uniquely in purple and blue foods. You'll find a lot of these foods highlighted in my How to Eat to Beat Disease cookbook because of the amazing health benefits including reducing inflammation, protecting your DNA from damage and even stopping angiogenesis (or problematic blood vessel growth).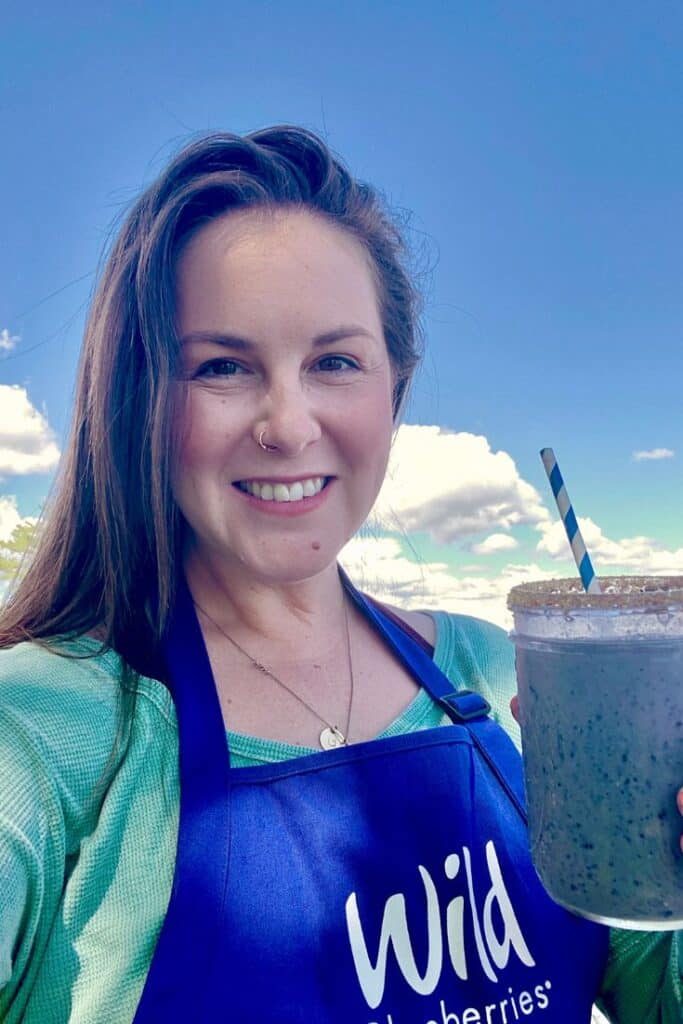 Making the Wild Blueberry Oatmeal Smoothie
This is a super easy drink to whip up! All you do is make sure that your ricotta is whipped. I simply blended it in the blender first and set it aside.
Then, use the same blender (no need to rinse it) and pour in your blueberries, milk, oats, banana, and cinnamon. Pulse it a few times until it's a thick, creamy smoothie consistency.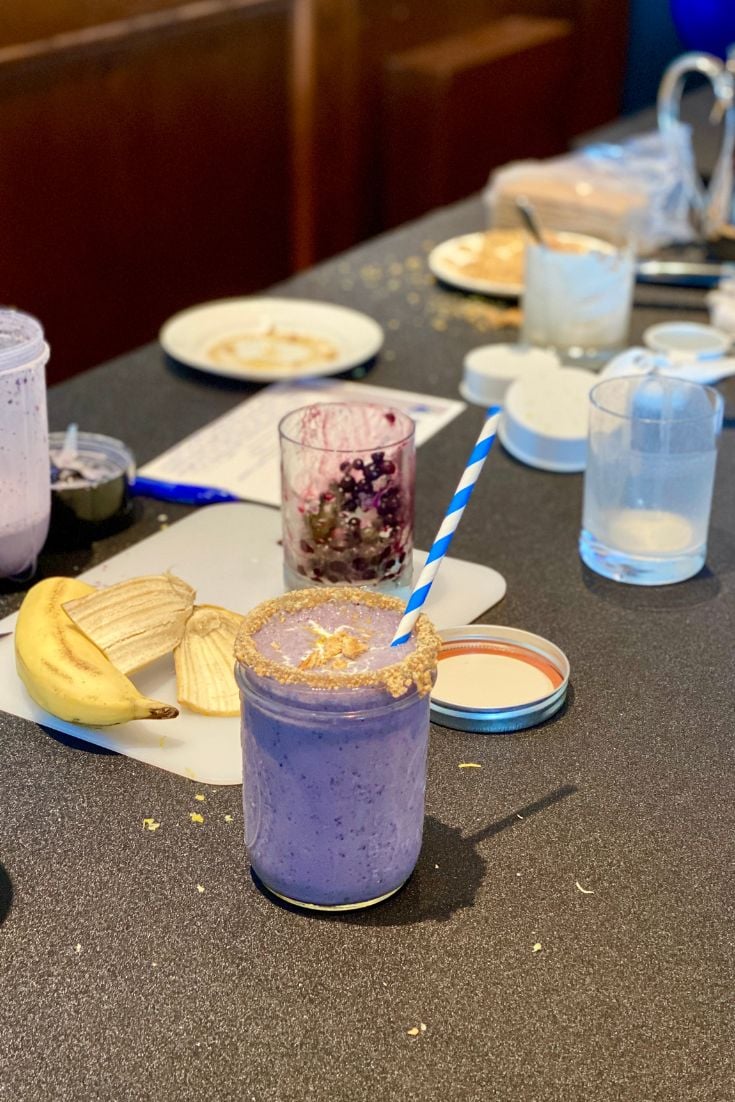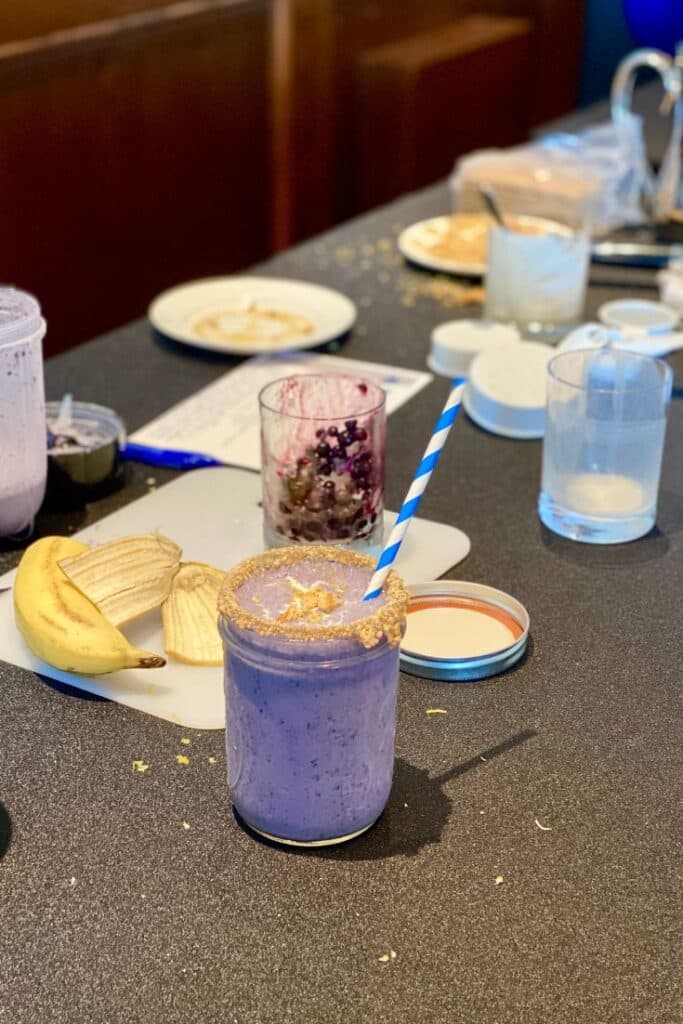 Blend the honey and vanilla into your ricotta and keep that on the side.
Crush up your graham crackers and pour them on to a small bowl. I like to crush the graham crackers in a plastic bag so they don't make a mess. A finer crush is best.
Next, take a pinch of the honey – I even use my pointer finger and thumb – and rub it on the rim of a mason jar or smoothie glass. Coat it completely so that it's kind of thick and then turn the cup upside-down onto the graham cracker plate so that the rim gets coated in the crumbs.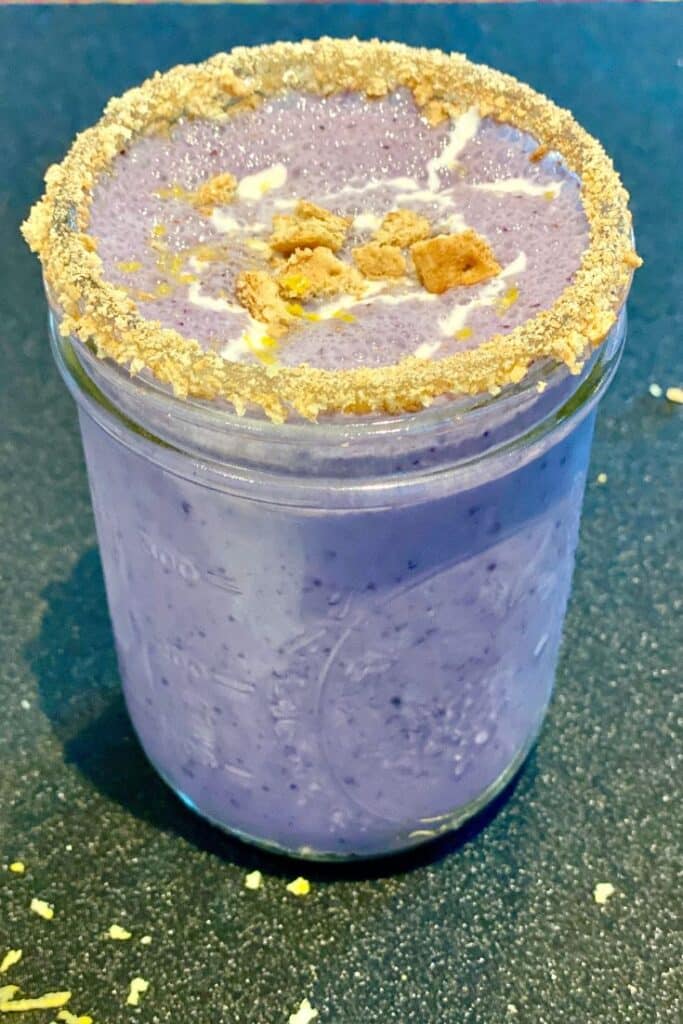 Pour the smoothie into the cup, being careful not to knock off any of your graham cracker rim. Then pour your ricotta mixture into the cup. Some will stay on top and some will sink to the bottom which makes it a fun drink to enjoy!
Garnish the smoothie with the lemon zest and as much additional graham crackers as you like!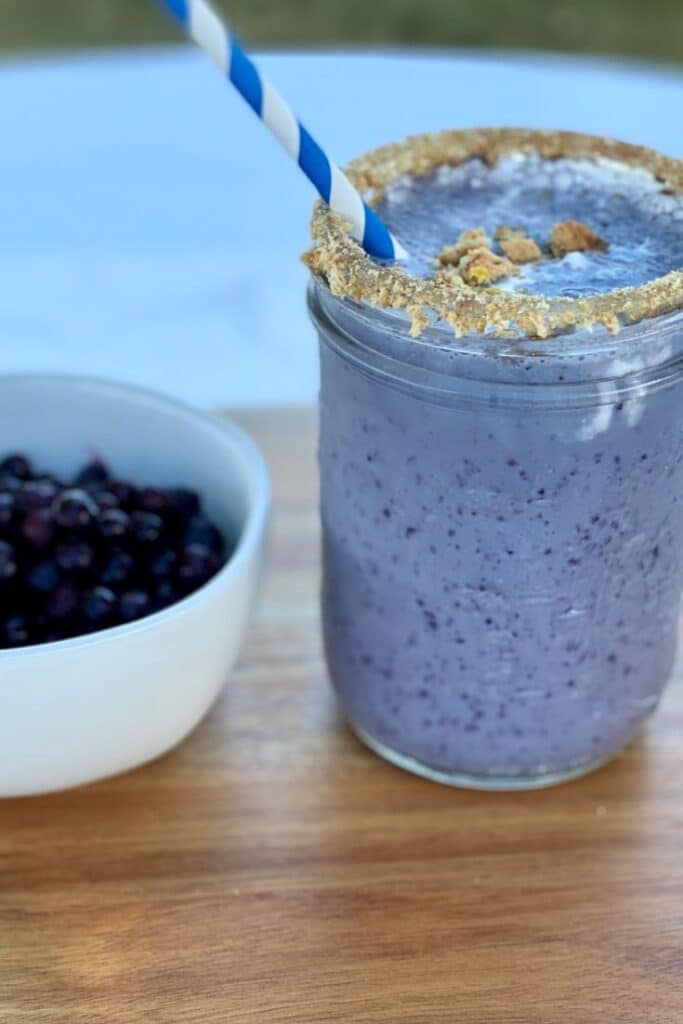 Wild Blueberry Oatmeal Smoothie FAQs
1. Can I make this smoothie vegan?
Easy! Just sub the honey for agave or maple syrup instead. You can omit the ricotta all-together. Simply add the vanilla extract to the smoothie mix.
2. Can I use other types of berries or the big blueberries?
Yes – no problem. Use the big blueberries, raspberries, blackberries, strawberries, or cherries. The taste and color will be a little different is all.
3. Is this gluten-free?
No – because of the graham crackers. You can either omit the graham crackers or get a gluten-free variety which you can find in some stores now. Be sure that your oats are "gluten-free" which means they haven't been processed in a facility that also processes gluten-containing foods.
4. Do the berries and banana have to be frozen?
Not necessarily, but it's better that way. If you use fresh banana and/or berries, consider adding a couple ice cubes to thicken up the smoothie.
If you love the idea of healthy berry smoothies, I've got another Wild Blueberry smoothie that is one of my most popular posts of all time: Wild Blueberry Vanilla Matcha Smoothie. You'll also love my Anti-inflammatory Calming smoothie, Melon Vanilla Smoothie, or Vegan Pumpkin Spice Smoothie. Find more of these anti-inflammatory recipes in my Anti-Inflammatory Diet Meal Prep cookbook!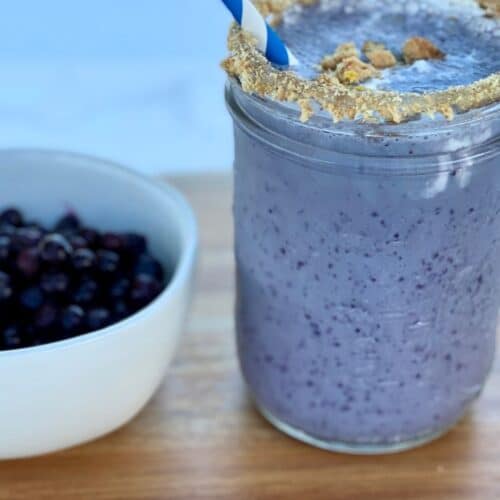 Wild Blueberry Oatmeal Smoothie
Blend delicious wild blueberries with banana, oat milk, oats, cinnamon, honey, and vanilla plus calcium and protein-rich ricotta cheese then create a gorgeous graham cracker crust.
Print
Pin
Rate
Ingredients
1

cup

frozen wild blueberries

1

cup

unsweetened oat milk

1/4

cup

rolled oats

1/2

small

frozen banana

1/4

teaspoon

cinnamon

1/4

cup

ricotta cheese

whipped

1

teaspoon

honey

divided

1/2

teaspoon

vanilla extract

1

graham cracker

crushed

1/2

teaspoon

fresh lemon zest
Instructions
Combine the wild blueberries, oat milk, oats,banana, and cinnamon in a blender and pulse until completely combined.

Place your whipped ricotta in a small mixing bowl and whisk in ½ teaspoon of honey and the vanilla extract.

Place your graham cracker crumbs on a small plate. Coat the rim of a mason jar or other glass with the remainder of the honey then dip the rim into the graham crackers.

Carefully pour the wild blueberry smoothie in to the glass so as not to disturb the graham cracker rim. Gently top the smoothie with the ricotta mixture. Some will float to the bottom and that's just fine. Garnish the smoothie with the lemon zest and additional graham cracker crumbles from the plate.
Ginger Hultin,MS, RD, CSO
An award-winning, nationally recognized nutrition expert and media spokesperson.
Thanks for visiting! If you're like me: obsessed with eating, wine, going out and traveling, you're in the right place. Champagne Nutrition® LLC is a Registered Dietitian-run concierge virtual practice helping clients look and feel better. On this blog, you'll find cocktails, mocktails, and plant-based recipes that are easy to make quickly at home and pack for leftovers on your adventures.