Tapioca and rice puddings remind me of being a kid. If a super-sweet cinnamon dusted pudding is the kid version, then this Lemon Tapioca Pudding is the sophisticated adult version. This dessert is perfect to impress your guests at a dinner party and would pair well with a glass of champagne. It's also a wonderful grab-and-go, anti-inflammatory snack that you could enjoy as a healthier sweet treat or on a day you're not feeling your best. 
Fresh lemon and ginger zested into this dessert brightens the whole thing and balances out the vanilla and coconut. Adding in just a bit of local honey gives just the right amount of natural sweetness this dessert needs. Put it in a mason jar with some fresh fruit and you have a perfectly portioned nostalgic treat.  
What is tapioca?
You may know tapioca from delicious bubble tea if you live in places that specialize in that drink (like Seattle). Those are the big chewy black tapioca balls, but tapioca actually comes in a few different varieties. For this recipe I prefer the small sized white tapioca pearls. They are tiny and delicate and combine seamlessly with the other ingredients in this Lemon Tapioca Pudding. 
Tapioca is derived from starchy cassava root, native to South America. Tapioca is often processed into a flour that can be used in foods as a thickening agent or further processed into different sized pearls that you are likely more familiar with. It makes sense that the balls of tapioca in this Lemon Tapioca Pudding will help to firm up the dessert and create that satisfyingly creamy pudding texture. 
Nutritional benefits of tapioca
What's great about using tapioca in this dessert is that it is completely gluten, grain and dairy free. It is a great option when you are feeding a group, as it can fit a variety of different dietary needs including gluten free and paleo. Cassava root is a starchy vegetable, making it a naturally gluten free carbohydrate option. 
Another benefit of this Lemon Tapioca Pudding is that it is good for your digestion. Tapioca contains resistant starch which works as a prebiotic fiber in your gut. This means that it feeds your healthy gut bacteria which can improve your digestive health. Resistant starch also slows down your digestion and can help to keep your blood sugar stable.
Nutritious ingredients in the lemon tapioca pudding
Honey
I have this lovely local clover honey I'm using for this recipe. The flavor is so rich and delicious, it tastes like flowers. Honey is one of my favorite sweeteners because it has so many great benefits that come with it. Honey is known for being high in polyphenols (antioxidants) and having anti-inflammatory and antibacterial properties. It is also lesser known for being a good prebiotic. Meaning that it feeds the good bacteria in your gut. These attributes make honey great for an immune boost when you are sick or just to keep yourself healthy. 
Ginger
Another immune boosting favorite is ginger. The powerful antioxidant in this ingredient is called gingerol. It is anti-inflammatory and known to speed up digestion and help reduce nausea. Because of this it is well loved by people who suffer from GI disorders like IBS, people with motion sickness and those who are pregnant. Some other worthwhile benefits are that ginger may help to control blood sugars, lower cholesterol, and lower your risk of developing cancer. 
Coconut milk
Yes, we are using light canned coconut milk. Coconut is a healthy and delicious fruit, but it can be very high in saturated fats, especially when in a concentrated milk form. I know some people think that light coconut milk is taboo, but it makes for a lighter and more heart healthy dessert that is still creamy and full of delicious coconutty flavor. For this recipe be sure to get the shelf stable kind that comes in a can, not the cartons that are kept in the refrigerator. These are different kinds of coconut milk and the recipe won't come out correctly. 
Making the lemon tapioca pudding
The tapioca
As I mentioned earlier this Lemon Tapioca Pudding uses small pearl tapioca pearls. The fine pearls combine with the creamy coconut milk to give this dessert its pudding texture. There are many brands that offer this size of tapioca but if you need a suggestion I used Bob's Red Mill Small Pearl Tapioca. If you prefer a chewier dessert with more tapioca presence you can experiment with different sized pearls. 
The garnish
I love to garnish with blueberries, but honestly, any fresh fruit will suit this light dish. Depending on the time of year you could use raspberries and blackberries or get creative and try diced mango or pomegranate arils. If you want to make an extra decadent dessert I suggest topping it with some whipped cream. You can buy a dairy free option or try making your own like I did in my Pomegranate Chia Pudding With Aquafaba Whip. 
Serving the lemon tapioca pudding
When you make desserts in mini mason jars, not only are they cute but they are also properly portioned and portable. This makes them the perfect treat for a party, a picnic or meal planning a nightly treat. 
I really hope you enjoy this brightly flavored Lemon Tapioca Pudding – it's my obsession right now. And if you want some other mini-desserts, be sure to try my Vegan Strawberry Rhubarb Single Serving Cheesecakes, Mason Jar Berry Pies and No Bake Pumpkin Pie Parfaits. They are always a huge hit at parties!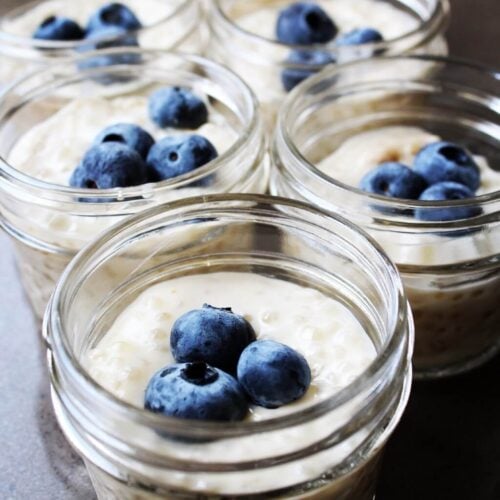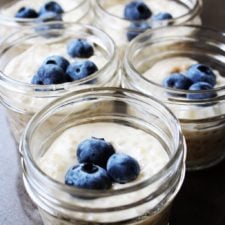 Lemon Tapioca Pudding
This simple, healthy dessert features fresh ingredients and natural flavors for a spin on a classic comfort-food dish.
Print
Pin
Rate
Ingredients
1 14-

oz

can light coconut milk

1/2

cup

plain unsweetened almond or soy milk

2

tablespoons

honey

use agave syrup to make this vegan

1

tablespoon

fresh lemon zest

1

teaspoon

freshly grated ginger

1/8

teaspoon

salt

1/4

cup

small pearl tapioca

1

tablespoon

pure vanilla extract

Fresh fruit as a garnish
Instructions
In a medium saucepan, whisk together coconut milk, almond milk, honey, lemon zest, ginger and salt. Stir in tapioca pearls and set aside to soak for 30 minutes.

Place saucepan on medium heat and bring to a boil. Reduce to a simmer and cook uncovered, 10 to 12 minutes, stirring occasionally, until thickened and tapioca is soft. Stir in vanilla.

Let pudding cool before transferring it to a container. Pudding will keep, covered in the refrigerator, up to 5 days.
Nutrition
Serving:
78
g
|
Calories:
77
kcal
|
Carbohydrates:
9.9
g
|
Protein:
1.1
g
|
Fat:
3.2
g
|
Saturated Fat:
2.7
g
|
Polyunsaturated Fat:
0.2
g
|
Monounsaturated Fat:
0.1
g
|
Sodium:
57
mg
|
Fiber:
0.2
g
|
Sugar:
5.6
g
Ginger Hultin,MS, RD, CSO
An award-winning, nationally recognized nutrition expert and media spokesperson.
Thanks for visiting! If you're like me: obsessed with eating, wine, going out and traveling, you're in the right place. Champagne Nutrition® LLC is a Registered Dietitian-run concierge virtual practice helping clients look and feel better. On this blog, you'll find cocktails, mocktails, and plant-based recipes that are easy to make quickly at home and pack for leftovers on your adventures.