Winter Pomegranate and Persimmon Smoothie Bowl with Caramelized Pistachios
The holiday season is here, and I have the perfect breakfast or snack to celebrate. I am incorporating pomegranates, persimmons, dried cranberries, pistachios, and granola – all of which are great snacks on their own, but what if we put them all together to create a festive smoothie bowl? This Winter Pomegranate and Persimmon Smoothie Bowl recipe is fun, unique, simple, and full of health benefits. 
As an integrative oncology Registered Dietitian, I definitely wanted to include powerful anti-inflammatory ingredients into this winter smoothie bowl because it contains fiber, antioxidants, and it may even help with nausea symptoms during chemotherapy sessions or other treatments my clients are going through for a variety of chronic conditions. Foods that are non-fragrant and cool or cold can help to reduce nausea symptoms for anyone that is struggling with this. 
Autumnal and Winter Fruits: Persimmons and Pomegranates
I can't think of a better way to celebrate the holiday season than to pair two in-season fruits together. These fruits also have very special health benefits such as inhibiting inflammation through potent antioxidants.
Red and orange fruits (and vegetables) contain carotenoids. Your body can convert carotenoids to vitamin A, a vitamin that helps your body's natural defenses fight against illness and infection, and focuses its work on vision, growth, reproduction and immunity.
You will find a lot of these types of foods highlighted in my How to Eat to Beat Disease cookbook because of the amazing health benefits including reducing inflammation, protecting your DNA from damage and even stopping angiogenesis (a problematic blood vessel growth). 
Persimmons are mostly found in places like Japan, China, and Spain. My favorite are the Fuyu persimmons that can be eaten like an apple. Persimmons are a great source for antioxidants, vitamin A, vitamin C, and manganese (helps with blood clotting). They can be used in plenty of recipes, jams, dressings and desserts.
Pomegranates are native to Middle Eastern and Asian countries but also grow well in California. Pomegranates are insanely versatile as they can withstand high temperatures for cooking or baking. It is a great addition to many holiday treats, salads, sauces, and entrees. 
As you may have heard, pomegranates, like cranberries, are helpful for urinary and kidney health. They also fiber and contain vitamins and minerals like calcium, iron, magnesium, phosphorus, potassium, folate, and vitamin C.
Making the Winter Pomegranate Smoothie Bowl with Persimmons and Caramelized Pistachios
This recipe took me about 20 – 25 minutes to create. First we coat the pistachios, then blend the ingredients together, and lastly we decorate the top of the smoothie bowl with our favorite toppings.
The exciting part of this recipe was adding pomegranate juice to coat the pistachios. Pomegranate juice is commonly used in recipes, especially holiday recipes. I love how versatile the ingredients are. We can make it a part of the smoothie bowl and caramelize things in it too.
To start making the caramelized pistachios, make sure your saucepan is warm at a low-medium fire before adding your pomegranate juice and honey (or 1 tablespoon of a sweetener of your choice).  You can start with 3 ounces of pomegranate juice depending on the type and amount of nuts you use. The goal is to be able to coat all  of them in the juice and honey. 
Once the pomegranate juice, honey, and pistachios are in, the trick is to keep stirring to thicken the mixture. If you feel it isn't thickening enough, add 1 teaspoon at a time of your sweetener of choice.
Turn off the heat once the sauce thickens and keep the caramelized pistachios aside to cool off.

Gather your smoothie ingredients. If you would prefer other frozen fruit than banana, feel free to use frozen berries or mangoes. Protein powder is definitely an option, but adding protein to every meal is highly recommended. I recommend trying the 365 Whole Foods Plain Pea Protein Powder. If you would like to use Greek yogurt, I like to use Siggi's Plain Nonfat Yogurt or  Oikos Triple Zero Mixed Berry– a great source of protein, low in fat, and zero added sugar. 
Using a blender, place frozen banana, 5 ounces of pomegranate juice, plain protein powder, and ice if you would like it to be a little thicker, then pulse for 30 seconds or until all ingredients are incorporated nicely and you see a smooth consistency.
Pour the smoothie contents into your favorite bowl and get your toppings ready to finish off the recipe. 
Add the caramelized pistachios with the rest of your favorite smoothie bowl toppings. This can be fresh fruit, chocolate chips, homemade granola, nuts, seeds, or even a homemade syrup. 
My favorite smoothie bowl toppings always include something crunchy, chocolatey, and any fresh berries. I specifically chose the Fuyu persimmons because they are sweet when ripe and great paired with other fruits. However, any topping works with the Winter Pomegranate Smoothie Bowl.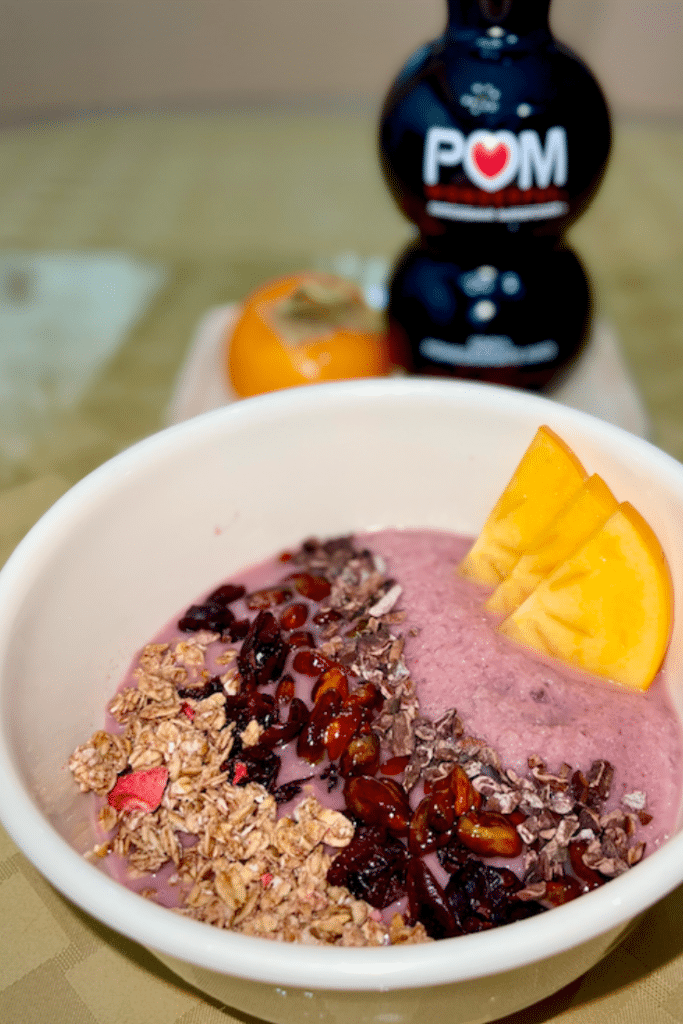 Winter Smoothie Bowl FAQs
Can I make this smoothie vegan?
Definitely! Substitute the honey for agave or maple syrup instead. Then, I recommend trying the 365 Whole Foods Plain Pea Protein Powder, or omitting altogether. Although, adding protein to every meal or snack is great!
Can I add something else other than pistachios?
Yes! Feel free to caramelize your favorite nuts or add them plain! Some great ideas would be almonds, cashews, or try adding seeds like chia seeds or pumpkin seeds.
No – because of the granola. You can either omit the granola or get a gluten-free variety which you can find in some stores now. Be sure that your protein powder is "gluten-free" which means they haven't been processed in a facility that also processes gluten-containing foods.
Do I have to use frozen bananas or use ice?
You can use either or both of these! You can also use other types of frozen fruit such as strawberries, raspberries, blueberries, or blackberries, etc. Otherwise, just use regular fruit with ice cubes blended. The frozen or ice component will affect the thickness of the smoothie bowl, so it is completely up to you.
This recipe is perfect for the upcoming winter holidays! Be sure to check out my other pomegranate-based recipes: Sparkling Pomegranate Rosé Cocktail, Pomegranate Ginger Mocktail and Cranberry Pomegranate Sparkling Punch. Find more of these Anti-Inflammatory Recipes in my Anti-Inflammatory Diet Meal Prep cookbook.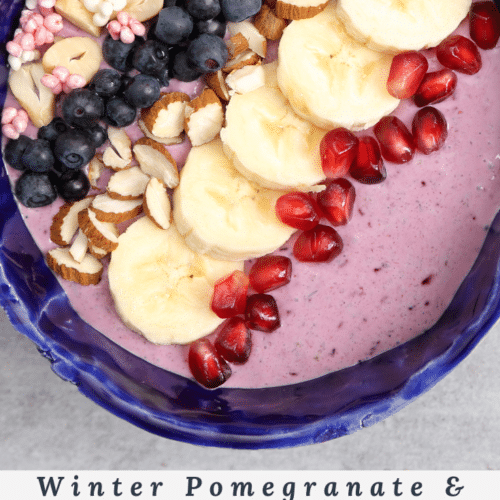 Winter Pomegranate and Persimmon Smoothie Bowl with Caramelized Pistachios
Pomegranate and persimmon fruits blend perfectly to make this gorgeous smoothie bowl with crunchy caramelized pistachios on top.
Print
Pin
Rate
Ingredients
1

21g

packet Wonderful Roasted and Salted Pistachios (No Shell)

8

oz

Wonderful POM Juice

1

tablespoon

honey

or maple syrup for a vegan option

1

frozen banana

1

Fuyu persimmon, sliced

1

scoop

plain or vanilla flavored protein powder

1

cup

ice cubes
Optional toppings
1/4

cup

granola

2

tablespoons

dried cranberries

1

tablespoon

cacao nibs
Instructions
On low to medium heat, pour 3 ounces of POM Juice into a small sauce pot.

Add 1 tablespoon of sugar to the pan and let the mixture thicken, stirring constantly.

Once thickened, add 1 snack size packet of Wonderful Roasted and Salted (No Shell) Pistachios and mix them gently until they're coated.

Pulse frozen banana, 5 ounces POM juice, protein powder, ice cubes together, in a blender or food processor until it's completely smooth and incorporated.

Pour the smoothie into a bowl, top it with the caramelized pistachios, persimmon slices, and your preferred toppings!
Nutrition
Serving:
1.5
cups
|
Calories:
309
kcal
|
Carbohydrates:
54
g
|
Protein:
16
g
|
Fat:
5
g
|
Sodium:
53
mg
|
Fiber:
4
g
Ginger Hultin,MS, RD, CSO
An award-winning, nationally recognized nutrition expert and media spokesperson.
Thanks for visiting! If you're like me: obsessed with eating, wine, going out and traveling, you're in the right place. Champagne Nutrition® LLC is a Registered Dietitian-run concierge virtual practice helping clients look and feel better. On this blog, you'll find cocktails, mocktails, and plant-based recipes that are easy to make quickly at home and pack for leftovers on your adventures.